Great Shot: Mirjam Evers Captures Venice At Carnival Time With An Eye-Catching Angle On Some High Heels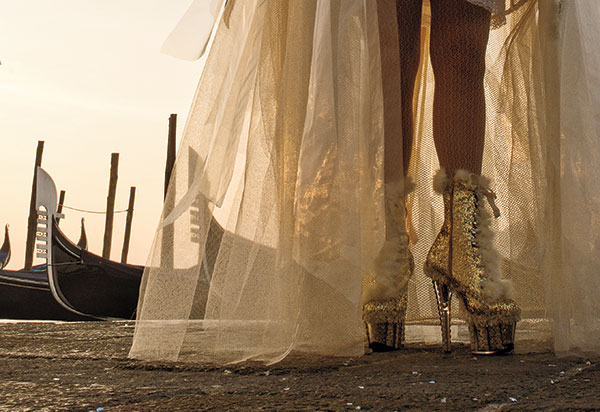 One look and you know where you are, and when: Venice at Carnival time.
It's not your typical image of that place then, which means Mirjam Evers has done her job well. She has images of the colorful chaos of revelers in full regalia, but the challenge is to get something special. "The travel publications I work for ask for something different and unusual," Evers says. "She was posing, and most of the photographers were shooting from eye level, so I crouched down."
Late afternoon light set a dream-like mood, and Evers's choice of angle gave her the key element of the gondolas. An off-camera flash kicked light onto the subject. "I was really interested in her amazing shoes," Evers adds. "They're so high that I wondered how she was able to walk in them."
The woman in the shoes is Daniela Schmid, who travels to Venice each year at Carnival time, and who's become Evers's friend. "She designs and creates her own costumes," Evers says. "The first year I met and photographed her, I gave her a USB drive of images. She thanked me and said, 'Nobody else does that.' I picked up on that. I'd photograph people, find them and give them pictures."
So opportunity, observation, angle, great light, and a little help from a friend made for an image that captured a bit of the spirit and mystery of Venice when the Carnival's in town.
The diversity of Mirjam Evers's photography is on view at her website, www.mirjamevers.com.

FEATURED VIDEO