Here Are 15 Images We Shot with the New Sony A6400 Mirrorless Camera: First Look Review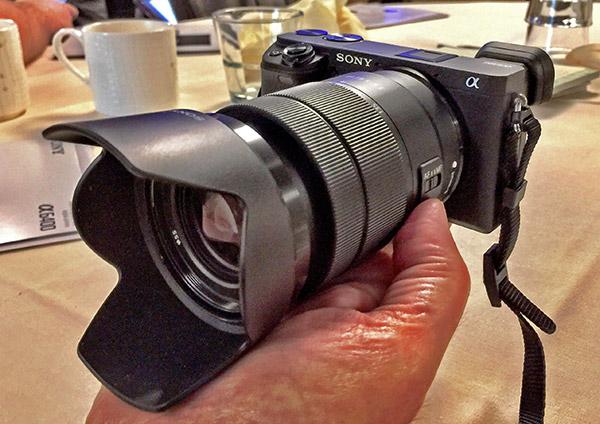 Shutterbug was at Sony's USA headquarters in San Diego, CA last week for the launch of the A6400 mirrorless camera, which features a 24.2MP APS-C Exmor image sensor and Sony's latest BIONZ X image processor. Sony claims that the A6400, which is designed for photo enthusiasts and those moving up from smartphone cameras, has "the world's fastest autofocus" at 0.02 seconds for AF acquisition.
The Sony A6400 also has a new "real-time eye AF" function that's designed to lock in on a person's eyes for sharper portraits, and a new "real-time tracking" function that's designed to follow a fast-moving subject such as an athlete or vehicle and lock in on it, so it stays in focus at capture. Future firmware updates to the A6400 will add the ability to track the eyes in not just human subjects, but animals as well, Sony said.
We got a chance to put the Sony A6400 to the test during our time in San Diego. Shutterbug, along with several other North American media outlets, received production-level A6400 mirrorless cameras to shoot with at a variety of Sony-arranged set-ups featuring models, performers and professional athletes, over the course of a few days.
While we can't offer an official, final review of this intriguing, compact interchangeable lens camera with high-end features, until we spend more time with it, below are some of our initial thoughts and impressions of the A6400, along with 15 full resolution JPEG images we captured with it.
The Sony A6400 goes on sale in February 2019 for $900 USD and $1,250 CAD, body only. It will also be offered as a kit with the 16-50mm F3.5–5.6 lens for $1,000 USD and $1,350 CAD, or in a kit with the 18-135mm F3.5–5.6 lens for $1,300 USD and $1,750 CAD.
Lens Compatibility & Camera Design
If you're familiar with Sony's APS-C-sensor-based A6000-series of mirrorless cameras, the A6400 will seem very familiar. Like the A6500 (which we reviewed here), the A6400 features an E-mount lens mount so you can use it with most of Sony's high-end lenses.
During our time with the Sony A6400, we shot with it using the 18-135mm F3.5–5.6 kit lens, the Sony FE 24-70mm f/2.8 GM lens ($2,198), and the Sony FE 70-200mm f/2.8 GM OSS lens ($2,598). Yes, the absurdity of using a $900, 14-ounce mirrorless camera with a dainty grip with pro-level glass that costs over twice as much and weighs more than three times as much, was not lost on us.
But the point is, thanks to the E-mount system, which is also used on Sony's top-of-the-line full frame mirrorless cameras like the A7R III, you can turn the A6400 into a relatively high-end shooting device just by adding one of Sony's top lenses. It's a compelling argument for this camera, even if using the A6400 with the heavy and large 24-70 f/2.8 and 70-200 f/2.8 was rather awkward. As expected, however, sharpness and image quality drastically improved when we used the A6400 with the two pro lenses vs. the kit lens, which was decent though no match for the high-end glass.
With dimensions of 120mm x 67mm by 50mm (4 ¾ x 2 ¾ x 2 inches), the Sony A6400 is a small camera, for better or worse. The compact size means it's easy to fit in a small bag (except when you add a pro-level lens) but, as with most of Sony's mirrorless cameras, our hands overwhelmed the grip and camera body. And, especially while photographing semi-pro basketball players during the press trip, we had trouble holding the set-up steady. The fact that the Sony A6400 has no In-Body Image Stabilization (IBIS), didn't help matters either. If you want IBIS, you'll need to go with the more expensive A6500.
On the other hand, the 3-inch, 180-degree rotating/tiltable touch screen on back of the camera, was useful for composing downlow and above-the-head shots. And if you like taking selfies (we don't) it's fine for those too. Vloggers will also like this feature though, as several YouTubers on the press trip noted, putting an external mic on the hotshoe on top, will block the flip-up screen.
Weather sealing on the A6400 is rather minimal, so this is not the camera we'd recommend using in wet weather. And strangely during our trip to "sunny" San Diego, it rained practically the whole time, so keeping the camera covered was a necessity.
Features & Performance
We mentioned the Sony A6400's three most notable features at the beginning of this story: the fast autofocus speed, real-time eye AF, and real-time tracking functions. In practice during our few days shooting with the camera in San Diego, these all worked fairly well. We'll need more time with the A6400, however, to offer any final judgements.
Both real-time eye AF and real-time tracking can be fun, helpful but sometimes confusing to use. There's obviously a lot of computational photography and algorithmic stuff (what Sony calls Artificial Intelligence or AI) going on in the background, which we won't (and can't) go into at this point. Let's just say that these functions should help you photograph your kids' soccer games and candid portraits with much greater sharpness and accuracy.
The Sony A6400 features 425 phase-detection AF points and 425 contrast-detection points, which Sony says are "placed densely over the entire image area, covering approximately 84% of the image area." When combined with the new BIONZ X image processor, this AF system can lock in focus in as little as 0.02 seconds, Sony claims.
We had no real way of testing the accuracy of that specific claim, but the A6400's AF was quite speedy during our field testing. While photographing the basketball players (you can see several of our shots in this story) in 11 frames per second continuous shooting mode with AF/AE tracking, it was a blast to watch the little green AF boxes lock in on eyes or faces in the OLED viewfinder as a player cut to the basket for dunk, hit a jump shot, or dribbled around a defender.
However, when we looked at the images later on a computer at full resolution, only about half of them were in focus, with the camera's AF seeming to struggle in low light shooting situations. (As mentioned skies were overcast, and it rained on and off during the entire trip.) Cranking up the ISO (the A6400 can shoot from ISO 100-32000 natively) helped but shooting at over ISO 6400 resulted in noisy images with softened detail.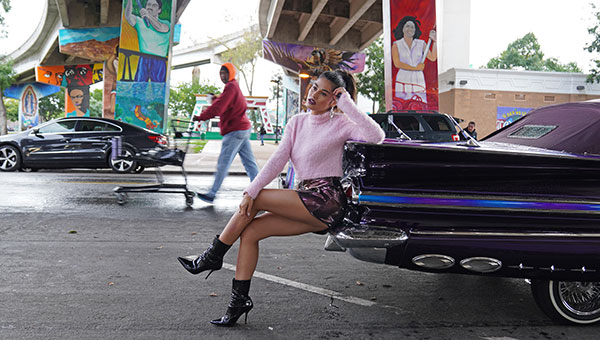 The way the Sony A6400 would lock in on moving subjects also seemed a little unpredictable. For instance, a green AF box would first lock on a single eye, then switch to the entire face, then cover the shirt or neck area, and then go back up to the face as an athlete or performer moved through a scene. It was hard, at times, to get a sense of whether the camera was focusing on the thing you wanted it to focus on with the real-time tracking feature, or just randomly picking focus points in the general area. There's a big difference in getting a face or eyes in focus (desired) vs. an ear or neck in focus (not as much).
When shooting models in more static situations, however, our hit rate was much higher. In one of the set-ups, Sony positioned branches in front of a model to show how the Eye-AF functionality would not get distracted by elements in the foreground and, instead, focus on the eyes. This largely worked when a small piece of branch encroached on a scene, but we had less success photographing a model directly through the branches, with the AF struggling to find focus on the eyes.
Overall though, for a consumer/enthusiast level camera with an APS-C sensor, the Sony A6400 was a surprisingly nimble camera with fast and somewhat reliable AF. We'll share more of our findings, including our full image quality results, when we have a chance to spend more time with the camera. You can read more about the A6400 in our initial launch story.

FEATURED VIDEO