Sony A6500 Lab Review: How Does This Flagship Mirrorless Camera from Sony Stack Up?
(Editor's Note: Lab Review lab tests and comments are supplied by BetterNet, Shutterbug's TIPA-affiliated testing lab and edited by George Schaub. TIPA is a worldwide association of photo and imaging magazines. You can see our Field Review of the Sony A6500 here.)
The Sony A6500 is the flagship model for Sony's APS-C sensor-based mirrorless camera line and features an E-lens mount. The Sony A6500 was brought out only 8 months after the forerunner A6300 was shipped, which begs the question as to what changes and differences would justify a new model so soon. Indeed, there are some changes.
Features, Build & Handling
The most important difference is the internal image stabilizer of the new Sony A6500. While the A6300 depends on an optical stabilizer system in its lenses, the Sony A6500 offers an internal stabilizer based on sensor shift technology. This stabilizer is a 5-axis-system and is compatible with the optical stabilizers in the lenses, so the new Sony is able to combine both systems for very powerful stabilization. This is very helpful when taking photos but even more so for video recording.
There are no changes in image resolution. The Sony A6500 offers a 24MP APS-C sized sensor that has an ISO range of 100 to ISO 25,600 mode, with a "push" sensitivity of ISO 51,200. It records images in JPEG and raw format, with raw conversion available in current versions of Adobe Photoshop and Lightroom. Sony supplies the camera with a light version of "Capture One Pro" so the user can convert A6500 raw files without need for other software programs.
The new Sony A6500 is styled like a compact camera, but has a high resolution EVF in addition to a 3-inch LCD screen on the back. The EVF offers 2.36 million RGB dots and can be compared to the high-end EVFs of Sony's A7 line. A focus magnifier function or "focus peaking" make manual focusing easy. The EVF offers "exposure simulation" to preview the effect of exposure changes made by the user. This function can be disabled, which takes studio flash photography into account, where a low modeling light and flash might be used.
The LCD screen on back of the Sony A6500 is now touch sensitive, which is another difference between this model and the A6300. The photographer can select the desired focus area and more. Switching between the EVF and the LCD screen can be done manually or by using the automatic eye sensor located near the eyepiece of the EVF.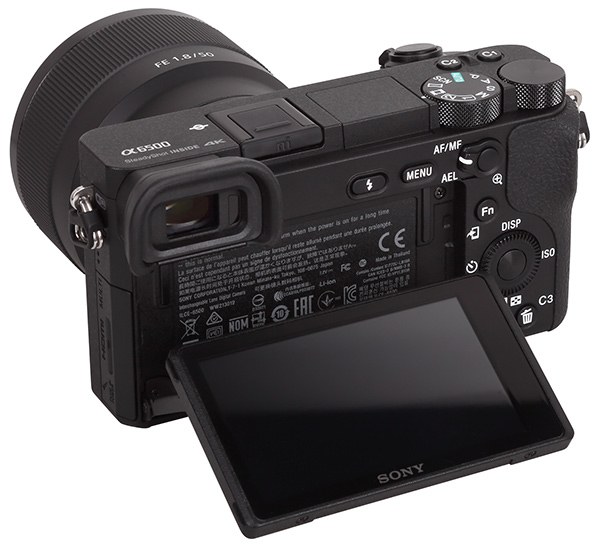 The Sony A6500 offers a wide variety of individual settings. The menu on the screen has been revised and looks like the menu of the Sony A99 II . The new menu has a more intuitive structure, a very helpful change considering the myriad of features and settings available for both still and video recording.
Even though the Sony A6500 is very compact it offers two setup dials. The first is located on the top and can be reached by the thumb of the right hand. The second is located on the back and can also be operated by the thumb of the right hand. This second dial also acts as the 4-way cursor control field for menu navigation and offers direct access to ISO speed settings or display modes.
The Sony A6500 offers an extremely fast AF system. It uses 425 AF sensors on its image sensor (phase detection) and 169 AF areas for contrast metering. Using the continuous AF mode, the AF areas seem to "dance" on the screen as they adjust– this is very impressive. The new Sony is also an ideal camera for sports and action photography with a high rate of 11 frames per second in continuous release mode.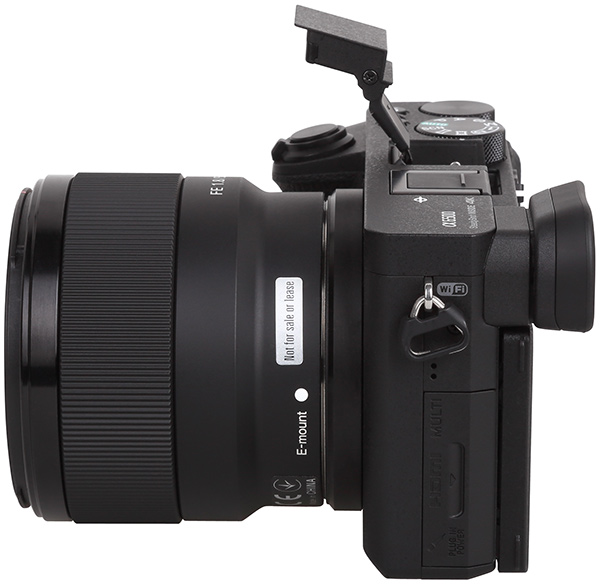 Comments on Image Quality:
Color: The Sony A6500 reproduced the color test chart with 105.8 percent so is slightly oversaturated. White balance is nearly perfect; the darker gray nuances show a shift into cooler color areas. Red nuances are a bit boosted and exaggerated, but are still on an acceptable level. Just like many Sony cameras, the A6500 enhances skin tones with a slightly higher rate of red or orange.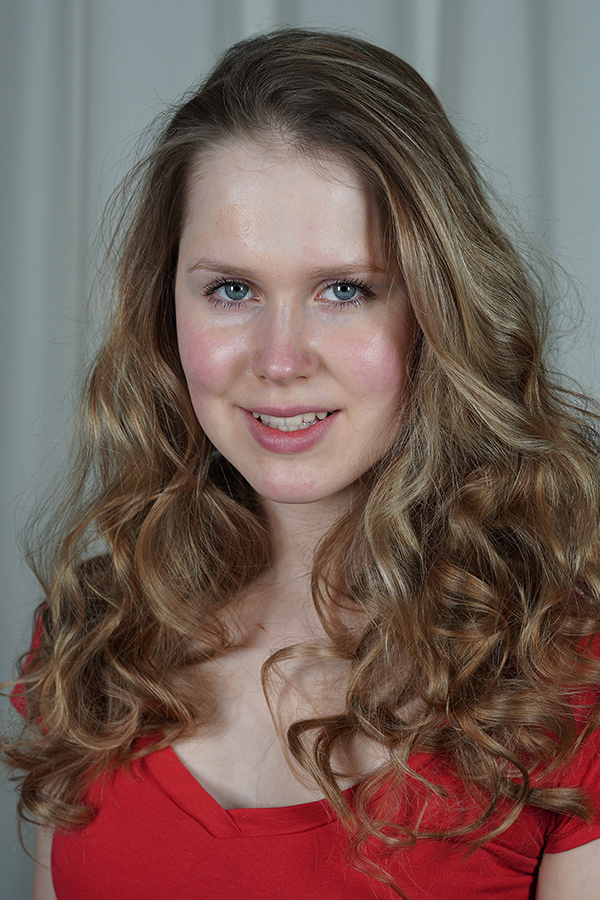 Sharpness: The Sony A6500 is able to convert its nominal sensor resolution into real images. The ISO 12233 chart was reproduced with 3861 of 4000 lines per picture height. Hard contrast lines are a bit exaggerated, so some images have a "digital look" due to over-sharpening, but most of the images are crisp and detail rich. The Sony A6500 versions of the standard test box shot and the portrait shot look very crisp and don't show the very extreme contrast lines of the ISO 12233 chart.
Noise: The Sony A6500 performed very well in our noise tests. Luminance and color noise are on a very low level in images taken with ISO 100 to ISO 3200. The luminance y-factor crosses the 1.0 percent line at ISO 6400. Color noise and anti-noise filtering effects become visible at ISO 3200 and ISO 6400. Using higher ISO speed settings visibly reduces detail reproduction. At ISO 25,600, details become quite smoothed, and the additional ISO 51,200 setting should only be used when absolutely necessary.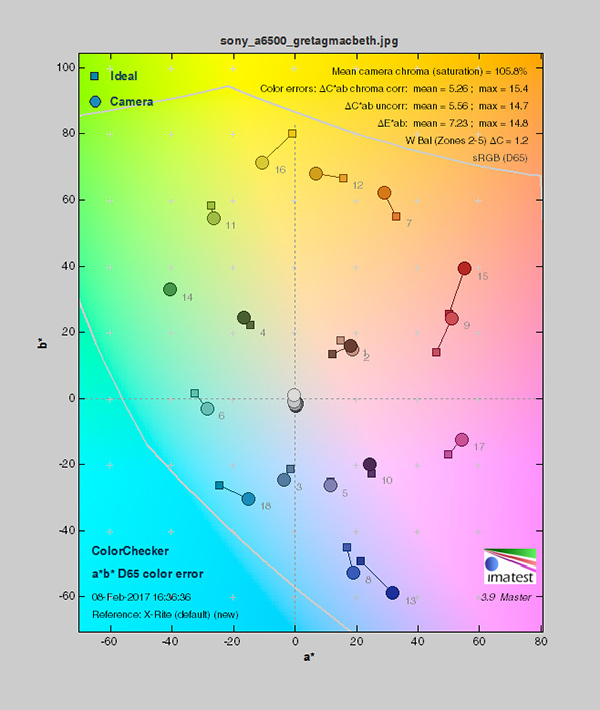 Dynamic range is very high for camera with an APS-C sensor and on the same level as professional SLR systems. The camera showed images with a maximum of 11.8 f-stops and keeps this high level of about 11 f-stops up to ISO 1600, an excellent result.
Video Format and Handling
The Sony A6500 offers a lot of different video modes, compression settings, resolution and file settings. 4K video is recorded with 3840 x 2160 pixels with a frame rate of up to 30 frames per second. Reducing the video resolution to Full HD allows the user to record up to 120 frames per second, which is the equivalent to a 4x slow-motion function.
For Full HD recording the photographer can use the standard AVCHD system with up to 28 Mbit/s. For better image quality the Sony can record in "XAVC-S" mode – Full HD and 4K. This mode uses the same basic compression technology (H.264) as the AVCHD standard, but with high quality compression settings with higher data rate up to 100 Mbit/s. All our tests were done in XAVC-S mode. The camera offers picture styles including "S-Log"-styles for video recording with a very flat contrast and saturation curve. This allows the user to record high contrast scenes and enhance movies in post-production.
The recording settings can be changed manually. The camera offers P, S, A and M mode for videos, but the user has to switch into movie mode (mode dial on the top) and choose the desired exposure mode in the menu. ISO speed settings, sound level control and more are also available. To start video recording the camera offers a second shutter button on the back edge of the right side of the body.
Comments on Video Quality
The Sony A6500 showed an excellent performance in our video tests. The resolution test chart was reproduced with 1064 of 1080 lines per picture height in "Full HD" mode and with 2127 of 2160 lines in 4K mode. Both results set new records for our video tests.
Color reproduction is very good. The camera showed only minor differences between results for color reproduction and white balance in video and photo modes. Color errors are on a very low level. Neutral gray patterns are located near exact in the center of the result chart; this speaks to very neutral reproduction and perfect white balance settings even in auto mode.
Our ISO settings test also produced very good results. The camera allows the user to record movies with ISO 100 to ISO 25,600 settings; The ISO 51,200 setting in photo mode is disabled in video mode.
Pro:
+ Excellent image quality and very high sharpness
+ High speed AF
+ High-end 4K video features
Con:
- While compact, handling isn't as comfortable as with an SLR-style camera (e.g.: both parameter dials on the back instead of one dial near the shutter release button)
- LCD can be flipped up- and downwards, but isn't fully articulated
The Sony A6500 has a list price of $1,399 (body only). For more information, visit sony.com.
(Lab Review is where we publish web-exclusive lab reports on cameras. To read more Lab Reviews, click on the Reviews tab on the top navigation bar of this page. New photo gear reports are published frequently, so check Reviews for more equipment evaluations from Shutterbug writers.)

FEATURED VIDEO