Sony A6500 Review: Shooting With Sony's Premium E-Mount Mirrorless Camera in Austin, Texas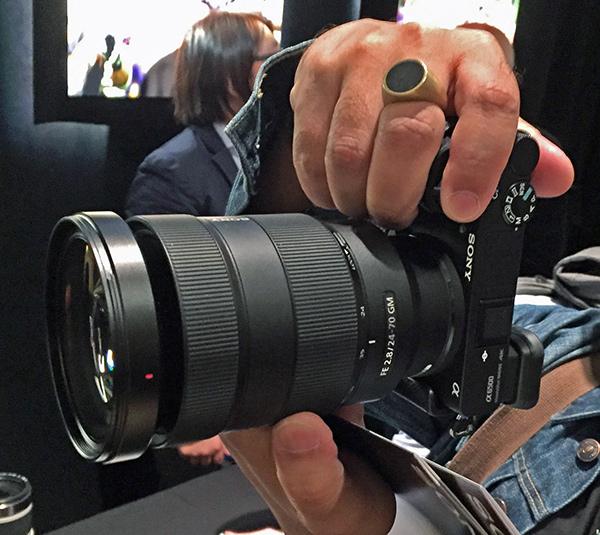 When the invitation arrived to join Sony and a group of editors and writers in Austin, Texas, for a couple days of shooting with the new A6500 APS-C mirrorless camera, my response was swift and unequivocal: "When do I leave?" Austin is a fun town known for superb cuisine, great music, friendly folks, and an abundance of shooting opportunities, and I've been eager to get my hands on the compact powerhouse A6500 ever since it was announced last October.
My immediate impression upon opening my kit was that the A6500 is a really small camera. Measuring just 4.75x2.75x2.125 inches (WxHxD), this compact mirrorless model truly is small enough to fit in the palm of your hand. And at just about one pound in weight with a battery installed, you barely know it's there. Of course, what really makes the compact form factor of the Sony A6500 all the more impressive is that it's a robust little gem with a magnesium alloy body that's designed to do everything, if not more, than most full-size DSLRs.
As I quickly learned once we started shooting, the 24.2-megapixel A6500 offers very fast, precise autofocus with 425 phase-detection AF points, extremely impressive low-light performance with sensitivity settings from ISO 100 to 25,600 (expandable to 51,200), and Sony's BIONZ X processing engine that delivers clean, natural-looking image reproduction with a minimum of noise.
While I concentrated on still photography during the two days in Austin, several folks mostly shot video with some pretty stunning results. The Sony A6500 features 4K recordings in the Super 35mm format with full pixel readout and up to 5x slow-motion capability at 50 Mbps in Full HD.
Videographers can select from eight frame rates from 1 fps to 120 fps, in addition to 24p, 30p, and 60p recording.
Who's It For?
Don't be fooled by the diminutive dimensions of the Sony A6500: This is a serious camera for serious photographers and it's well equipped to handle professional requirements. It's a great choice for travel, adventure, and action shooters who want to go light and shoot on the run—with a choice of compact, high-quality lenses that won't weigh you down.
The camera is well sealed against dust and moisture, and even though I treated it gingerly like I do with all my gear, the A6500's double-layered alloy body conveyed a feeling of ruggedness and confidence that it would withstand some pretty serious abuse in the field. And the robust metal lens mount seems more than up to the task of supporting telephoto lenses such as the Sony FE 70-200mm f/2.8 GM OSS zoom I used for much of my shooting.
And speaking of durability, Sony says the shutter of the A6500 has been tested to withstand 200,000 actuations and is designed with shock-absorbing material for reduced vibrations to help optimize both sensor resolution and longevity.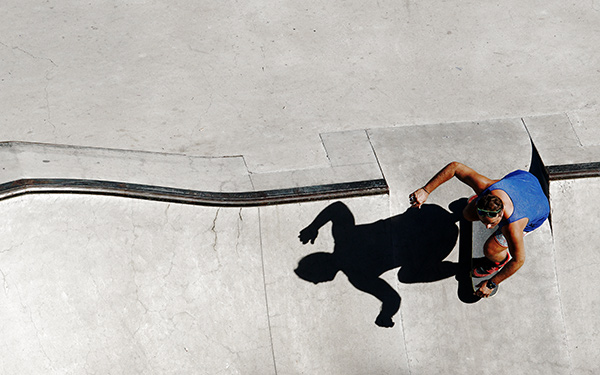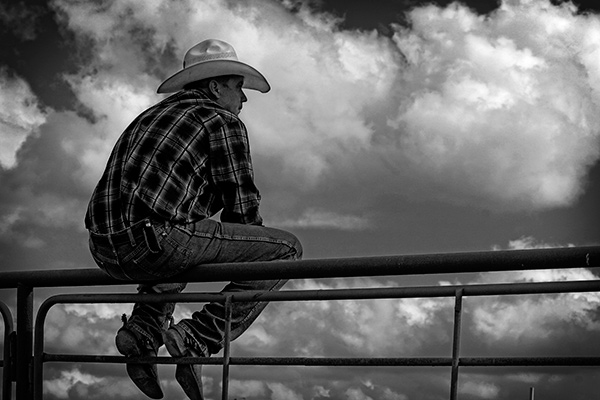 I was also pleased with the good balance and handling of the compact A6500, with most dials and controls logically positioned for quick operation. That said, photographers with large hands or those who shoot in cold environments while wearing gloves would be well advised to handle the camera before ordering one—just to make sure it suits their needs.
Field Tests
The folks at Sony packed a lot of activities into our two-day itinerary so we could test the A6500 while photographing high-speed action and see how it performed under low-light conditions. One of my favorite events was a "Western Shoot" on the outskirts of town, where we photographed calf roping, barrel jumping, and other rodeo events (as well as some attractive models posing on haystacks). It was a long, hot day, so admittedly the barbeque/beer tent was also a welcome aspect of that shoot.
I chose the aforementioned FE 70-200mm f/2.8 G Master telephoto zoom for shooting the rodeo events, a lens that proved to be a perfect companion for the A6500 while photographing action. Speeding hooves and flying dirt were no problem for the 0.05-second AF speed of the A6500's hybrid autofocus system that Sony claims is the world's fastest.
Tracking performance was extremely accurate, and while I prefer to anticipate the point of action rather than just depress the shutter button and blast away in continuous mode, the camera's huge buffer of up to 307 images (in about 36 seconds) in continuous mode is there when you need it. The light was good and most of my images were shot at ISO settings from 1000 to 5000, shutter speeds from 1/1000 to 1/6000 second, and moderate apertures.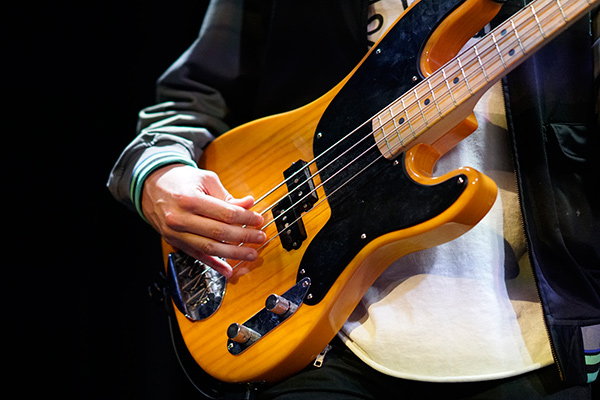 As a change of pace, we also had an opportunity to photograph a live performance of the Ian Moore band while shooting from the pit at the famous Austin City Limits club. Given the proximity of the stage, the cramped conditions in the pit, and the dim lighting on stage and in the green room, I chose Sony's compact FE 85mm f/1.4 G Master lens for that event.
I like to shoot tight at concerts, and the fast 85mm was ideal. Here I used spot metering to avoid bias from the overhead stage lighting, an ISO setting of 3200, and shutter speeds from 1/2500 to 1/4000 second with the lens wide open (except for a quick portrait in the green room where there was enough light to photograph Ian Moore at 1/80 second). The A6500 has a metering sensitivity to -2 EV so exposure readings were fast and accurate even with minimal light.
Given the A6500's top ISO of 25,600 (expandable to 51,200), my setting of ISO 3200 wasn't even close to pushing the camera's ability to deliver clean images under low-light conditions. Also contributing to the A6500's low-light capabilities is the camera's very effective five-axis image stabilization system which compensates for camera shake (for both stills and video) thanks to a gyro sensor that Sony says provides a five-step shutter speed advantage.
Finally, we had the opportunity to shoot some more action at a skateboard park with both skaters and BMX cyclists. For this opportunity I turned back to my new best friend, the 70-200mm f/2.8. While most everyone else was shooting up close, I decided to climb to the roof of an adjacent parking structure and shoot down on our "models" to take advantage of the afternoon shadows while using the long end of my telephoto zoom.
Bracing the camera on a railing, there was enough light to use shutter speeds from 1/1250 second at ISO 250, while waiting for the apex of the action to occur. While I didn't rely too much on the A6500's impressive focus tracking capabilities here like I did at the Western Shoot, the camera's 425 phase-detection AF points accurately handled the main subjects of my shots.
Image Quality
Whether shooting rodeo events under bright, harsh light, the indoor concert performance, or skaters and cyclists moving in and out of sun and shadows, I was very pleased with how the A6500 rendered my images. Colors were accurate and natural at the camera's default settings, shadows were clean, and, apart from a couple instances of operator failure due to my unfamiliarity with the camera, exposures were dead on.
In short, I was really impressed with the color rendition, sharpness, and image resolution delivered by the Sony A6500, which I'm sure was partially the result of the two superb lenses I used for the majority of my shooting. I didn't have time to experiment with custom white balance settings, just leaving the camera set to auto, and that seemed to work fine in all situations.
I also didn't want to spend my late evenings in the hotel processing Raw files before the farewell event when we displayed our shots, so the images you see here were all shot as JPEGs—some with a bit of cropping and minor adjustments to contrast and shadow/highlight detail.
Conclusion
Clearly, the Sony A6500 is a very sophisticated mirrorless camera with a wide variety of features and capabilities that are far too numerous to cover in detail here. One deserving of mention, though, is the camera's Silent Shooting mode that releases the shutter with nary a sound, even with continuous shooting at 3 fps with AF/AE tracking. This capability would be really helpful when photographing wildlife or at performances like an orchestra concert where it's important to be discreet.
I wouldn't call the A6500's menu system as "intuitive" as others I've used, but that's at least in part due to the fact that it's different from my personal cameras as well as the myriad of options available. I suspect that with some time to familiarize myself with the A6500, a couple more days of shooting (and an instruction manual to consult), that minor gripe would be retracted.
For my style of shooting, which primarily consists of street photography, travel, and backcountry excursions, the small, mobile, and full-featured A6500 is really an ideal tool. It's also an option worth considering for those who primarily shoot with a DSLR, but who want something small as a backup that can easily compete with their full-size camera when the need to travel light arises. And for only $1,399 (body only), the Sony A6500 is really hard to beat.

LATEST VIDEO