Have You Ever Wanted to Go Behind the Scenes on a Boudoir Shoot? Watch This!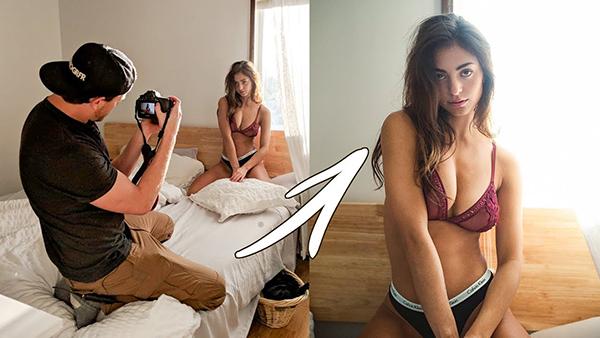 Have you ever wondered what it was like to be a boudoir photographer? The below video gives you a taste of the experience, taking you behind the scenes of a professional boudoir shoot.
The shoot is led by George Dutch who photographs models Daniel Vrbancic and Emily Brown for Irene Rudnyk's channel. Rudnyk commissioned the video from Dutch because she wanted to show viewers what it's like in the day in the life of a boudoir photographer.
To photograph the models, Dutch uses a DIY ring light set up in his basement studio in a series of free flowing, scenes. He also captures them in natural light in his bedroom.
"We're just going to have fun, go with the flow and try to capture some of the natural light that comes through my bedroom window," Dutch says. "And we're doing some ring lights in the basement."
There's really not that much more to it than that, which is why this behind the scenes boudoir shoot is the perfect video for late Friday before Labor Day weekend. So, sit back, relax, and watch this fun boudoir shoot using improvised lighting and casual, everyday sets.
If you want to learn more about getting started in boudoir photographer, here are three more stories teaching you the basics of boudoir:
A Beginner's Guide to Boudoir Photography: How to Create Gorgeous Intimate Portraits
9 Must-Know Tips for Better Boudoir Photography
These Are the Best Camera Settings for Boudoir Photography, According to Michael Sasser
See all of our boudoir tutorials on our boudoir how-to page.

FEATURED VIDEO