A Beginner's Guide to Boudoir Photography: How to Create Gorgeous Intimate Portraits
(Editor's Note: This boudoir photography guide first appeared on pixpa.)
Boudoir photography is becoming more and more popular. This form of intimate portraiture requires a unique mix of photography skills. There is an element of fine art, glamor and fashion photography, and standard portraits. But boudoir stands alone as a niche in photography because it speaks to the private lives of everyday people.
What is Boudoir Photography?
The word boudoir is French, and it refers to a woman's private dressing room. It's an intimate place that she has all to herself. In the same way, boudoir photography is intimate photography taken for the subject and her own personal reasons.
In the eye of your client, boudoir is fashion or glamor photography, but to the photographer, a key difference exists. Fashion models are professionals who have done this a million times, but with boudoir, you are posing subjects who have likely never done it before. They're likely uncomfortable, and they might not know how to pull off even the most basic of poses. In short, boudoir shoots require a lot of the photographer in terms of skillset in directing, posing, and communicating.
Styles of Boudoir
There are probably as many styles of boudoir as there are photographers. Classic looks for boudoir include dramatic (low-key), luminous (high-key), playful, and vogue. New boudoir photography ideas include vintage, pin-up, maternity, and fine-art nude.

Since there are so many styles of boudoir, having an idea book and some set packages might help you communicate better with your clients. This is a great way to organize your portfolio and website too since it can help show clients the differences between styles and the way you tackle each one. The key to success is to have a clear vision of not only what clients want but also of what you can offer. Don't try to sell clients a high-key vogue setup when you don't own the equipment to pull it off.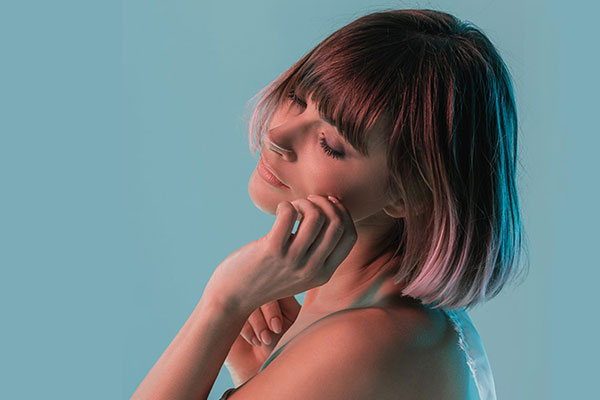 Setup and Preparation
When looking at what is boudoir photography and researching how to do it, it is easy to see it as simply another form of portraiture. But boudoir is an entire process, and it is easy to get it wrong. There are many steps along the way and messing even one up can lead to cheesy or tacky photos.
Perhaps more than any other niche in photography, boudoir demands a comfortable client-photographer relationship. The client must be totally at ease in front of the camera, while in little or no clothing. They must be comfortable sharing an intimate part of their life with you, one that they probably show very few people. And there must be constant two-way communication between you and your client about what they want and how to get it to show in the photos.

To have a successful boudoir shoot, you'll want to ensure that the following things are done. First, you must have gotten to know your client and have a firm grasp of what they want from the photo session and final images. You must take that information and produce a plan for makeup, hair, wardrobe, background, photography equipment and setup. On the day of the shoot, you'll need to coach your client through poses step by step clearly and concisely. And finally, you'll need to do post-production on the photos to put them together for delivery in a way that exceeds the client's expectations.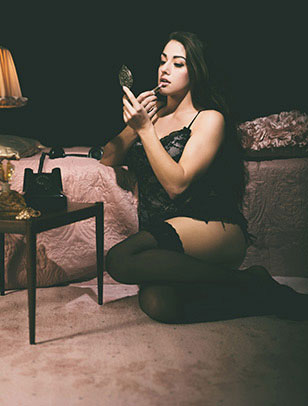 Communication
At its core, a boudoir is simply a specialized form of portrait photography. But before you go making preparations for a high-key fashion shoot, be sure to have a sit-down consultation with your client. What are they looking for? Don't assume they want beauty dishes and a glamor magazine look. Many people prefer the low-key look of natural light for boudoir images.

Perhaps more than any other form of photography, boudoir is a personal choice on the part of the client. Your client has probably thought long and hard about the decision to do a boudoir shoot. There was something that inspired them to do it, maybe a particular photograph or photographer. You need to ask them, "what is boudoir photography to you?"

Phone calls and emails are easy, but they aren't enough when prepping for a boudoir shoot. You need a face-to-face meeting. This allows you to build a comfortable relationship with your client, to help them be at ease with you and your style, and to help you fully understand what they are hoping to get out of their boudoir session.

Don't rely solely on verbal communications. A Pinterest page or other idea board is invaluable. Give your client homework and make them show you examples of what they like and what they hate.


For a successful shoot, excellent communication before the shoot sets the stage for success. But communicating consistently during the shoot, and helping your client achieve the look they are going for, it equally important. Remember, they are most likely not a professional model, and they have probably never done this before.

It's up to the photographer to direct their pose with helpful, clear instructions. Always avoid unhelpful and useless phrases like "work the camera" and "be relaxed." Keeping your client at ease is one of your most important jobs because any unease will show in the final photos.
While thinking about making your clients at ease, try to think of any other things you can do to set the mood and make them comfortable. Ask them what their favorite music is, and then play that in the studio. You can even offer snacks, water, or champagne as part of the shoot.
Makeup and Hair Stylists
As with any fashion or glamor shoot, makeup and hairstyling can make or break the final images. The difference is that most people seeking out a boudoir shoot may not give it enough thought. So, the burden of providing it lies with the photographer. It's essential that you work out a system for getting your clients to access to professional help.

The most successful boudoir photographers work with professional stylists. They have them in their studios with them, and their fees are included in the package price. The subject starts the day in hair and makeup, and then move onto the wardrobe. This might seem excessive, but it means that clients will get the entire package and that the photographer can be there for advice and help along the way.

Even if you don't have the facilities like a big studio, be sure to plan out stylist choices with your client. Will they visit separate facilities the day of the shoot? Is there a plan in place of what look they are going for and what they are going to ask for?

None of this is to imply control on the part of the photographer. The boudoir shoot is owned and controlled by the client. Your job is to take the photos they are looking to get, and your advice on how to get it is critical each step of the way.
Wardrobe
Clothing choices are really up to your client. But part of the boudoir experience should be mimicking looks that they love. As such, the most successful boudoir photographers have a large wardrobe selection from which clients can pull ideas.

Lingerie is the go-to for boudoir images, but it's hardly the only option. Many fun pictures come from mimicking the retro pin-up look or the golden age of Hollywood look from the 40s and 50s. Some clients may be looking for nude (or implied nude) shots. In short, these choices coincide with the stylistic choices you make with your client during your consultations. They go hand in hand with the hair and makeup decisions made and the lighting and posing techniques used.

One final note about wardrobe: Have an emergency kit on hand with a needle and thread. Lingerie is designed to accentuate curves and make your client look good, but it's not very durable. Some fashion tape can come in handy too to avoid unwanted wardrobe malfunctions.
Equipment Choices
Your camera and lens choices for boudoir will likely not be different than a standard portrait session. A quality DSLR or mirrorless system that can handle a variety of lens and lighting setups is a must-have.

Chances are you will be hand holding the camera for easier posing and movement. This not only enables the photographer to move around easier, but it also removes barriers for the model to be more fluid and move. Being mobile means you must keep your shutter speeds higher to avoid handshake, and you will need a wireless strobe setup for any lighting you've got.

Unless you are always working in a studio, you will likely want a variety of lenses to suit your boudoir shoot. Many photographers prefer to remain mobile and to use fixed focal length lenses. Popular choices include fast 35 or 55 mm lenses. You might notice that these are wider than lenses typically used for portraits, and this is because you are going to be shooting more full-body wide-angle shots. Just remember, anything less than 35 mm is likely to cause perspective distortions that can be unflattering. Use super-wide focal lengths with caution!

If you're looking for one all-around lens that can get you through a boudoir session, a workhorse zoom lens like a 24-70 mm f/2.8 will do the trick nicely. Another fun option is to try using perspective control lenses for boudoir. Tilt-shift lenses enable you to control the plane of focus in every direction, allowing for some really interesting, unique, and creative images.
Read the rest of this beginners' boudoir photography tutorial here.

FEATURED VIDEO