The Good Stuff: Our 4 Favorite Photo Products of the Month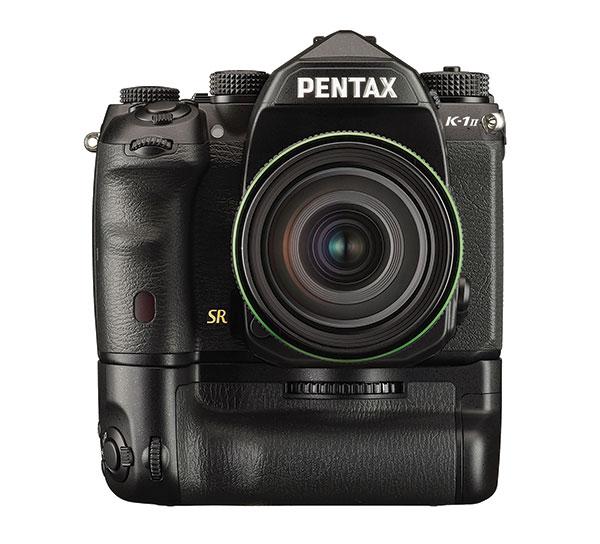 Second Coming
Ricoh Imaging, the parent company of Pentax, made a splash when it introduced the Pentax K-1 in 2016. The company's first full-frame DSLR, the K-1 had been hotly anticipated for years and was extremely popular upon release due to its robust feature set and surprisingly affordable price tag ($1,999). So, what does Ricoh/Pentax do for an encore? The Pentax K-1 Mark II, of course. Like its predecessor, the new model boasts a rugged, compact, weather-sealed body and uses the same 36.4MP full-frame anti-aliasing CMOS sensor. The new camera also retains the proven in-camera shake reduction system of the earlier model, as well as its sensor-shift capabilities that capture four images of the same scene and merge them into a single super-resolution image. It also keeps the just under $2,000 price. Here's what the Pentax K-1 Mark II adds: an additional sensor-shift feature called Dynamic Pixel Shift Resolution mode, for shooting superior ultrahigh-resolution images without the use of a tripod—adding to the camera's appeal for nature and landscape photography. Contributing to the K-1 Mark II's ability to capture images with optimum sharpness, contrast, and color rendition is a new accelerator unit designed to minimize noise when shooting at high ISOs—even at the camera's maximum sensitivity of ISO 819,200. The Pentax K-1 Mark II boasts five-axis, five-step shake reduction technology that compensates for horizontal and vertical movement, in addition to pitch and yaw. Ricoh says the camera's advanced stabilization system has a compensation range of up to five steps. Another great feature for outdoor photographers is the camera's 3.2-inch flexible, tilting LCD monitor that can be adjusted to any angle desired—horizontally, vertically, or diagonally—with a single movement. The Pentax K-1 Mark II offers additional viewing options, with a bright optical viewfinder that has a nearly 100% field of view. Other key features of the Pentax K-1 Mark II include high-speed continuous shooting, Full HD movie recording with a number of creative capabilities, a built-in GPS module, and much more. (The optional Pentax D-BG6 battery grip, shown in the image, is sold separately for $246.)
(Editor's Note: You can read our full review of the Pentax K-1 Mark II here.)
Pentax K-1 Mark II
$1,999
us.ricoh-imaging.com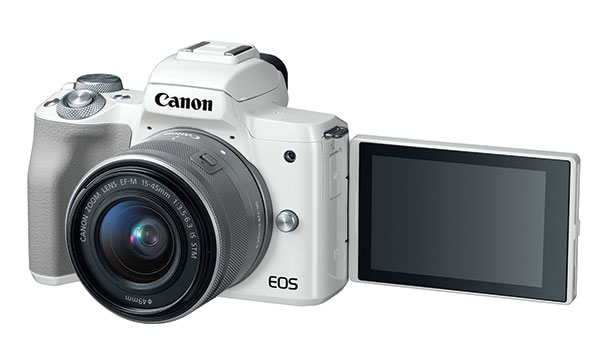 4K Newbie
The compact EOS M50 mirrorless camera represents a milestone for Canon. It's the company's first EOS M-series camera to offer 4K video recording. While that might not sound particularly innovative considering there are several mirrorless models out there that shoot 4K, it shows Canon is now taking this category of camera seriously. And the Canon M50 looks like a serious shooter, boasting a 24.1MP APS-C CMOS image sensor and a new DIGIC 8 image processor in a sleek camera body (available in either black or white) that can fit in a coat pocket. Other key features include a three-inch, vari-angle, rear touchscreen LCD—another first for an EOS M-series camera—and an OLED electronic viewfinder with touch and drag autofocus. The M50 also has Wi-Fi, NFC, and Bluetooth wireless connectivity, automatic image transfer to compatible devices while shooting, and a new silent mode.
Canon EOS M50
$779, body only; $899 as a kit with the EF-M 15-45mm f/3.5-6.3 IS STM lens in both black and white; $999 as a kit with the EF-M 15-45mm f/3.5-6.3 IS STM and the EF-M 55-200mm f/4.5-6.3 IS STM in black only
usa.canon.com
Movie Starter
The Nikon D850 full-frame DSLR is already a powerful tool for videographers but Nikon recently added some creative options for budding filmmakers. The new Nikon D850 Filmmaker's Kit is a custom bundle, which includes the camera, some great Nikkor glass, and other essentials for video creation. Along with the 45.7MP Nikon D850 DSLR, the kit comes with three fast prime lenses, including the AF-S Nikkor 20mm f/1.8G ED lens, the AF-S Nikkor 35mm f/1.8G ED lens, and the AF-S Nikkor 85mm f/1.8G lens. The Nikon D850 Filmmaker's Kit also contains an external 4K Atomos Ninja Flame External Recorder/Monitor with accessories, the ME-W1 Wireless Microphone, an extra EN-EL15a battery, and the ME-1 Stereo Microphone. Also included are custom foam inserts for protecting the gear when carried in a hard case (sold separately).
Nikon D850 Filmmaker's Kit
$5,499
nikonusa.com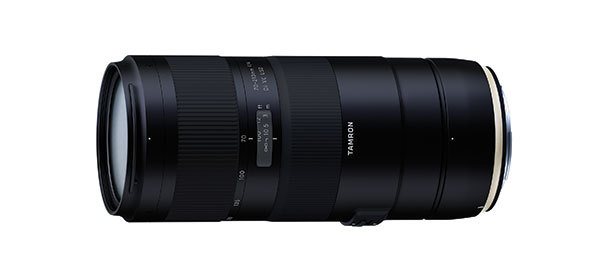 Sleek Zoomer
Tamron's compact and lightweight 70-210mm f/4 Di VC USD zoom lens is a high-performance telephoto featuring a constant maximum aperture, fast and precise AF capabilities, and superb resolution throughout its range. Also known as Model A034, the new 70-210mm f/4 Di VC USD utilizes Tamron's powerful Vibration Compensation (VC) technology and has a class-leading 1:3.1 reproduction ratio for striking images of small subjects as close as 37.4 inches. Designed for outdoor photography, the new Tamron 70-210mm f/4 boasts moisture-resistant construction and uses a durable, protective fluorine coating on the front element that's safe and easy to clean. The lens measures just under seven inches in length and weighs barely 30 ounces. Thanks to a smooth internal focusing system, the length of the Tamron 70-210mm f/4 doesn't change during zooming, so "zoom creep" is nonexistent. The lens is also designed with a nonrotating front element for convenient use of polarizing filters. The new Tamron 70-210mm f/4 Di VC USD is constructed with 20 elements in 14 groups, and uses three low-dispersion elements to maximize image quality and control chromatic aberration and other optical anomalies.
(Editor's Note: You can read our full review of the Tamron 70-210mm f/4 Di VC USD lens here.)
Tamron 70-210mm f/4 Di VC USD
$799 (in Canon and Nikon mounts)
tamron-usa.com