Epson's Stylus Photo R1800; A New 13" Wide UltraChrome Ink Consumer Printer Page 2
I also made quite a number of prints of black and white photo files (in RGB mode) with many of the papers using all of the color inks. The black and white results varied somewhat in how neutral the grays reproduced with different papers. Of the Epson papers used to print black and white the most neutral results were obtained with the papers for which Epson had provided premium profiles. And the best, most neutral black and white prints were obtained with the third-party papers, which I assess to the custom profiles I made for these papers. It is not that I make "better" profiles, but that any canned profile provided must accommodate all of the variation in individual printers because of the effect of typical variations in manufacturing tolerances. Not all printers of one model will be exactly alike, like not all cars of one model drive like all others of the same model. A custom profile takes into account the individual printer's specific attributes, and unlike a canned profile includes no or at least less room for tolerance differences.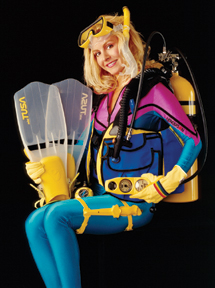 Some images are ideally suited to the brilliant reproduction of values in a Premium Glossy print, like this commercial illustration on a scanned 8x10 film.
Between having a large selection of papers to test as part of the evaluation of the performance of the Epson Stylus Photo R1800, I must also admit my curiosity and enthusiasm encouraged making the largest print test I have done with any printer. The more I used the printer, the more images I wanted to try printing, and often with more than one of the paper selections I had available. The results encourage me to believe Epson has created an advanced enthusiast printer that is capable of reproducing more good digital image files successfully than has been the case in the past. In addition, this printer has the ability to create super glossy prints on Epson Premium Glossy Paper for those who like prints with a mirror-like surface. And finally, the printer also provides the same excellent quality when printing on white printable CD-R or DVD-R discs as the R800.
Conclusion And Recommendation
It seems to me that even though Epson has not stated as much explicitly, the design intent applied to both the R800 and now R1800 is specifically targeted to an enthusiast market made up chiefly of photography enthusiasts. The reason I say that is that the substitution of the light cyan and magenta inks with red and blue has apparently provided a significant advantage in making prints from digital photographic image files compared to previous printer designs that employed the traditional color palette model of CcMmYK. And, now that the new Epson K3 inkset printers have been announced, which continue the cyan, magenta, yellow color palette, although further enhanced with three levels of black ink, it seems clear that the professional printers are intended to meet the requirements of a different market. This includes users who are either printing CMYK files or proof printing CMYK to emulate an offset press. In other words, the ink color palette that advantages printing RGB photo image files is now distinct from the professional requirement to sustain a color set model that mimics a typical offset press.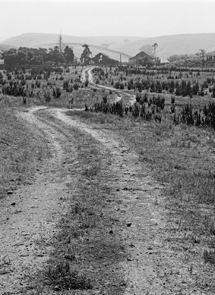 Black and white gray scale files converted to RGB color mode and printed as if color with the Epson Stylus Photo R1800, using a profile to profile Photoshop workflow, are rendered with quite neutral tones from black through a full range of grays.
Why should this distinction matter? Well, if you are primarily a photo enthusiast and print from RGB photo image files, the R1800 may be Epson's best shot at providing optimum perceptual print qualities. By comparison, one of Epson's new, just announced professionally oriented printers may not provide the same photo printing advantages. And advantages there are, considering the R1800 inks are UltraChromes with the long print life confirmed by Wilhelm Research. They provide both a high print density range and color saturation that is as good or better than the best dye ink inkjets I have worked with recently. At a list price of $549, considerably below the cost of a professional printer, this new Epson Stylus Photo R1800 is an exceptional value.
Independent Paper Selection Sources
Traditionally, photographic prints were made using a "paper" whose imaging capability was an emulsion coating that responded to light exposure and chemical reaction, and the look and feel of the print was largely determined by the characteristics of the emulsion, as the paper was simply a substrate used to support the emulsion. Now with digital inkjet printing, the ink applied produces the image directly on the paper whose characteristics become part of the look and feel of the image. A good part of the advantage offered by inkjet printing is the fact that a user can choose from a wide selection of papers from numerous sources to achieve a very particular image appearance, look, and feel. This is possible because the papers that can be used with an inkjet printer are not all that different than art papers that have been produced and refined for many centuries to support all kinds of imaging media, including pencil, crayon, ink, and watercolor paint, to name a few.

Because how a paper performs is specifically relative to a particular inkjet printer, I have been choosing a selection of different papers from various independent sources to include in my printer tests and reports. This time I have selected four different papers, two of which are high-end 100 percent cotton fiber fine art papers and two that are more affordable, lighter weight papers that met high critical standards for quality. The two brand sources are PermaJet distributed by Jobo Fototechnic (www.jobo-usa.com), and PremierArt papers distributed by Premier Imaging Products (www.premierimagingproducts.com).

PermaJet Matt Plus is an acid-free 245gsm weight paper with a smooth, matte surface and bright white base. It is the kind of paper which is often referred to as a "photo matte" paper for general inkjet reproduction of photographic images in either color or black and white. I found it to be an exceptionally bright, neutral white that reproduced full tone and high-key images effectively with clean, smooth color and good detail. Its one possible detraction is a somewhat limited D-max, but is an otherwise superior, affordable paper for large size prints for exhibition and display.

PermaJet ImageLife Alpha is a 100 percent natural cotton rag fine art inkjet paper of 310gsm weight with a very fine, smooth texture. I found ImageLife Alpha reproduces an exceptionally high D-max and richly saturated color in images made with the Epson R1800 printer. Without artificial brighteners, ImageLife Alpha has a very white, bright appearance that has just a hint of warmth, and should provide a consistent image appearance over a long period of time.

PremierArt Dual Matte is a 210gsm weight, alpha cellulose base, acid-free, smooth matte paper coated on both sides. For a moderate cost, Dual Matte reproduces a quite high D-max and provided well saturated tones. It is well suited to a wide variety of subjects and uses. And its dual-sided coating allows it to be used effectively in a presentation portfolio with pages printed on both sides.

PremierArt Luster Rag is a 100 percent cotton rag acid-free fine art paper with an unusual surface and texture. It is a 23mil thick, 335gsm weight paper ideally suited to making large exhibition or display prints. And, it is the first pure fiber paper for inkjet printing I have found with subtle luster sheen and fine texture that closely resembles traditional photographic fiber-based double-weight glossy that is air dried. My experience is that it is suitable for reproducing a wide range of image characteristics yielding an extremely high D-max and very rich color saturation. I would describe the unusual printed attributes of this paper produced by the R1800 inks as providing the look of Kodachrome with many images. However, there is some tendency for the ink in very dark tones to acquire a duller appearance, which suggests the prints may benefit from a protective spray finish with PremierArt Print Shield.
Technical Specifications
Printing Technology: Advanced Micro Piezo eight-color pigment inkjet technology, optimized for photo printing
Ink Palette: Eight color (cyan, magenta,yellow, photo black or matte black, red, blue, and Gloss Optimizer)
Ink Cartridge Configuration: Individual cartridges
Ink Type: Epson UltraChrome Hi-Gloss Pigment Ink
Minimum Ink Droplet Size: 1.5 picoliter
Maximum Resolution (dots per inch): 576x1440 optimized dpi
Maximum Paper Width: Single sheet--13", Roll paper--13"
Maximum Printable Area: 13x44"
Light Resistance/Print Longevity: Fade resistance of 104 years for Epson Premium Glossy Paper, 150 years for Epson Matte Paper Heavyweight, and 200 years for Epson Watercolor Radiant Matte Paper
Printer Dimensions And Weight: 24.2x12.6x9.1"; Weight: 33 lbs
Interface And Connectivity: Hi-Speed USB 2.0 and FireWire (IEEE 1394)
Operating Systems: Windows 2000/XP; Mac OS X 10.2.4 or higher
Software Included: Epson Print CD Software, PRINT Image Matching Plug-In for Adobe Photoshop, Epson Raw Print, nik multimedia Color Efex Pro 2.0 (three sample filters)
Color Management: Epson Standard, Epson Vivid Color, and Adobe RGB
Color Management Solutions: Premium ICC Color Profiles, GretagMacbeth Eye-One Share, X-Rite Complete Color Management Guide and Monaco EZcolor demo

For more information, contact Epson America, Inc. at 3840 Kilroy Airport Way, Long Beach, CA 90806; (800) 463-7766, (562) 981-3840; www.epson.com.

LATEST VIDEO

SPONSORED VIDEO
Testing Tamron's SP 150-60mm G2 lens while capturing birds and alligators in Apalachicola, Florida.