Epson's Stylus Photo R1800; A New 13" Wide UltraChrome Ink Consumer Printer
Epson has been a very active company over the last few years, offering an abundance of new printer models that I am sure has been both confusing and a welcome support for photographers doing digital darkroom work. One of the great benefits for many has been the introduction and refinement of pigment inks, which provided much greater print longevity than dye inks. This was accomplished in Epson's "professional" line of printers, first with the Stylus Photo 2000P and UltraChrome ink, which was further refined with the Stylus Photo 2200 13" printer and its larger companions, the Stylus Pro 7600/9600 and most recently the Stylus Pro 4000. Not long into the professional implementation of pigment UltraChrome inks, Epson turned its pigment-ink strategy to include the home/office desktop printer market with DURABrite inks and the "C" series four-color printers.
Epson's new 13" Stylus Photo R1800 inkjet printer.
With both the professional market and the home/office market having the advantage of longer lived pigment inks, the enthusiast (prosumer) market was left with dye-type inks and the venerable Epson Stylus Photo 1280/890/900 six-color printers. What Epson had in mind for the prosumer market of photo enthusiasts was revealed about a year ago in the Epson Stylus Photo R800, which I was pleased to report on in these pages (see August 2004 issue). Although closely related in many ways to the Stylus Photo 2200 with UltraChrome pigment inks in individual ink cartridges, the R800 differed significantly in the ink palette, as well as features providing extended usefulness to a diverse group of users.

The most significant difference in the R800 affecting performance was the change from a CcMmYK ink palette to a CBMRYK palette, which replaced the light cyan and magenta with full-density red and blue inks. In addition, the light black was eliminated and the cartridge slot was filled with a Gloss Optimizer, an after-coat for RC-type papers. This also allowed the cartridge head to be loaded with both photo and matte black inks, eliminating the cartridge changing in the 2200 printer. An added feature was the provision to be able to print on blank CD/DVD-R discs. For all intents and purposes the R800 became the top of the line letter-sized photo printer offered by Epson, essentially replacing that status held by the 890/900 Stylus Photo models.

The new Epson Stylus Photo R1800 is really a 13" wide R800. Its place in the Epson printer line-up tops the prosumer enthusiast line, replacing the position held by the Epson Stylus Photo 1280. The R1800 is not a replacement of the Stylus Photo 2200, but an alternative intended for consumers, not professionals, and is priced accordingly at $549, about $300 less than Epson's 13" professional printer. The one significant feature of the R1800 not shared by the R800 is a thick paper path for manual single-sheet loading.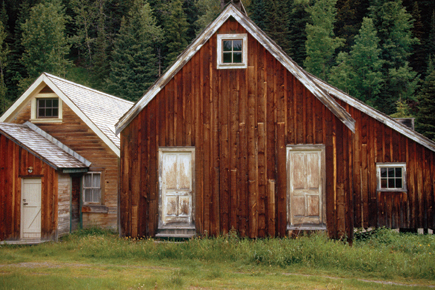 The many shades of brown in the raw wood walls of this far north ghost town as well as the shades of spring grass in the foreground and fir trees in the background all reproduce with excellent fidelity in this print made with the Epson Stylus Photo R1800.
All Photos © 2005, David B. Brooks, All Rights Reserved
Using The New Epson R1800 Printer
Because the new Epson Stylus Photo R1800 uses the same inkset and shares specifications with the letter-sized R800, you might think I could get off easy when testing this new printer. While there are similarities there are also significant differences. One of main differences is the scale of the image size between 8x10 and 12x18" prints, which makes for quite a distinct perceptual experience. This is also reflected in the fact that prints made large are not used and displayed in the same way or for the same purpose as smaller prints. An image on a letter-sized or smaller page is viewed at less than arm's length in a much more subjective manner than a large image in a frame displayed on a wall that is viewed more objectively and less personally, as a private experience. And because the purpose of larger prints is different, very often the criteria for selecting the kind of medium on which to make a print is also different. And in the case of the R1800 that often involves heavier, thicker papers that can't even be used with the R800. In other words, the difference in size is much more than just inches--it reduces and in some ways eliminates the similarities between the two printers.

Although Epson offers a diverse range of papers that are compatible with the new Stylus Photo R1800, and also an even greater variety of finer papers sold for professional purposes, many are not offered in 13x19" cut sheets and even less in smaller sizes. However, comparable fine papers are abundantly available from independent sources. So I again chose to include some third-party products in my testing to find out how they perform with the printer. This also led to the need for custom profiling the R1800 for these papers. All of this provided more than enough questions to answer to keep me busy printing for some time.

Most of all I wanted to learn what this new Epson printer would permit me to reproduce that I had not been able to print with full satisfaction before. In other words, just how far have we progressed? With all this in mind I made a selection of images including as much subject variety, particularly in color, as possible to begin printing. In addition, after printing reference charts to profile the printer with the four new papers I had acquired to be part of the tests, I made a large, composite test image of small photos, an IT-8, Color Checker, and gray scales, which I printed with every Epson and third-party paper for this test. The results from this initial set of test image prints displayed a very uniform response, even though the paper characteristics varied considerably. Besides this "good news," I found, examining the images side by side, very little weakness in any part of the composite of photos and test charts of color patches, also a quite encouraging result.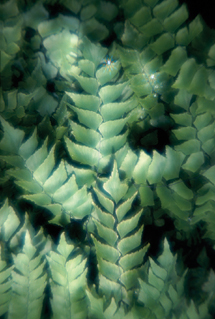 The effectiveness and realism of this print of fern leaves in dappled light is made fully effective and vibrant in the way the new Epson Stylus Photo R1800 reproduces natural green subject colors.
So I began printing my selection of image files, first with some of the Epson papers, including Enhanced Matte, Heavyweight Matte, Watercolor, and Premium Glossy. At this point I should note that, like the R800, Epson provided both standard paper profiles as well as a selection of premium profiles for the new printer. To use the latter effectively you need to use a printing workflow with Photoshop's Print With Preview (or Elements 3.0's print driver dialog), selecting the specific profile in the CMS section and then clicking on No Color Adjustment in the Epson print driver dialog. I used this workflow for all but some utility printing, like reproducing contact sheets on Epson's Photo Quality Inkjet paper. This workflow is also essential when using custom profiles like those I made for the third-party papers I used as part of my testing.



LATEST VIDEO