Editor's Review: Samsung Galaxy NX
The hybridization of cameras and phones has produced various manifestations of late, one being the Samsung Galaxy S4 Zoom, reviewed here a few months back (http://www.shutterbug.com/content/editor's-review-samsung-galaxy-s4-zoom-connectivity-max), which looks like a smartphone with a camera/lens grafted onto it's front. The Galaxy NX comes at this combination from the other direction, a decidedly camera-like design with built-in Android functionality, sans phone capability, but with all the other amenities and accouterments included. And there's no confusing this with a smartphone, what with it being 3x5.5x2.25 inches in size, the benefit being a very large back display, 4.77" on the diagonal and width to height ratio of 2.5 x 4 inches.
The NX is current state of the art in "connectedness," a breed in which Samsung is leading the charge. There's no need to hook into a smartphone to send images, and you download apps here as you would on any tablet or other mobile device. The camera becomes, in essence, a multimediacenter for both receiving and sending. Think of a way of connecting and the NX has it, including auto uploads to various sites and devices, the ability to read your email right from the camera, access to Android and Google apps, watching and sending video, even listening to some tunes—in short, an entertainment and sharing device as well as a camera.
While this raises questions about whether you want to do all this from your ostensible camera or from a much more portable smartphone, there's no denying that the camera end of the device has: a) a very large display that is almost like holding a lab print in your hand, albeit virtual; b) quite good still and video performance, especially in low light; c) camera-like controls and imaging options unmatched by any smartphone; and d) a wide range of quality interchangeable lenses that no smartphone system could ever hope to use.
There's no question that as an object, as an indicator of where we have come to and perhaps where we are going in communications, the NX is a milestone camera worthy of contemplation. Whether you buy into the concept is another matter, but that's something for your contemplation, not the subject of this report.
The Body Design & Functions
Those who have worked solely with so-called "retro" SLR designs with numerous dials and buttons and control cursors will probably be at sea with the NX. There's an on/off switch, a shutter release and video button, and a control dial on the upper right. That's it. The rest is all on-screen and you tap, swipe, pinch and use various secret handshakes to get the camera to do what you wish. While a few of these are self-evident for those who have used a smartphone, others, such as the one where you tap and hold two points on the screen with your thumbs and tilt the camera up and down to zoom between those spots, probably is not. Or, the way you can sweep your palm across the screen to set a screenshot, or cover the screen with your hand to pause media playback.
This being a connected device the amount of setup can seem laborious, but generally once you have all the WiFi, email and other connections set, and turn on or off GPS, Bluetooth, etc. that should take care of it…but this being an Internet device there is so much more to choose from, and that's a volunteer situation. All I can say is that the more connected options you choose the more the notifications will flash at you, informing you of updates etc. available or those firmware upgrades that must be tended to.
It's a bit like wanting to edit some images so you open your computer and then the OS, software and more update notices come on so you spend half an hour updating everything before you can get to work, at which point the spirit may have waned a bit. Well, it's not that bad, but you get the point. Also, startup time from shutdown to ready to shoot lags considerably, and the more stuff you have loaded, the more time it takes.
Nevertheless, sharing opps and apps are profuse, including a Dropbox option that is something new in the camera to cloud arena. You can also share easily with another device, send an MMS or SMS message or email or delve into "hangouts" or chat…you name it. You can also browse the net, listen to music, find and use maps, work navigation…well, anything you can do with an Android device, 'cause that's what this is.
As to the camera functions they are quite straightforward, and the screen is fairly self-evident, with the ability to change exposure modes, get indications of setting when you change them and so forth being very readable and controllable from the large screen. There's a "basic" and "professional" mode, the difference being that one renders the camera point and shoot-like, albeit with many options for filter effects, and the other lets you roam around the controls as if you were a real live photographer. You can choose numerous levels of JPEG compression and aspect ratio off the 20MP CMOS chip, as well as shoot with their Raw mode, and Samsung kindly supplies Adobe Lightroom in the box for processing those Raw files.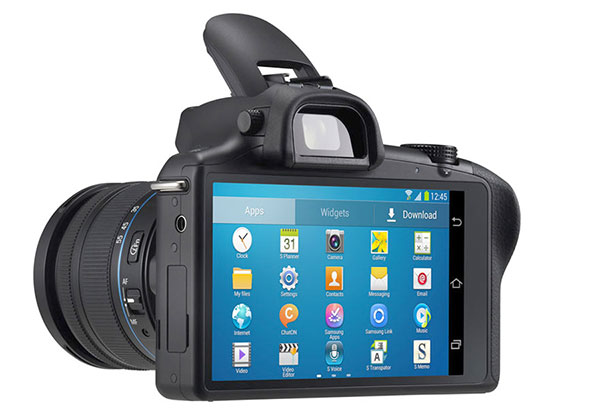 Note the iFunction button on the left side of the lens. Press this to activate aperture control, ISO, and EV compensation settings.
Like many cameras the shutter is dual pressure—light touch for acquisition of focus and full pressure for release, or you can tap the screen. (But you must have acquired focus to be able to take the shot.) Forvideo, use the red center button atop the camera or use the touch screen; you do have manual control over video recording on items such as aperture, shutter and ISO.
There are numerous filter effects for both photo and video, everything from pastel to fisheye, and they appear at the base of the screen with the image before you like presets in processing software—very clever—and all you need do is tap them to have them set up and it will preview the effect before you make the exposure. Nice.
Once you get a handle on how to change exposure modes, EV compensation etc., it will come easily enough, although it is a bit of a learning curve for analog types (and I don't mean film but dial turners). There is a good range of options for ISO choice (I usually work with AUTO on cameras such as this and it works great), EV changes, White Balance, etc.; in otherwords, all the classic and most useful controls. My personal choice for metering is center-weighted averaging, but you can also choose spot or multi as well. As to focusing and AF area selection, there are no surprises there, and like many cameras it will give you a confirmation signal and light a squareonce focus has been achieved. Focus lock is easily done with slight pressure on the shutter release.
As mentioned, you can access camera controls via the touchscreen but you also can get to them via the iFunction switch on the lens. Let's say you've chosen aperture priority mode. Click on the iFunction button on the lens. Turn the front knurled knob on the lens to change aperture. Click again and turn the control to change EV compensation, and then again ISO settings. There are numerous function controls on the left hand side of thescreen, including AEL (autoexposure lock), which allows you to lock exposure with slight pressure on the shutter release. You can also access the menu that allows you to select white balance, size, quality, etc. All the controls are there--you just have to learn a new way to get through the maze to find them.
How about image quality? As mentioned it's a 20MP CMOS sensor and I worked with the 18-55mm f/3.6-5.6 OIS (optical image stabilizer) lens, not the speediest among the Samsung offerings, but in various lighting conditions—interiors both brightly and dimly lit, bright sunshine, overcast days—I was quite happy with the results. The video delivers MP4 and one thing that really impressed was the sound quality, way superior to what I had heard from other models I have tested of late.
Nothing stopped me from choosing any kind of image effect I wanted and from being able to see what I was shooting clearly in all sorts of light, through both the startling sharp back screen to the EVF finder, which opens automatically when you place your eye there. I chose center weighted metering but did test the Multi pattern, and using both with AEL activated is the best way to go. EV compensation is easy to set up—you push the iFunction button, turn the outer ring on the lens to evoke the EV compensation menu, and then turn the control knob to where you desire, and all the changes show as you view the preview on the screen.
Downloading Images
There are a number of ways to get images from camera to computer. You can Bluetooth them and it's easy to set up on your home network, especially if its wireless. This is a one-at-a-time deal, but it's quick and let's you scroll playback and simply tap the Bluetooth icon and off it goes. For those who like direct download the best bet is to first download Samsung's Kies software (http://www.samsung.com/in/support/usefulsoftware/KIES/JSP) available for both Mac and PC. Once you do that and connect the camera to the computer via the multi-plug port (more on that in a minute) it downloads the images from the camera into a browser-like format, from which you can select images and the folder into which you want them sent. Memory is both via a microSD card and the camera's own internal memory.
Now, about that multi-purpose USB. The battery must becharged inside the camera (at least with what came in the box). You do this by keeping the USB end of the business inside the AC adapter and plugging the camera adapter end into the multi-purpose USB port on the camera: a batterycharge indicator comes on, much like a smartphone. Personally, I like a separate charger.
As to downloading via the USB, if you go by habit and think you can just plug the adapter into the camera and the USB (separated from the charger) into the computer, thinking you'll get a drive from which you can download, you won't—it actually shows up as a modem. But when you have Kies on screen and do the same you'll get the browser and images from which you can select keepers. I found that if I had videos on the same "gallery" in the camera I would have to download them via the Video tab, as they did not download with the stills using the Photos tab.
Conclusions and Recommendations
I have to admit to being endlessly surprised by the often hidden aspects of the Galaxy NX. Part of this was the merry chase caused by the instructional guide (online only in pdf form). It seemed to assume my knowledge of often-arcane acronyms (to me, anyway) and a certain innate understanding of smartphone operations. At times it glossed over (though did not misrepresent) other aspects of the camera's hidden corners. (It ain't easy to find, so here's the link: http://www.samsung.com/hk_en/support/model/EK-GN120ZKATGY). The instructions packed with the camera were brief and not very helpful, but this is in keeping with the way we get instruction guides with most cameras these days.
Pleasantly surprising was how quickly one could take to the large screen; to the ease of choosing camera controls and, overall, the pleasing image results. While a faster and more versatile lens would have helped matters even more, the stills in low light, the ability to work live with image effects and even some "smart" filters, and the very nice video were quite welcome. For those of us raised on 35mm, and even those of us raised with digital and not phone cameras, the lack of dials and on-camera controls andsetups are challenging, but after some practice runs it all works out for the best.
I guess the main question is whether or not you think being connected and having access to all sorts of apps in camera and the ability to get email on camera, etc. is something that you can appreciate and use. If this appeals to you the NX is an impressive piece of gear and certainly expressive of our age. If not, then this won't be your cup of tea.
Contact: www.samsung.com/global/microsite/galaxycamera/nx
Price: Body only: $1299; includes Abobe Lightroom software for Mac or PC
Lens as tested: 18-55mm f/3.5-5.6 OIS: $220. (Equivalent about 28-85mm)

FEATURED VIDEO