Durango, Colorado; Fall Colors In The San Juan Mountains
Whether you focus on a single leaf or take in an entire aspen grove, fall colors are always dramatic. The most important thing to do is to be in the right place at the right time! In the mountains near Durango, you may find autumn splendor beginning in mid-September to the first few weeks of October. The peak color times vary from year to year, so it's a good idea to check with the Durango Area Tourism Office (970/247-3500) and plan your trip around peak foliage season.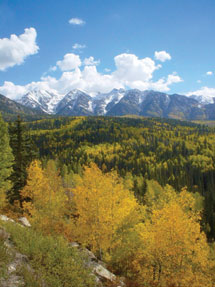 The mountains near Durango provide an ideal setting for capturing fall colors. Peak season varies from mid-September to early October, so check with the Durango Tourism office before planning your trip.
Photo by Ashlee Allen
What To Photograph
Begin your photo tour in the historical town of Durango, which was incorporated in 1881 by the Denver and Rio Grande Railroad to serve the San Juan mining district. Its colorful past is still apparent in its Victorian downtown, where you can enjoy the spirit of the era and photograph some great architecture.

Several trails near town afford great views of fall foliage. One of these is the Goulding Creek Trail, which is especially picturesque in late September and early October when the aspen groves are shimmering gold. It's a moderately difficult, six-mile roundtrip hike that climbs above Hermosa Cliffs near the Tamarron Resort, just outside of Durango.

The San Juan Skyway offers 232 miles of scenic driving through the San Juan and Uncompahgre national forests on Interstate 145 and US 550. These dramatic, winding roads pass through the old mining centers of Silverton, Ouray and Telluride. There are many opportunities to photograph fall colors along this route.

The Durango & Silverton Narrow Gauge Railroad features trains powered by coal-fired steam locomotives, which run through spectacular mountain scenery in the San Juan National Forest, following the Animas River to Silverton. This line has been in continuous service since 1882, and no visit to Durango would be complete without a ride. In the fall you can capture beautiful fall colors while on board.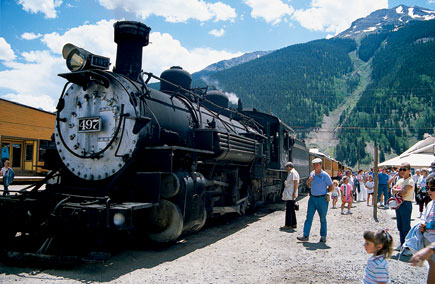 Avid photo enthusiasts are encouraged to enter their best images in a photography contest held during the upcoming 7th Annual Railfest Celebration, August 24-24. Winners will receive a locomotive cab ride and other prizes.
Photo by Lynne Eodice
If you hurry, you can enter the first-ever photography contest held during the 7th Annual Railfest Celebration, August 24-28, 2005. First-place category winners will receive a locomotive cab ride and a spot in the 2006 D&SNGRR calendar. For more details, call 888/872-4607.


FEATURED VIDEO