DJI Launches Phantom 3 Aerial Drone with 12MP Camera, 4K Video Capture, and Live YouTube Streaming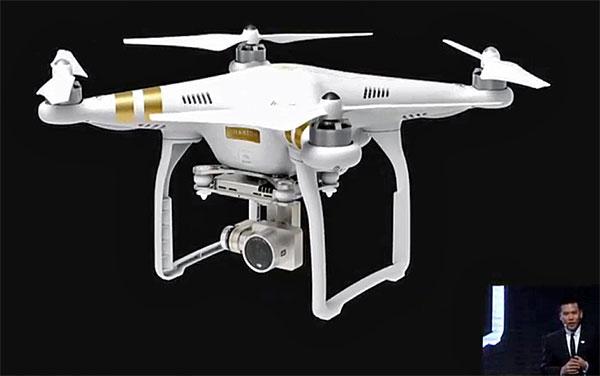 DJI just launched a brand new camera drone: the Phantom 3 quadcopter, which features an improved video and still camera along with several new tools to make shooting and sharing aerial video and photos with this UAV (Unmanned Aerial Vehicle) easier.
The Phantom 3 can capture 4K video along with 12MP still photos in Adobe's DNG Raw format for optimized image quality and resolution.
The new Phantom 3 was unveiled at special, simultaneous events in New York City, London, and Munich today to emphasize the global impact DJI's drones have had on aerial imaging.
"The camera system on the Phantom 3 is the most technologically advanced of any you'll see on a consumer quadcopter," DJI's Eric Cheng told a packed crowd at the New York City launch event. "This is an unprecedented leap in consumer aerial imaging and it's one that needs to be seen to believed."
The remote control for the new Phantom 3 features integrated camera controls with dedicated buttons to let drone pilots adjust the camera more easily and accurately in flight, Cheng said. "This makes a huge different in what the camera sees," he noted.
The Phantom 3 also has more powerful and more efficient copter motors, which lets it accelerate and decelerate faster while letting the user control the drone's speed more easily and accurately, Cheng said. Meanwhile, three built-in sensors in the Phantom 3 monitor the ground to help prevent crashes.
Improved battery life gives the Phantom 3 approximately 23 minutes of air time, while new flight stabilizations systems keep the drone steadier in the air. In-flight position lock happens more quickly and accurately, he added.
DJI's Pilot app, which is available for smartphones and tablet computers, shows a live map during drone flight. It also now lets you control camera tilt and adjust photo settings on the fly including exposure, white balance and more.
Other intriguing new features include the ability to live stream your aerial video from the drone to YouTube; and the new Director automated video editing system, which will piece together your footage for you to "create awe-inspiring montages of aerial clips."
The new DJI Phantom 3 will come in two versions: a professional model that will shoot 4K video in 24FPS, 25FPS, and 30FPS; and an advanced version, which shoots 1080P HD in 60P. Phantom 3 Professional will sell for $1,259, and Phantom 3 Advanced will go for $999.

FEATURED VIDEO