Discovering Cuba: You'll Have to Do Some Crucial Planning to Capture This Long-Isolated Country
(Editor's Note: Destination Travel is a new Shutterbug column that offers tips on how to capture popular photo destinations. This month, travel photographer Daryl Hawk takes a voyage to the slowly opening island nation of Cuba.)
Maybe Cuba attracted me most because it was forbidden. If I'm not allowed to go, I want to go. There was also the lure of a place stuck in time, where people were cut off from technology, a place very different from the world I knew. Which is exactly the kind of place I love to explore and photograph.
And there were those colorful old cars.
I'd been wanting to go for a long time, and I knew it was possible: there were group tours under the umbrellas of research, study, or educational exchange. But that wasn't for me. I don't like to travel in groups. I want to explore on my own, follow my own route, engage the people I meet, satisfy my own curiosity, immerse myself in the experience.
I got to do that this past April when travel regulations eased up. Here was my chance to see Cuba before the modern world caught up and maybe took over.
During two weeks of travel with a driver/guide, I was able to create my own documentary of discovery.
Complete Coverage
I didn't go unprepared. I relied mainly on two guidebooks to learn about more than just the well-known cities and sites: the Lonely Planet guide to Cuba and National Geographic's guide to the island.
I photographed in cities and small towns, explored countryside and caves, met and photographed people, caught the colors and great light of early mornings. I visited coastal areas where fishermen worked huge nets. I hiked to farms where oxen and horses pulled carts and plows, and I was struck by the silence in those fields: there was no machinery, no motorized tractors. Things were done the same way they were 50 or more years ago.
I made my way to the rural agricultural area of Viñales, known for its tobacco and cigars, and the town of Camagüey, where I took horse-and-wagon taxis to get to restaurants and cafés. I photographed at my favorite time of day—early morning, 6:30 to 7:30, when the streets come alive.
Preparing photographically was the easy part because I didn't have to do anything at all. In Cuba, with so many photographic possibilities and opportunities, so much to explore, and so much anticipation, I was able to concentrate solely on the people, their lives and culture, because I strip photography down to the basics: my Canon EOS 60D and EF-S 18-135mm f/3.5-5.6 IS zoom, backed up by another 60D and 18-135mm lens. A circular polarizer, ten 16-gigabyte memory cards, extra batteries, a charger, and voltage converters comprise the rest. My advice is to follow my lead. Your visit will be about color, light, composition, and vision. Get hung up on gear and you'll miss fleeting moments and expressions.
Getting Around
I had concerns about my mode of transport when my driver/guide showed up behind the wheel of 1953 Chevy, but the old car was in remarkably good shape, and save for one quickly-handled breakdown, carried us on a 2,500-mile journey along the frequently rough roads of the island.
Language was never a problem simply because the people were wonderful. Some speak English, others not at all, but making myself understood was never an issue. People were friendly and helpful. They showed me museums, important churches, and local sites, shared their choices of best cafés and restaurants.
Being on my own rather than on a tour meant I could spend time taking photographs whenever and wherever I chose, and regardless of the location or the time of day, I always felt completely safe and secure.
Even though I planned a route, I deviated from it when something caught my eye or a site story piqued my interest. I found some of the best places that way.
But I know there's still so much more to explore, and I'll be going back.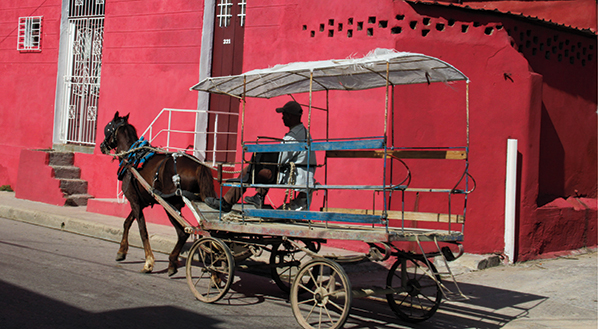 If You Go
Getting There: I flew from New York to Mexico City (where AeroMexico sold me the needed tourist card), then on to Havana. But six American airlines are expected to be offering direct flights from at least four U.S. cities as early as this fall.
Guided: If you want to join a tour, simply Google "travel to Cuba" and evaluate the options. If you want to go solo, it's possible, but the challenge is finding a driver/guide. The big hotels generally know guides with cars, and there's always a web search.
Weather: November to April is generally considered the best overall time. If heat and humidity are not your thing, avoid the summer months.
Clothing: I wore mostly shorts and short-sleeve shirts; a pair of jeans maybe once or twice. If you're a serious photographer, you'll know that comfortable, broken-in walking shoes or hiking boots are essential. Sandals are cooler on the feet, but not a good choice for a day of walking and shooting.
Accommodations: A Google search will turn up hotel choices, but I chose what many travelers agree are the best places to stay: casas particulares, private accommodations similar to bed and breakfasts. Search the web or book through travel agents. Airbnb is offering rentals in Cuba, too.
A Final Note: The ins and outs of travel to Cuba are rapidly evolving. For best results, careful and current research is advisable.
Daryl Hawk's website, darylhawk.com, features additional images of Cuba as well as photographs from his other adventure travels.

FEATURED VIDEO