CS 3 Beta..Black and White Improvements and Changes

CS 3 Beta..Black and White Improvements and Changes
by George Schaub
I have always enjoyed black and white printing, and have used the tools in various versions of Photoshop to go from color to black and white. Now, with CS3 (beta) there are even more tools to work with, some of which are improvements or at least refinements over what was offered before.
The new conversion options in Camera Raw, accessed automatically when you open a Raw image from the CS3 Bridge, are a good place to begin. I always shoot Raw when I know I am going to make prints from my digital camera shots as it gives me the most processing flexibility. The shot I am going to use was made with a Canon 30D at a Canon workshop in Yellowstone National Park.


Using Bridge I chose an image I thought would make a good black and white print, a steaming geyser offset by bare trees in the foreground.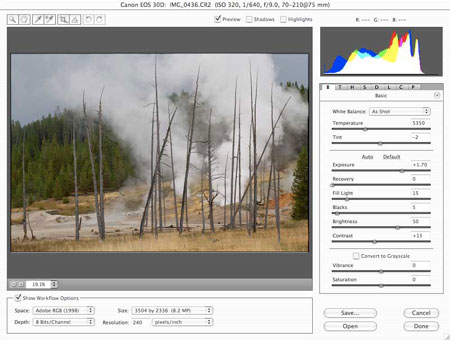 When I opened the CR2 (Canon Raw) file by double clicking on it in the Bridge viewer the Camera Raw processor opened. If you are familiar with the CS2 or previous Camera Raw processors you'll note some interesting differences, especially the "Convert to Grayscale" check box in the lower right.
I do not suggest using this box, at least in this part of the processing, as it limits some of your options if you use it here. It in fact converts the image to a grayscale mode from RGB, and I always like to work my monochrome images in RGB. This does not harm the image, but just limits some options.


Rather, I suggest simply using the Saturation slider and move it all the way to the left to, in essence, Desaturate the image. That's what I've done here. At the same time I adjusted contrast and exposure to get the tonal range in the image I desired. This control window alone gives you a great jump on converting to black and white with all the tonal interpretation you might want.


Here's a new and exciting control in the CS3 beta Camera Raw that in many ways replaces the Channel Mixer Adjustment Layer that I have always felt was the best (now old) way to make conversions. It's under the H (for hue) tab. When you click on the tab you are given the option to "convert to grayscale", which you click ON. You then have many more hue sliders to make a very customized conversion. I can honestly say that this is a great improvement over Channel Mixer (which, by the way, still exists as an Adjustment Layer.) I encourage you to play with the sliders to see how subtle changes can be made.
Here's another great new tool for black and white fans, the Black and White control in the Image and the Layers menu. I always suggest making a dupe layer first prior to using image adjustments at Image>Adjustments. Better yet use Layers>Adjustment Layer>Black and White. The image on your screen automatically turns to monochrome when you choose it but the Mode stays RGB, just what we want.
Here again you have a host of sliders to customize the tonal range and play in your images. I don't think I'll be using Channel Mixer again.


Note the Tint checkbox at the base of this control. This is a great tool to add a toning effect to your image, much like the Hue/saturation control (Colorize) did in the past, but here it's a one-stop shop. I chose a light sepia tone for this interpretation.


While I liked the sepia option, I also wanted to show you the final tonal mix I chose for the print in grayscale.
There's no question that monochrome and black and white fans have some great new tools in CS3, at least judging from the beta version. Download it yourself and give it a try.
The software can be downloaded at: http://labs.adobe.com.
To utilize Adobe Photoshop CS3 beta, customers require a serial number from either Adobe Photoshop CS2, Adobe Creative Suite 2, Adobe Creative Suite Production Studio, Adobe Design Bundle, Adobe Web Bundle or Adobe Video Bundle. Adobe Photoshop CS3 beta is available in English only. Customers who have a valid serial number for all other language versions of qualifying Adobe products can download the software. Without a serial number, users can still download Adobe Photoshop CS3 beta, with the product expiring after two days. Customers must register online with Adobe or have an existing Adobe.com membership account to access the software.
System Requirements
For Adobe Photoshop CS3 beta, recommended system requirements are as follows. For Macintosh: Mac OSX 10.4.8 or 10.5, 1 GHz PowerPC(r) G4 or G5 processor, Intel based Macintosh. For Windows: Intel(r) Xeon(r) , Xeon Dual, Centrino(r) or Pentium(r) 4 processor, Microsoft Windows XP with Service Pack 2 or higher, Microsoft Windows Vista. Both platforms require 512 MB RAM and a 1024x769 resolution screen. Photoshop CS3 beta will expire soon after the launch of Photoshop CS3 in Spring 2007. Details on final pricing, system requirements and availability have yet to be determined.

FEATURED VIDEO