Corel PaintShop Pro X6: Is It The Best Deal Ever For 64-Bit Editing Power?
It all began back in 1990 with a shareware program called Paint Shop. Debuting the same year as Adobe PhotoShop 1.0, comparison to that legendary product has been inescapable. Paint Shop, known as PaintShop Pro X6 Ultimate in its current incarnation, has always been associated with three characteristics: extreme affordability, sufficient power for most photo enthusiasts, and Windows-only compatibility. PaintShop Pro has continued to evolve and improve, and today offers many significant enhancements, including the ability to run smoothly on Macs using a Windows emulation program.
Affordable? How does $99 sound? If you are a current registered PaintShop Pro user, the upgrade fee is $20 less. At this price, users of other, more expensive photo-editing software should be tempted to investigate. Mac users no longer have an excuse. Corel, publisher of PaintShop Pro X6, tells us that 7 percent of PaintShop Pro users have Macs and over half of them are using Mac OS X 10.8. To get the greatest performance from PaintShop Pro, Corel recommends using Boot Camp instead of other popular emulation applications because it allocates more system resources to their editing software.
So that leaves us with one burning question: does PaintShop Pro X6 Ultimate have the horsepower to satisfy your needs as a photographer? The answer must begin with an objective self-assessment. If you are a working pro, odds are you're going to stick with your current version of Adobe CS or migrate to the Cloud. If you are an enthusiast, check out the list of everything PaintShop Pro has to offer—it's quite likely that PaintShop Pro can do more than you'll ever need. And if you are the kind of person who loves to experiment and try new things, then consider PaintShop Pro as a collateral alternative instead of a replacement for Adobe Creative Suite. With PaintShop Pro you get more than your hundred buck's worth, that's certain, and you can enjoy hours of fun trying out several of the included features like the way-cool KPT plug-in collection.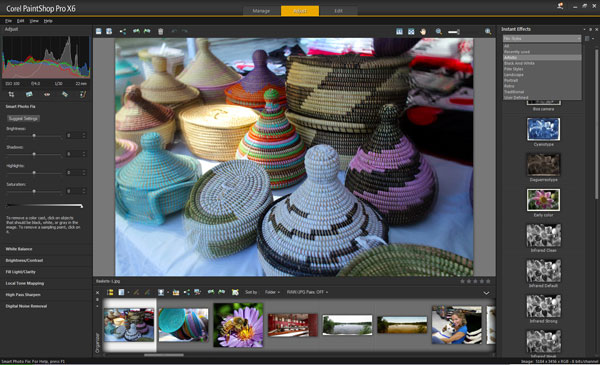 Easy Access & Editing
Operationally, PaintShop Pro X6 is straightforward and easy to follow. There are three main workspaces. To organize and access your images, there is a browser called Manage. Once selected, images can be opened in either Adjust (which is loosely similar to Lightroom) or Edit, the main post-processing application. Each workspace is filled with useful, simple-to-use features like Smart Photo Fix, an automated, one-touch image correction program. There are several creative features as well, and you can see a mini-preview of the effect before selecting it. For example, Time Machine transforms your image into an antique that you choose by adjusting a slider that is incremented in various photographic eras beginning in 1839. (You even get a short history lesson in a text box that explains the effects!)
If you are a Photoshop expert and perform many tasks automatically without much conscious thought, you're going to be at a disadvantage when using PaintShop Pro—you'll undergo a good deal of negative transfer because many names, keyboard shortcuts, and procedures are different. On the other hand, you'll be pleasantly surprised by the program's richness and power.
64-Bit Power
PaintShop Pro X6 Ultimate supports 64-bit architecture, which means to you that it can access more than 4GB of RAM in your computer—and that translates into increased processing speed. Corel claims that new memory management processes allow users to open more files and larger files—upward of 50—depending on installed memory capacity. PaintShop Pro also supports many 64-bit Adobe Photoshop plug-ins in addition to Photoshop format images (.psd) and Photoshop format brushes (.abr).
The new 64-bit support facilitates memory-intensive procedures like HDR processing. Merging, adjusting, and fine-tuning HDR images is now faster and easier than ever before. And PaintShop Pro X6 Ultimate allows you to apply any of the following tools and adjustment options during the HDR process: Smart Photo Fix, White Balance, Brightness/Contrast, Fill Light/Clarity, Local Tone Mapping, High Pass Sharpening, and Digital Noise Removal.
Extras Included
PaintShop Pro X6 Ultimate also includes Perfectly Clear, the popular and powerful plug-in from Athentech Imaging that delivers one-click image corrections. Perfectly Clear applies up to 12 corrections to images and allows substantial customization by the user. Optionally, users can select One Step Photo Fix from the Adjust menu for 100 percent automatic correction, or Smart Photo Fix for more manual control.
Another inclusion is FaceFilter3 (Standard), a semi-automated portrait editing program created by Reallusion. Characterized as a "Scenario-Based Photo Beauty Solution," FaceFilter3 empowers users to change or remove virtually any detail of a human portrait—from eye color to crow's feet to facial contours to lip thickness. It's the kind of application that should come with a caution label: "Warning: the subjects of your photos may be unable to recognize themselves." Seriously, it's a potent editing program (even in the diluted Standard version) and seems oddly coupled with one-step correction applications.
Have fun with it, but use it wisely.
Last by not least, PaintShop Pro X6 Ultimate includes the KPT Collection. Anyone old enough to remember when Kai Krause's software Power Goo-ed upon the scene back in the late '90s will appreciate having a full set of Kai's Power Tools available in PaintShop Pro X6 Ultimate. KPT Hyper Tiling, for example, converts ordinary scenes into kaleidoscopic adventures.
Tempted? Take PaintShop Pro X6 Ultimate for a test drive. Try the fully functional trial version free for 30 days—or pop for a hundred bucks and own it forever.
For more information, contact Corel Corporation at www.corel.com.

FEATURED VIDEO