Corel PaintShop Photo Pro X3 Ultimate; An Affordable Image-Editing Option; Version Reviewed: X3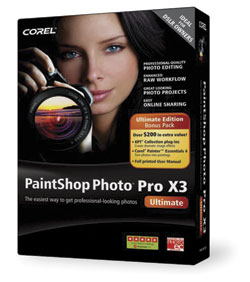 For years, anyone serious about photography has viewed Corel Paint Shop Pro (PSP) as the low cost alternative to Adobe Photoshop. Originally developed by a tiny company in Eden Prairie, Minnesota, Paint Shop has grown up into a full-featured photo workflow tool with a built-in photo organizer that includes tagging options and fast previewing, an advanced image editor, and handy integration with Flickr and Facebook.
For $70, PaintShop Photo Pro X3 Ultimate is a smart addition to a virtual photo toolbox. A few performance problems and some slightly questionable editing capabilities puts PSP in the uncomfortable position of still being in the tall shadow of Adobe. That said, if you want to skip the $700 purchase price, PSP is on the right track.
Workflow Basics
For those who shoot more than about 500 photos per month, it doesn't take long to realize you need a workflow. Every time you connect your camera, you'll realize you are constantly going through the same steps over and over again. There's disk management and importing, editing and retouching, and then exporting.
Interestingly, PSP has not always understood this basic mechanic. In the early days, there was no way to add metadata to images or even embed a copyright claim. And, any photo management seemed like a minor afterthought. The X3 version is a dramatic upgrade in this sense. The organizer works much like the one in Adobe Bridge in that you see "collections" or albums that are used to help you keep some photographic sanity. You can click on a tab to see the computer listing, which shows actual drive locations.
I ended up preferring the Computer tab because the Collections tab is really just a different way to see these folders—it provides a quick way to see the Windows My Picture folder. Most of us have moved on to network storage drives which do not link into the Windows schema at all. That said, PSP is no Adobe Lightroom or Apple Aperture. Speed is an issue. When I clicked on a folder on my network drive, it took about 6 seconds for the thumbnails to appear, even in a folder with just two dozen images. On the same computer and same drive using Lightroom 3, thumbnails appear instantly. Part of the reason is that PaintShop Photo Pro X3 is not a 64-bit application that can take advantage of my fast Intel processor.
In terms of tagging images, the tools are simple and straightforward and surprisingly advanced. For example, you can click on an Advanced tab to see detailed EXIF and IPTC info such as the white balance setting and the photo credit, edit tags for multiple photos at once, and add a digital (embedded) or visible watermark.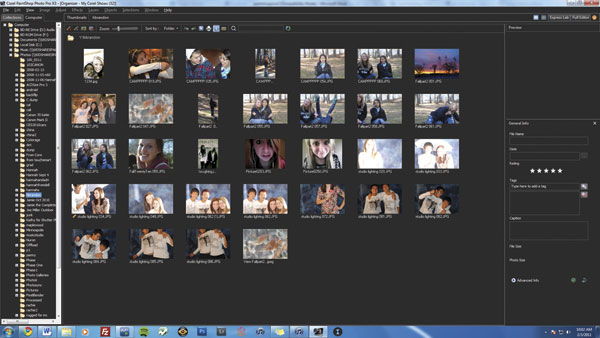 Part of the workflow during import also involves handling Raw images. Once again, I was surprised that the X3 version includes a RAW Lab component where you can apply some basic fixes—such as adjusting temperature—before opening the file. The beauty of this is that you can quickly fix simple problems with tone and actually decide, before opening the Raw file that might be around 8MB to 10MB in size, whether you even want to proceed. You can apply your changes and be done or click Edit to open the image in the PSP editor. Unfortunately, here is where things get dicey. In opening several Raw images imported from a Canon EOS 7D, PSP had trouble with each one in terms of the time to open (1 to 2 seconds even for the lower MB files) and moving the image around on the screen, which was far from real time.
Advanced Editing?
So, speed is an issue, but PSP does not position itself as a high-end professional tool. Like Apple iPhoto, which also recently introduced Raw editing support, PSP does offer advanced editing options for those who do need to edit a large number of photos and need options for changing color and tone, removing smudges, and adding text. PSP has improved on several of these fronts. It is easier to add text as a floating element on an image, go back to other editing work, and then switch back to select and edit more text. My only issue with this feature is that, to apply changes, you have to click a small green check box.
In terms of correcting photographic errors, which is often the step most of us need to take to fix problems such as high noise level and lens problems, PSP has the features available, but in my tests they either did not work quite right or did not actually improve my image. For example, on a nighttime shot at a concert, an image had a pixelated look. Using the noise reduction features did not help. Switching over to Lightroom, the noise reduction features worked quite well. In a few other cases, with only mild noise problems, PSP did solve the problem.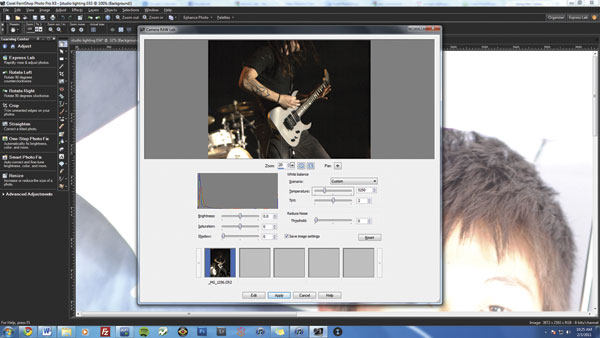 PSP adds some new color correction tools, some of them worked well and others seemed underpowered for the task at hand. A new Vibrancy option for hue and saturation added some pop to the color palette of a shot without dramatically altering the basic tones. In some cases, the many one-click editing options can improve a photo as well without spending too much time tweaking the settings. In a photo of a car, the one-click color correction reduced some glare and added some vibrancy to the red colors without changing the tone of the surrounding area.
PSP now also includes a few plug-ins from KPT, including one for handling lens flare problems and a color equalizer. On a studio lighting experiment, these plug-ins reduced and corrected some lighting issues where one person had too much light on his face and the other person did not have enough. This seemed to be the theme of the tool—the auto-corrections handled more complex color issues in fewer steps.
Added Features
One of the reasons to consider PaintShop Photo Pro X3 is that Corel has added some new features that are not found in competing products. For example, X3 Ultimate includes a separate program called Corel PaintShop Photo Project Creator that adds the ability to export images directly to Facebook, Flickr, and other services. You can also use the program to create cards and collages. PSP does not support any of the professional services, such as Amazon AWS, for storing images and does not support any of the professional portrait and album creation services.
There are several additional features in PSP, some not found in other programs, or some that work a bit differently. One is the Smart Carver tool, which allows you to paint around an unwanted portion of an image and remove it quickly without having to do a lot of extra editing work. Unfortunately, in several tests, the carver did not really work for removing strands of hair (the carving just introduced some extra blurring) and removing a shadow on an image. If the shot is perfectly suited to having something removed, such as one black tree limb over a white sky, the carver works much better.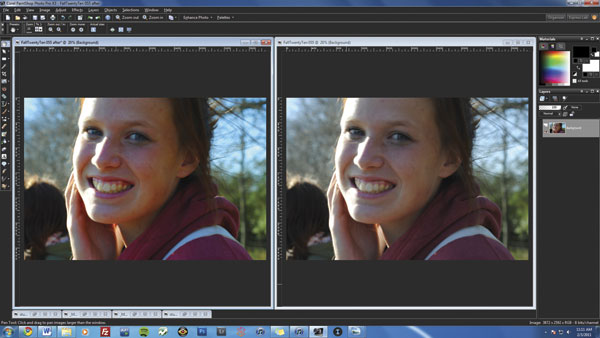 In another case, using the new Object Extractor tool, which allows you to quickly mask the edges of an object and then select the portion you want to remove, the program had a hard time with a Raw file that is about 8MB in size. A message appeared saying the program was out of memory. After a reboot, the extraction worked on a large wind tunnel image. PaintShop Photo Pro X3 was able to remove someone from the foreground, even though the filled in pixels looked a bit smudged.
In the end, PSP performs many of the same tasks as Photoshop: selecting images, editing tags, editing out smudged areas, correcting lighting issues, and exporting the files in a variety of formats. Using the separate Photo Project Creator tool, you can also export images easily to Flickr and Facebook. My final view of the software is that, for the price, it is worth a shot to see if PSP can handle even some advanced editing tasks. It is a good addition on a low-end laptop that you take with you on a shoot.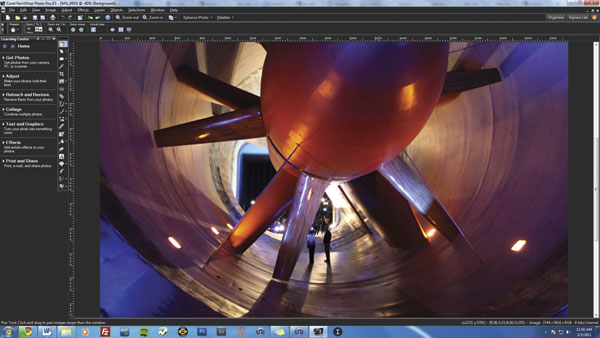 For more information, contact the Corel Corporation at: www.corel.com.

LATEST VIDEO