Can You Trust Online Photo Storage? Another Service Bites the Dust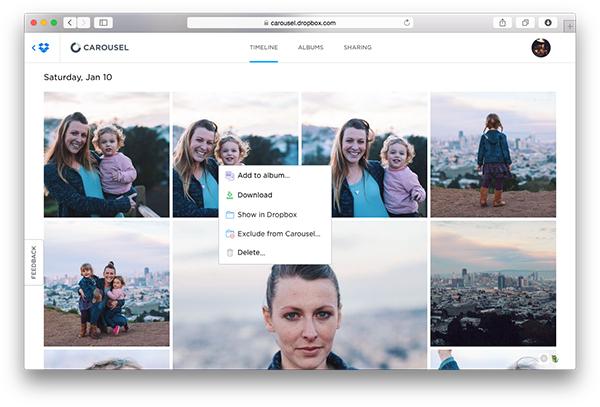 (Editor's Note: The opinions expressed in this piece are solely the views of the author and don't, necessarily, reflect the views of Shutterbug.com)
The high-profile photo organizing app, Carousel, was recently put on the chopping block by its developer, the popular online storage service Dropbox. By next March, the iOS and Android apps will be killed (although users' photos will be safely stored in Dropbox.) In a blog post, Dropbox declared users data will remain secure, but many of the features that attracted photographers to the product -- shared albums, Flashbacks, etc. -- will stop functioning.
When introduced, Carousel was among many photo apps designed to crack the code for photo organizing and storage, but this has become a losing business proposition. From a Dropbox viewpoint, the idea was to provide greater photo functionality for its "freemium" storage service. Photos take up a lot of storage and what better way to demonstrate the value of reliable cloud storage than by having a beautiful photo app for automatically backing up and displaying them?
As MIT Technology Review pointed out in its 2014 app review: "Dropbox has 275 million users, plenty of whom are already using the site to store at least some photos. A standalone photo app could encourage a lot more of these uploads, and might convince some people to upgrade from their free Dropbox accounts to paid ones. It also makes sense for Dropbox to offer more services to help organize and make sense of the growing mountain of data it stores."
Despite an initial flurry of interest, Carousel began losing steam. By May of this year, the pace of blog posts on the Carousel site began to slow from weekly to every other month (a sure sign developer interest is waning). In the past 90 days, the app wasn't even listed among the top 200 photo apps, according to analyst firm Suite 48a Analytics.
A Troubling Trend
So what went wrong? In short, safe, long-term photo storage is not something mass-market consumers are willing to pay for (even if they desperately need it). Consumers are awash with more images than ever but often lack the discipline or desire to back them up. Photo storage and organization is like eating your vegetables; you know you should for health reasons but …
Add to this the troubling problem that, even as online storage has become increasingly cheaper for service providers and for vendors, it's very difficult -- if not impossible -- for online firms to monetize legacy images. In most cases, that means printing; if an image is not printed (made into a book, a canvas, a wall hanging, a card, etc.) right away, it probably won't be. After a year, in most cases, forget printing. This is not to say such images don't have value or aren't important. Sometimes value and monetization don't track.
Last summer, pro photography site Pictage suddenly declared it was shutting down; one of the reasons provided was the ongoing technical challenges for maintaining customer photos.
Meanwhile, Adobe Revel, an online photo storage and viewing service, was shut down three weeks ago and integrated into the Adobe Creative Cloud Plan. Apple has attempted to solve the issue with iCloud syncing with Photos but many Mac/iPhone users have balked at Apple's premium storage pricing.
Furthermore, social networks such as Facebook and Instagram offer good-enough photo storage, and have added auto-tagging and organization functions. This is "good enough" for most people, although getting images out of Facebook for other uses is a technical challenge and full-resolution images are not supported.
What's the answer? Did Carousel just get it wrong or is this a symptom of a bigger problem? We may never know, but the recent launch of auto-backup apps and services from Google Photos, Amazon Photos and Flickr show more solutions are coming. Each of these offer convenient and (essentially) unlimited photo storage.
The difference seems to be the monetization scheme: Google, Amazon and Yahoo all make their money of other aspects of their businesses that let them subsidize their photo storage services. These companies derive revenue from advertising or membership fees.
Perhaps the key take-away from this trend is this: As photography capture has been integrated into our every day lives, photo storage and access will be, as well. Photos will just be another kind of document stored online.

LATEST VIDEO