OPINION: Yashica's New Y35 "digiFilm" Camera Is a Sad Reincarnation of Their Legendary Electro 35
Film photographers from yesteryear, as well as today's 35mm hipsters, have eagerly awaited Yashica's triumphant return to the digital era with a widely teased camera promising "a journey to the truth." But now that the camera is here, it's a major letdown—at least for me.
The new Yashica Y35 digiFilm camera is modeled after the legendary Yashica Electro 35—an electronically controlled, '60s-era rangefinder camera, often referred to as a "poor man's Leica." The Electro 35 had a remarkably sharp fixed 45mm f/1.7 lens, a rudimentary-but-effective metering system, and an aperture priority "auto exposure mode."
To be blunt: I knew the Electro 35. The Electro 35 is a friend of mine. And sorry Yashica, but your Y35 digiFilm camera is no Electro 35. In fact, I actually have a Yashica Electro 35 sitting on my desk, and she's looking very, very sad at the moment. My disappointment is simple: The new Y35 is pretty much a gimmick with nice retro styling—not a tool for serious photographers.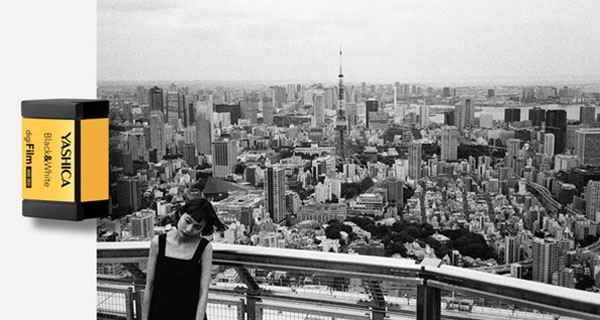 The Y35's peculiar "digiFilm" nomenclature is a clue that to use the camera you have to unlatch the back and insert one of four film-canister look-alikes. Each of the four determine the ISO, film emulation characteristics, and aspect ratio of the images you shoot; settings for which there are no controls on the camera itself.
Available cartridges include one for low-light shooting at ISO 1600, another for ISO 400 black-and-white images, an ISO 200 "Ultra Fine" color option, and a fourth for square ISO 200 120-format color photos that, "are perfect for Instagram." And as you may have feared by now, the camera has neither an LCD screen for reviewing images nor a delete button. In short, as Yashica says, there's "no hiding from mistakes."
The camera saves 14MP images to an SD card that you must remove and insert into a card reader to view your results; or as Yashica says, "to recapture the joy and meaning of analogue photography." To help you along this path, the Yashica Y35 features a "film advance lever" that you must wind while shooting.
Personally, if this is "a journey to the truth," I'm not buying a ticket.
Of course, this is simply one man's opinion, so check out the demo video below and see what you think. There are more details on the project's Kickstarter page, where a pledge of $150 will get you the camera and all four digiFilm cartridges. Availability is scheduled for April, 2018.