Nikon P7100 Camera Review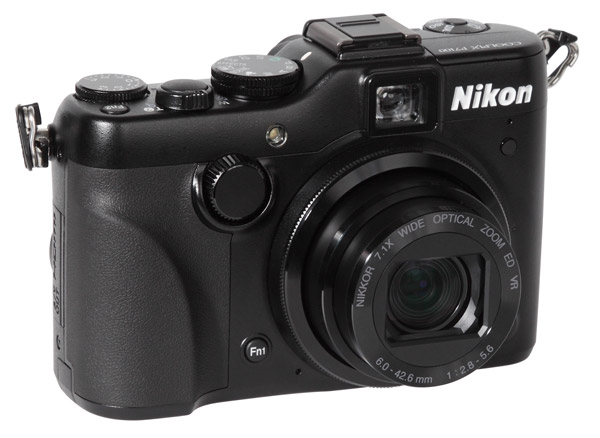 The new Nikon P7100 offers many function buttons and dials along with a large mode dial on the top to choose standard exposure modes like P, S, A and M. The camera offers a full automatic mode, scene modes and special effect modes (like B&W, sepia tone effect, "High Key" effect and more). In addition, the P7100 offers three user modes that can be saved as U1-U3 and accessed directly on the mode dial.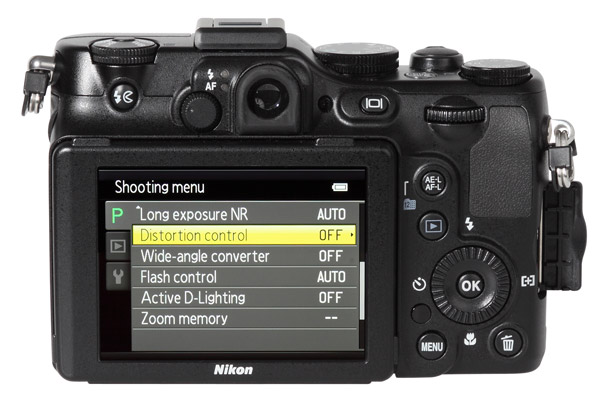 A second dial, right beside the mode dial, is used to change exposure settings by +/- 3 EV, in our opinion a very fast and intuitive way to make exposure compensations.
Yet another dial sits on the left hand side of the camera top. This is used to change basic image parameters such as white balance, ISO speed setting or bracketing mode. A setup dial on the back has the standard 4-way toggle and allows you to change additional parameters such as shooting mode (single shot, burst mode, self timer) or switching between the focus modes.
The camera has two function buttons: FN1 is located on the front and near the lens system; FN2 is located on the top right beside the shutter release button. The photographer can assign a host of functions to these buttons. For example, you can assign one button to create a toggle shift between shooting Raw or JPEG images. Assigning a commonly used option to the FN buttons saves time in that you don't have to delve into the menu to make changes. Similarly, there are two small dials for changing aperture and shutter speed.
One very appreciated feature is its integrated ND filter (Neutral Density), a very handy tool, activated in the camera menu.
The P7100 has a very stable and robust body, plus a large swivel monitor with high resolution (921,000 RGB dots) and an additional optical viewfinder. The optical viewfinder is very small, but will help in aiming at the "photographic target" in very bright lighting conditions, when the LCD screen seems to reaches its limitations.
Image Quality
Color: The automatic white balance system of the P7100 worked perfectly when shooting the test chart. In the result chart all gray patterns are located exactly in the center of the color space. This perfect result is also noticeable in the standard test box shot and the portrait shot.
The saturation is on a standard level for a compact system (minor over-saturation with 104.8 percent). Color errors are also on an average level and only blue nuances are boosted by a shift in to color areas with higher magenta rate, noticeable in the blue spool of thread in the upper right of the standard test box shot. Red colors have a slightly elevated yellow rate (see colors 9 and 15 in result chart and red fabric of the model's t-shirt). Skin tones are very good.
Sharpness: The P7100 offers sharp and crisp images, which are a little softened by the noise filtering. The camera reproduced the ISO 12233 chart with 2158 lines per picture height, which is a good result for a compact system with a nominal resolution of 2736 lines per picture height. There are nearly no color moirés or aliasing effects noticeable in our test shots. The structure of the model's hair and the fine details in the metal sieve in our standard test shot show this. Chromatic aberration effects are on an extremely low level for a compact system. The moderate zoom factor (7.1x zoom) helps to create crisp and clear images and average distortion results.
Noise: The camera shows very clean and smooth images up to ISO 400. In images taken from ISO 800 to 3200 the luminance noise will become visible. The color noise is filtered. This filtering is decent in images taken with ISO 100 to 800, but noticeable even in images taken with ISO 100-200. In addition it will cause some color clouds in higher ISO speed settings. Nevertheless the image results are very good for a compact camera.
Pro:
+ massive, robust body
+ a lot of manual settings for a compact camera and nearly every image parameter is configurable
+ intuitive handling due to a lot of function elements (buttons, parameter dials etc.)
+ large swivel LCD monitor
Con:
- small optical viewfinder
- only 720p video instead of Full HD
Test results are from Betternet, the lab we work with in association with TIPA.

LATEST VIDEO