The Best of Both Worlds: One Camera to Shoot Still Photos and Video; Panasonic's Hybrid Digital Cameras Capture High-Quality Digital Photos and HD Video
Many in the digital imaging industry have commented that the line between the features offered on digital cameras and camcorders is blurring. Camcorders still have their value for shooting event-driven occasions, like sports games or recitals, and have zoom ranges that can reach an impressive 78x zoom. However, for more spur-of-the-moment video opportunities, Panasonic offers several "hybrid" LUMIX digital camera models that not only take high-quality still photos, but with some more advanced video options—including the AVCHD Lite HD video format, dedicated video record buttons and enhanced audio recording capabilities are able to shoot videos as well as they do still photos.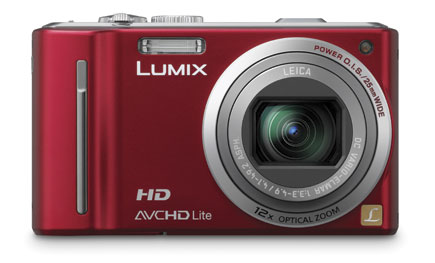 Panasonic's hybrid digital camera models are available in both the LUMIX point-and-shoot line as well as the company's interchangeable lens systems cameras, the LUMIX G Series of Micro Four Thirds models. Panasonic's new 2010 LUMIX hybrid models include: G2, ZS7, TS2, and ZR3. These four models can all record HD video using the AVCHD Lite format, which almost doubles the recording time in HD quality compared with the Motion JPEG format. AVCHD Lite has an enhanced compression rate, which reduces noise, allowing these LUMIX models to shoot HD video in exceptional quality. Furthermore, the AVCHD Lite format can be easily played back on most standard A/V devices, such as HDTVs and Blu-ray Disc/DVD players.

To complement the high-quality video capabilities, these hybrid LUMIX models also feature advanced audio capabilities, using Dolby Digital Creator to record true-to-life sound that enhances the effect of the HD video. A dedicated "movie record" button on the top lets users instantly start recording movies while shooting photos, so no action is missed. Furthermore, the Panasonic LUMIX G2 has an optional accessory stereo microphone that can be attached for even greater audio capture.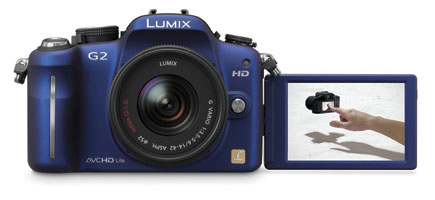 Beyond the exceptional video quality of these LUMIX models, they do not sacrifice other innovative and advanced features, making them high-performing digital cameras. For instance, Panasonic's LUMIX digital cameras include features ranging from GPS capabilities to long zooms to touch-screen LCDs that allow the user to touch a subject to adjust the autofocus.

The Panasonic LUMIX ZS7, a full-featured compact point-and-shoot, is the world's lightest* hybrid digital camera, while also including these top-of-the-line photo features: a 25mm ultra-wide-angle Leica lens; a powerful 12x optical zoom (operable in video recording mode); and as a LUMIX first—a built-in GPS (Global Positioning System) feature that embeds photos and videos with the latitude and longitude location details. With the new GPS feature, the Panasonic LUMIX ZS7 is the ultimate travel companion, and can record the location in the photos' EXIF data, while also displaying the location information real-time while shooting and during playback. These geo-tagged images can be pinpointed on maps common in photo-sharing websites and social media sites—so travels can be archived and also visually represented on a map—and easily shared with friends and family. The LUMIX ZS7 also shows the name of the city, country, and state, and information for more than 500,000 popular landmarks, covering 73 countries, is stored in the camera's internal memory. For instance, when users are taking photos of the Eiffel Tower or Empire State Building, landmarks stored within the camera, these locations will be displayed on the screen while shooting and tagged in the data.

The LUMIX G2, Panasonic's latest addition to the LUMIX G Series of Micro Four Thirds digital cameras, is the world's first** digital interchangeable lens system camera with a movable LCD that allows for touch-control. The intuitive touch-control shooting elevates the camera's operability, letting the user adjust autofocus (AF) simply by touching the subject on the large 3.0-inch 460,000-dot high-resolution LCD. With the touch-screen operation, users can even snap a photo by touching the LUMIX G2's screen. Additionally, the touch-screen operation excels not only for shooting but also during playback. Users can touch one thumbnail viewed among many to quickly and easily see the full size of the desired photo. Also, to view images one-by-one, photos can be dragged across the screen to browse as though flipping the pages of a book.

Both the LUMIX ZS7 and LUMIX G2 also feature a new image processing technology called Intelligent Resolution. With Intelligent Resolution technology, three areas—outlines, detailed texture areas, and soft gradation—are examined pixel by pixel and automatically detected to enhance any degradation created during the digital zoom process or in high-sensitivity shooting. The outline areas are enhanced effectively to give the edges more clarity, while simultaneously giving a moderate accent to the textured areas so it looks accurately detailed. To the soft gradation area, such as a face, the increased noise reduction system of the Venus Engine HD II is applied to make it smoother. As a result of Intelligent Resolution, images are naturally clear and crisp in both photo and video recording. The Intelligent Resolution technology powers Panasonic's new Intelligent Zoom feature, which extends the camera's zoom ratio by approximately 1.3x while maintaining picture quality—and enhancing the digital zoom and making it comparable to the quality of an optical zoom. For instance, with Intelligent Zoom, the Panasonic ZS7 has a total zoom range up to 16x.

FEATURED VIDEO