The Bag Man Reviews the 24/7 Sling Photo Bag from the 24/7 Traffic Collection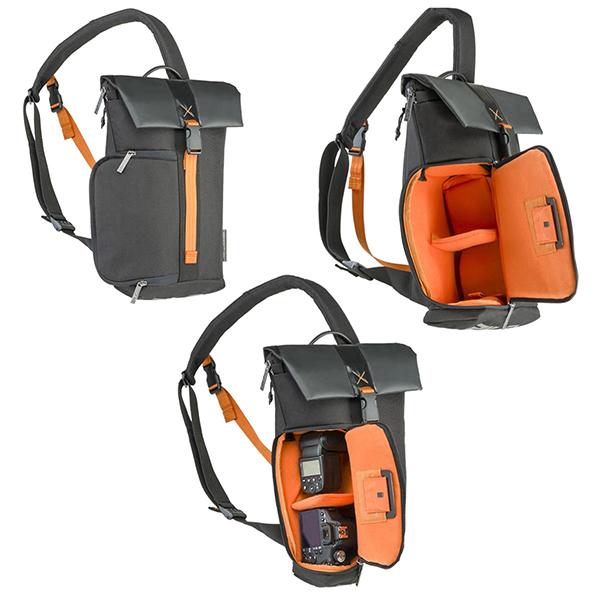 Sling bags for photography, in general, earn high marks from the Bag Man for accessibility, comfort and cosmetic design. The new 24/7 Traffic Collection photo bag lineup, available from Adorama, includes a slick sling camera bag that breaks some rules—but does it have what it takes to deserve your attention?
To say that I see a lot of camera bags in a given year is like saying that Heinz goes through a bunch of tomatoes. But when I heard that the folks at Adorama were behind a new line of camera carriers called the 24/7 Traffic Collection, I naturally wanted to take a peek. Adorama—aside from being a very popular retailer— has been at the forefront of camera bag development and, as many people know, turned their exclusive Slinger bags and family of related accessories into a household name—at least among photographers.
I evaluate all camera carriers, including conventional gadget bags, photo backpacks, waist packs and the rest of the lot, against a seven point scale. I find this system valid and reliable because it takes into consideration the hard fact that most carriers are compromises—for example, what you gain in capacity you might lose in comfort. The seven characteristics I measure against are accessibility of contents, comfort, capacity, protection of contents, cosmetic design (a totally subjective aspect), durability (includes critical evaluation of materials used in construction) and innovation.
In my opinion, the "perfect bag" is the one that most closely suits your needs, your personal taste and ultimately your budget. And I practice what I preach, and have been seen carrying equipment in everything from a Babies R Us diaper bag to a WWI gas mask pack. (If the diaper bag had been equipped with a sturdier strap, I might still be carrying it for my more covert street shooting adventures into questionable urban environments.)
When I received a sample of the 24/7 Traffic Collection sling bag I realized at once that this baby jumped right off the charts in the toughest category: innovation. The top is covered by a waterproof flap that secures with a quick-release fastener. Beneath it, the bag is further protected by a secure zipper than transverses the full width. And below that lie a pair of open pockets perfect for lens caps or the like.
Inside the top I found a compartment large enough for a camera with lens. It's lined with soft orange fabric and has a bottom that can be unzipped and removed—how cool is that? It's secured by a real zipper—not hook-and-loop tabs. The idea is that if you need more room in the bottom two-thirds of the bag—maybe to tote a big Nikon or Canon with a 70-200mm f/2.8 or even longer lens—you can expand the top area and Bob's your uncle.
I found something else, too—another surprise. Inside was a bag made of thick, soft mesh that measures roughly 9 by 7 inches and can be stuffed until it's about 3 inches tall. The top splits open via a full-length zipper and there is a sturdy handle on each end. It looks a lot like a shaving kit and it nicely holds my Fujifilm X-E1 with any of the shorter lenses. I can think of a multitude of uses—charger and cables from my iPad, a handful of Cokin Pure Harmonie filters, binoculars—anything I want to stow in the sling bag but separated from the other contents.
There's a side entrance, of course—that's the defining characteristic of a sling bag. The compartment opens wide—wider than most, and that's good—and inside you'll find an orange plush lining that won't scratch. The main area is subdivided by a flexible T-shaped partition that I decided was very clever—after I figured out how to position it. It took five full minutes of trial-and-error to get it set up, due more to my clumsiness than anything else. Once installed it's very functional and useful.
Access to a large, well-padded tablet pouch is on the same side as the main compartment, so it's easy to retrieve an iPad by using the same, simple body contortion needed to fetch a camera. Opposite that there's a tiny marsupial pouch that hides the cross-body strap when not in use.
Continuing down, the bottom is fairly well covered by a large 24/7 logo that reflects like a cat's eye in a headlight at midnight. Beneath it, another hideaway pouch that stores a bright orange all-weather cover. The fabric label on the side of the bag is highly reflective, too.
What else? The haul handle up top is sturdy and plastic coated, and the non-removable shoulder strap is nicely padded and easy to adjust. There is a tiny label on the strap that reads, "24/7 Traffic Collection" and below that, "The city that never rides." I don't understand it either, but if I'm too dense to comprehend the reference, please leave a comment and enlighten me.
This bag is very well made. Empty weight is 2.2-lbs and it's obvious that an enormous amount of intellect was devoted to the design. It's highly functional and devoid of useless features that some bag makers appear to add simply because they can. The 24/5 Traffic Collection sling bag sells for $99 exclusively at Adorama. You can check out the video on their Facebook page.
Five other pieces complete the Traffic Collection. As one might guess, in addition to the sling bag the lineup consists of a messenger bag, a shoulder bag, small and medium camera top-loading camera holsters and an accessory pouch. Prices start at $20.
—Jon Sienkiewicz

FEATURED VIDEO