Apple Stores Offering Free Photography Classes Featuring Photographer Chase Jarvis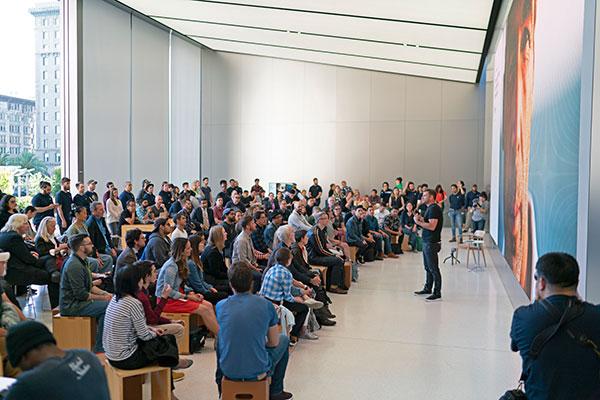 Here's something you should check out if you live near an Apple store. Over 500 Apple stores around the world will be offering free photography classes featuring ideas, tips and advice from acclaimed pro Chase Jarvis.
While Jarvis won't actually be appearing in person at the classes – it's hard to be in 500 locations even for someone as peripatetic as Jarvis – a 5-minute video featuring him discussing the core elements of the classes will be played at the stores. The classes will then be led by photo instructors (aka Apple Creatives) who are versed in Jarvis' concepts. The title for the class is Photo Lab: Crafting Your Shot with Chase Jarvis, and it's part of Apple's "Today at Apple" hands-on learning sessions.
"It's the perfect synthesis of my life as a creator, coming together with Apple, who make the most popular camera in the world, to advocate for creativity," Jarvis told Shutterbug. "This is photography education and inspiration at a mainstream level."
The most popular camera in the world that Jarvis mentions is, of course, not a true camera at all. It's Apple's jack-of-all-trades iPhone. Jarvis' Crafting Your Shot classes, however, are not just about how to shoot images with a smartphone.
"It's about photography it's not about products," he explained. "This is about how to craft your shot as a photographer."
The three main concepts that will be discussed in the classes are "creating connection, crafting composition, and shaping light," he added.
Jarvis, who founded the online photography platform CreativeLive, said the face-to-face learning that can happen in an Apple store offers a unique experience in this digital world.
"The in-real-life component to photography learning is magical," he said. "We're living a world that is more photographic than ever before and we're never going back."
To find out where Jarvis' classes are being offered near you, click here. Read more about the story behind the class here.

FEATURED VIDEO