Accessories, Portable Flash, Panoramic & Specialty Cameras
Must-Have Photo Gadgets
Another edition of the biggest photo show in the U.S.A. has come and gone. As always in recent years, it was huge with thousands of products being hawked for photo buffs of all types. Even so, a number of people I spoke with thought this show was noticeably smaller in size than prior annual PMA trade shows and I would have to agree, having attended for decades. In addition, there were so many non-traditional photographic firms (read electronics manufacturers) exhibiting that some individuals wondered when PMA might combine this show with the Consumer Electronics Show (CES).The majority of new items were digital-oriented but, let's take a brief peek at what was new in traditional accessories, portable flash, and specialty cameras.
Argraph showed two sizes of the new Samigon V-H Flip Bracket for holding hot shoe flash units over the top of digital or film SLR cameras. It allows the user to easily flip their camera from horizontal to vertical composition without changing the flash position. There is no need for locking or unlocking so the flipping can be done quickly. The flash is mounted on a plate attached to two telescoping sections that extend up to 28" above the camera to minimize shadows and redeye. It folds easily for carrying. A large rubber handgrip makes it convenient to carry the camera with flash mounted above. A deluxe version also included a lockable tilting crossbar for centering the flash over the lens and it will accept an umbrella. The basic unit lists for $80 and the deluxe costs $115.
Backgrounds by Maheu offers new two-ended design painted muslin backgrounds that measure 10x20 ft. The user can achieve a variety of different looks by using either one design or the other or use it as one piece since the top and bottom are painted to complement each other. A new digital series of backgrounds are painted with a soft edge and subtle contrast to compensate for the sharpness inherent in digital cameras.
Backdrop Outlet offers a new roller and rail system for automating the changing of various types of long roll backgrounds. It accepts either four or eight rolls of backgrounds up to 11 ft wide and can be operated via a remote control switch box with a 20-foot cord or wireless.
The BKA Stratos 1135F folding flash bracket is a modular design which allows the user to switch between 35mm and medium format cameras by interchanging camera posts. The hot shoe mount has a 15Þ tilt, an easy flip action for horizontal and vertical use, a built-in quick release, and is adjustable in height. A non-slip contour grip makes it comfortable to hold the device with flash and camera attached. (MSRP: $80.)
Bogen Photo Imaging Inc. showed the Metz 54MZ-4 flash which has a modular base to customize it for use with a wide variety of film and digital cameras. Additional features include a second flash head for fill when used in Bounce mode, variable power, 24-105mm zoom head, GN of 177, and it will accept external power sources. It has an MSRP of $350. A similar model 54AF-1N has a few less features and sells for $289. The Metz 28CS slave flash is intended for point-and-shoot digital cameras. It has the capability of memorizing the pre-flash signature of your camera then will only fire when your camera's flash fires. The MSRP is $130.
Custom Brackets is a new firm offering the QRS-35-EV flash bracket with a patented easy rotation system for use with both 35mm and digital cameras. An arc that the camera is fastened to smoothly glides from horizontal to vertical. It has an adjustable height and tilt bracket for attaching a hot shoe flash, an adjustable textured handle, and a leg which permits the camera with bracket and flash attached to be securely placed base down on a flat surface when not in use. The CB Junior flash bracket is a smaller model with an adjustable pivoting flash arm that keeps the flash centered above the camera lens. It has a foam grip and a swing-out leg for standing.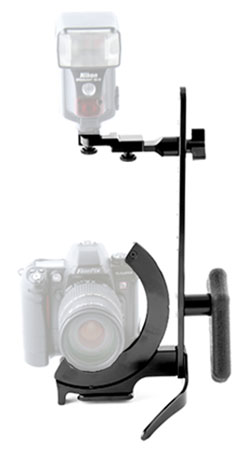 Canon announced the High Power Flash HF-DC1 digital-only slave flash, which operates wirelessly and increases the effective flash range to approximately 30 ft. It is supplied with a short mounting bracket for attaching under the camera or it can be handheld or mounted on a tripod wherever extra light is needed. Multiple units can be synchronized with one camera for more flexibility. It's compatible with most Canon PowerShot digital cameras, is lightweight, and has an MSRP of $130.

Denny Manufacturing has a new catalog listing hundreds of studio accessories including the new photo-novelty items such as clocks, coasters, light switches, key chains, puzzles, and photo sculptures. New Museum backgrounds include scenes of Italy and Paris. Super Scenic Tapestry backgrounds show old master pictures. For school shots they offer calendar year numbers in a variety of sizes and colors that can be stacked vertically or horizontally.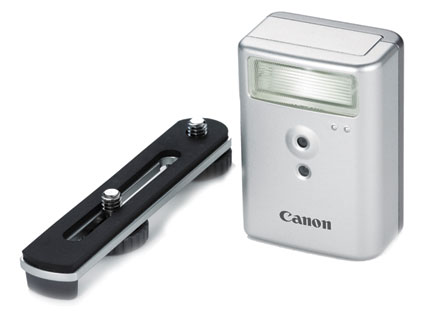 HP Marketing has a small, inexpensive Kaiser "Open Tube" sweep background for tabletop photography of small products. A corrugated board fold-up box is notched to hold a white concave-shaped curved background that resembles a cut tube. It's narrower at the front and broader at the back to match a lens perspective and measures 19.7x25.5x12". This lightweight, disposable sweep has an MSRP of $40. Novoflex Blue Wrap is a soft neoprene protective material that can be custom fitted to wrap around any odd-shaped items such as view camera lenses on lensboards, meters, cameras, etc. Offered in four sizes from 8x8" to 19x19" it has touch fasteners over the full overlap to keep them securely closed and they have prices ranging from $18-$45.

Pnique Products, distributed by the J and K Group, include new flexible translucent white flash and strobe caps which simply slip over the head of 5-8" reflectors to soften the light output. Elastic bands hold the cap securely in place. A similar product is offered in eight different colors, which alters the flash output color when you want some color accents. The colors available are green, orange, purple, red, royal and sky blue, turquoise, and yellow. Also new is the Digital Calibrate It! Card, an 8x10" card having 1/3 white highlight, 1/3 middle tone 18 percent gray, and 1/3 shadow black for calibrating a digital camera histogram on one side and the entire back is 18 percent gray. A set of three white flash caps has an MSRP of $15, a set of eight assorted colored caps is $50, and the Calibrate It! Card is $10.

Kiev USA showed the new Horizon S3 Pro swinging-lens panoramic camera that uses standard 35mm film. It features an improved MC 28mm f/2.8 lens and a broader range of shutter speeds ranging from 1-1/250 sec. The field of the lens is 120Þ horizontal and 45Þ vertical and it produces an elongated image measuring 24x58mm. The MSRP is $525.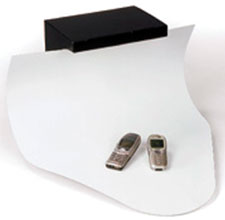 LensPen has the Panamatic Index Level 360Þ camera indexer and leveler for taking measured panoramas with any conventional film or digital camera. This small flat device mounts between a tripod and any type of camera. It's indexed into 12 positions and rotates a full 360Þ to assist in taking panoramic pictures. Many digital cameras contain software programs that make it possible to combine two or more pictures into a panoramic view and with this device it's easier to level the camera properly and thus take up to 12 photos on an absolutely level plane. It has an MSRP of $30.

Norman showed two sizes of small softboxes for use with battery-portable flash systems such as the Norman LH2 and LH52 heads, plus most Quantum Q and Lumedyne brands of lampheads. There is a 12" square and a 19" octagonal softbox each of which pop-up like an umbrella. There are no loose parts or speed ring adapters needed; they attach to the lamphead just like a standard reflector does.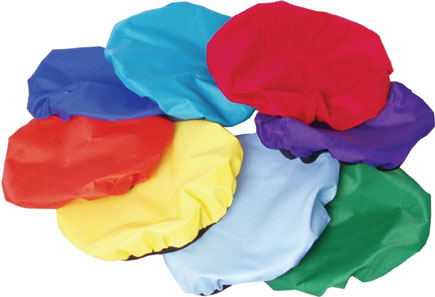 Olympus has the new FL-36 external flash designed specifically for use with digital cameras such as the E-System digital SLRs and other prosumer models from Olympus. It has variable intensity step control and a built-in diffuser for even illumination when used with extreme wide angle lenses like the Zuiko Digital 14-45mm zoom. It's compact and lightweight, has bounce and swivel, a GN of 39, and an MSRP of $240.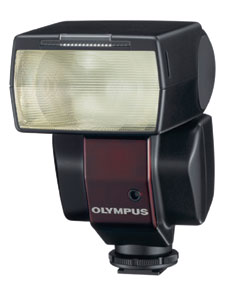 Sigma introduced the Electronic Flash Macro EM-140 DG ringlight for film or digital cameras. It has two flash tubes for detailed, shadowless lighting. Each can be fired independently to create some shadows for more three-dimensional lighting, plus there is a built-in modeling light that's helpful for focusing and composing. There are seven power levels and it can operate wirelessly and in high-speed sync mode. The MSRP is $429.

SeaLife (Pioneer Research) has a new underwater Digital Flash (SL960D) with versatile rubberized flexible arm which allows the flash to be adjusted to the specific angle needed for proper lighting. It's usable at depths down to 200 ft and has flash-intensity settings to compensate for the variable light conditions inherent to underwater photography. The GN is 20 and it can be used underwater at a range of 2-8 ft. It's fully compatible with any underwater digital camera or digital land cameras in a waterproof housing. The MSRP is $350.



FEATURED VIDEO