Accessories, Portable Flash, Panoramic & Specialty Cameras Page 2
Tiffen has the new Stroboframe Folding Flip flash bracket for use with film and digital cameras. It is easily adapted to fit most any camera body since it has an extra-wide base with multi-slots for the different base locations of the tripod socket. There is an adjustment of the flash shoe position to keep it centered over the camera lens at about 11.5" away. It folds very flat and is quite lightweight for easier carrying in a camera bag.
ToCAD showed the upgraded Sunpak PZ40X II hot shoe flash for digital and film cameras. It now is compatible with Nikon D70 and Coolpix 8800 and Canon EOS 20D cameras. The size is 40 percent smaller than previous models, has five tilt positions, IR autofocus assist beam, five power ratio settings, and a GN of 60-120. It's offered in dedicated configurations for Canon, Konica Minolta, and Nikon cameras and can be used manually with non-dedicated cameras. Also new is the Sunpak Contoured Hand Strap for use with virtually any model of digital or film camera, including SLRs that have a tripod socket. It helps stabilize the camera for sharper pictures while the ergonomic design provides more comfortable hand holding to relieve fatigue. It uses both the camera's strap lugs and the tripod socket, has an adjustable hand strap to fit virtually any size hand, and has a separate lug to accommodate the camera's shoulder strap for conventional carrying when not using the grip. Available in black it has an MSRP of $20.
Veach showed the new Jones "V" (Vertical) flash bracket for use with a variety of cameras and hot shoe flash units that easily switches from horizontal to vertical, is made of heavy-duty powdered coated steel for durability, and allows unencumbered access to all controls on most digital cameras. A 1/4-20 threaded hole on the vertical support allows placing a second quick-release plate for easier changing from vertical to horizontal compositions. Options include adjustable horizontal and vertical flash attachments. The MSRP is $40.
The Vivitar DF-200 is a digital slave flash for digital cameras. It has an embedded circuitry that learns the characteristic pre-flash profile for any digital camera, then only fires when it detects that particular flash. It has a GN of 92, bounce and swivel, and a mini flex pod bracket/stand. The MSRP is $80.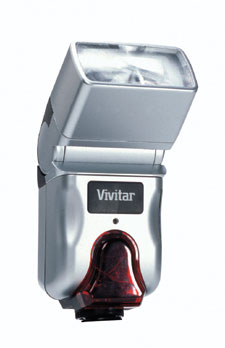 For more detailed information about any of these products we suggest you get in touch with the manufacturer; see our full listing of manufacturers for contact information.
Reminiscing On 40 Years of PMA Shows
Way back in 1964, when I attended my first PMA trade show, photo gear in general was vastly different than today. For example, 35mm SLR cameras were just becoming popular, as was built-in exposure metering. Autofocusing was still unheard of. View and press cameras in 4x5 and 21/4x31/4 formats were very popular. Studio and portable electronic flash units tended to be large and cumbersome and various sizes of single-use flash bulbs still had much more powerful light output. Incandescent "hot lights" were typically used for most portraiture and studio subjects. Black and white films were used extensively and color negative films were starting to be used more. Darkroom equipment and accessories were visible everywhere as were printing papers and films of all shapes and sizes. Minilabs were just starting to become popular for rapid on-site processing and printing of color negative films since outside processing and printing by large conventional labs scattered across the U.S.A. normally took several days to a week or more turnaround. Today we want to actually see the captured image immediately on a camera LCD then quickly make quite respectable color prints ourselves either with a dedicated printer or via a computer interface. How photography has changed in 40 years!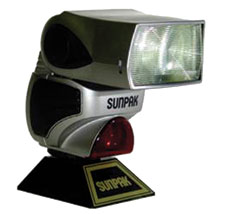 Flash Has Evolved From A Difficult To An Easy Task
Forty years ago when portable electronic flash was relatively new and various sizes of flash bulbs (tiny AG-1, M-2, #5, #11, and large screw-base #22, the size of a household light bulb) were still the normal method of portable artificial lighting, taking flash pictures was complicated. Flash metering or automatic exposure was unheard of. You had a Guide Number (GN) for the size or type of flash bulb and looked up the GN on a chart for the ASA film speed in use. Then you had to divide the flash-to-subject distance into the GN to obtain the f/stop, which you manually set on the lens. For different subject distances you had to reset the f/stop.

The camera typically had two sync settings, regular for flash bulbs and "X" for electronic flash as there were different delays on reaching peak flash output for coordination with shutter curtain travel. With focal plane shutter cameras, the setting was FP, since these shutters opened differently than blade shutters. If you used multiple flash units to illuminate one subject, wires were required to run from the camera flash to the extension flash to tell it to fire.

Today the camera's electronic innards tell the built-in flash to charge up and fire when the light is too low for proper exposure without extra light. The exposure is calculated by the autofocusing mechanism and if you use additional flashes, the slave wirelessly fires in perfect synchronization to produce the right exposure. You don't have to use either math or external wiring to take good flash pictures today.

Manufacturers/Distributors' addresses can be found on page 176.

LATEST VIDEO