Panasonic Lumix GF5 Mirrorless Camera Review
The Panasonic GF5 is an extremely compact camera with interchangeable lenses and a large image sensor (Micro Four Thirds format). The sensor offers 12 MP resolution and is able to record Full HD videos. It also allows taking images with high ISO speed settings of 6400 (additional hi-mode up to ISO 12,800).
This small camera has a smooth design with nearly no sharp edges and looks very elegant. It uses a combination of a touch screen, a 4-way cursor field and a setup dial that encircles the cursor field for setting up the image and exposure parameters. SLR users will miss the standard mode dial atop the camera that ordinarily allows for fast change of exposure modes; instead, the GF5 has the user press the menu button, then touch the "Rec mode" icon on the screen and then choose, for example, the S mode button on the LCD screen if he or she wants to change between P and S mode.
This makes more sense when we considered that the camera seems designed for beginners and other users who prefer automatic settings. It offers the "iA" mode, which will automatically detect which scene mode is necessary for the specific subject at hand. The camera offers 23 scence modes in all, including some exotic portrait modes, plus it features numerous creative filter effects.
The camera has a large LCD screen (3") with a very high resolution (for a touch screen system) of 920,000 RGB dots. Because of this, it shows all menus and navigation elements in a very crisp and clear way. Manual focusing by using the zoom function on the screen is also very comfortable due to the high resolution.
The camera was tested with the Lumix G X Vario PZ 14-42 mm F 3.5-5.6 ASPH lens. This lens offers two sliding switches to change focusing and focal length setting via servo systems. A manual selection of focal length and focusing via the lens rings isn't possible with this lens, but the motorized zoom is very helpful for creating smooth zooming sequences when recording videos.
Comments on Image Quality
Color: The camera showed an excellent performance in the test of the automatic white balance system. The gray patterns in the test chart are located very precisely in the center. While the brightest nuances of these neutral gray pattern displayed a slightly yellow and green touch, thedarker areas show a tendency towards cooler colors. There is a little over-saturation, but the level is more than acceptable for a consumer /entry level system. The red nuances have a slightly higher yellow rate, while blue nuances are very intense because of the very high magenta rate.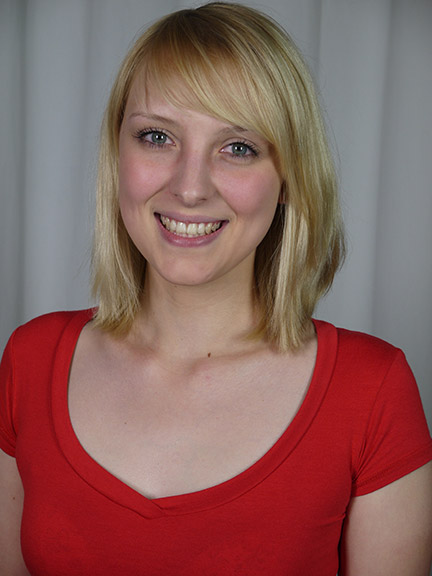 Sharpness: The camera showed a good but not remarkable performance in our resolution tests. The ISO 12233 was reproduced with a maximum of 2563 lines per picture height, which is an average result for a camera with 12MP and 3000 lines nominal resolution in picture height. Themodel shot shows that the JPEGs have a slightly soft character, yet fine details like the hair of the model are clearly differentiated. The red fabric of her T-shirt shows some loss in differentiation, especially on the left hand side (her right side) in the flat collar.
Noise: The camera showed a good performance in standard ISO modes up to ISO 800. Color noise is smartly filtered and nearly invisible in images taken with ISO speed settings up to 800. In images taken with ISO 1600 and higher, color noise gets noticeable as color clouds in homogeneous colored areas, like the gray areas in our test chart. The reduction of details due to the anti noise filtering isclearly noticeable in images taken at ISO 3200 and ISO 6400 settings. Dynamic range is on a very good level in lower ISO speed settings (maximum of 10.5 f-stops) but declines very quickly in ISO speed settings higherthan ISO 400.
Pro:
• extremely compact system camera
• touch screen for comfortable setup (focus tracking for example)
Full HD video
Con:
• missing swivel monitor

FEATURED VIDEO