Yi M1 Mirrorless Camera Review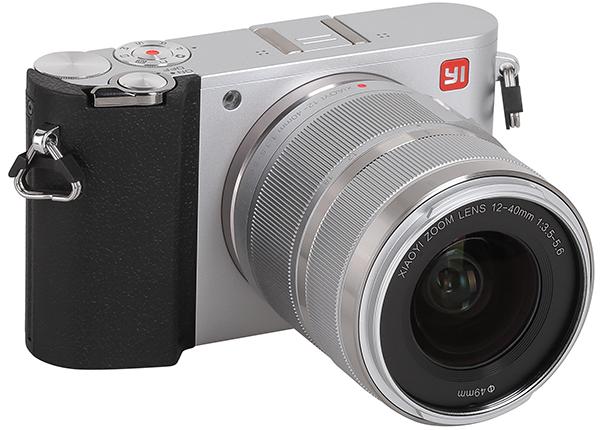 (Editor's Note: Lab Review lab tests and comments are supplied by BetterNet, Shutterbug's TIPA-affiliated testing lab and edited by George Schaub. TIPA is a worldwide association of photo and imaging magazines.)
In 2016, Yi Technology announced it would be developing a new mirrorless camera based on the Micro Four Thirds sensor standard. Yi Technology is primarily known for action cameras or IP web cameras, but wanted to get into the photography camera business and launched the M1 mirrorless digital camera this year.
The Yi M1 launch was accompanied by two new MFT lens systems. We did our tests with their zoom lens, the 12-40mm f/3.5-5.6. In addition, Yi Technology offers a 42.5mm f/1.8 lens as a portrait lens. Because of the crop factor of the Yi M1, this lens is an equivalent to a high-speed 90 mm focal length. During the test we also used a Panasonic Lumix G VARIO 14-140 mm f/3.5-5.6 ASPH / POWER O.I.S., which worked well with the camera.
Features, Build & Handling
The Yi M1 mirrorless camera uses a 20MP sensor with 5184 x 3.888 pixels. It offers an additional image mode that will interpolate this data to create a 50MP file. We do note that compared to the camera-interpolated file the Raw file interpolation in Adobe Photoshop is superior. The camera records raw images in DNG format, thus the M1 Raw files can be converted and optimized in nearly every imaging software program.
In contrast to many other Micro Four Thirds mirrorless cameras, the handling of the Yi M1 is based on its LCD screen and gesture control. The M1 camera has a mode dial on the top which offers standard exposure modes like P, S, A and M. A second dial – which is also seamlessly integrated into the top of the camera – is used as a parameter dial. There are only two additional function buttons on the back – so to change nearly all parameters and settings the user will need to use the touch screen on the back.
The M1's 3-inch screen offers 1.04 million RGB dots, a standard LCD screen in size and resolution. The first button on the back is used as a playback button to present images and videos on the screen: the second button is used for AF modes for example (single AF area or multi AF area mode).
The screen on the back of the M1 camera is used as the main menu. It is split into three basic "panels" or "index cards." To toggle between these cards the photographer uses gesture control, familiar to smartphone photographers (swipe to the left and right). A touch on the desired icon will open its settings. To change these settings the photographer can use the parameter dial on the top or the touch screen.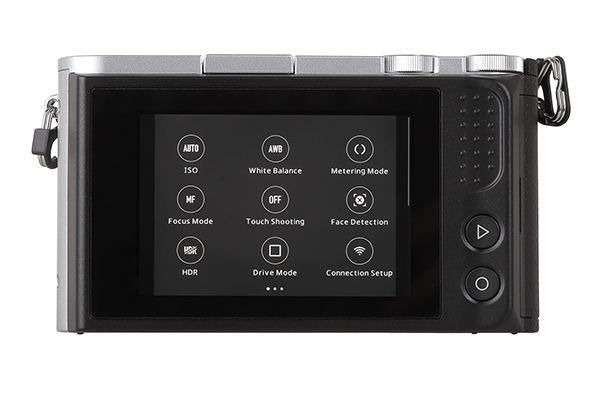 Besides standard exposure modes (P, S, A, M) the Yi M1 offers scene modes like "portrait shot", "landscape" or "firework". To get access to all of these modes the photographer has to switch the setup dial on the top to the scene mode.
Comments on Image Quality:
Color: The white balance system of the Yi M1 works very well. The GretagMacbeth chart was reproduced with very neutral colors. All gray patterns are located exactly in the center of the chart. However, image saturation is a little low. The mean color saturation in this chart is 93.82 percent: nevertheless, the camera creates very natural looking colors.
Sharpness: The Yi M1 reproduced the ISO 12233 chart with 3384 of 3888 lines per picture height, which is a very good result. Sharpness is high, but is also enhanced and intensified by the image processor. The ImaTest showed a very "hard" graph in the contrast lines, where we noticed sharpening effects like a double contour line between black and white elements. This causes a slightly artificial and "digital" look in JPEG images: using raw file format will prevent these effects.
Noise: The camera showed a good performance in our noise tests. Up to ISO speed 25600 the y-factor is below 1.0 percent. But the Yi M1 sometimes cancels out this good result by use of very intense anti-noise filtering, which can blur image details.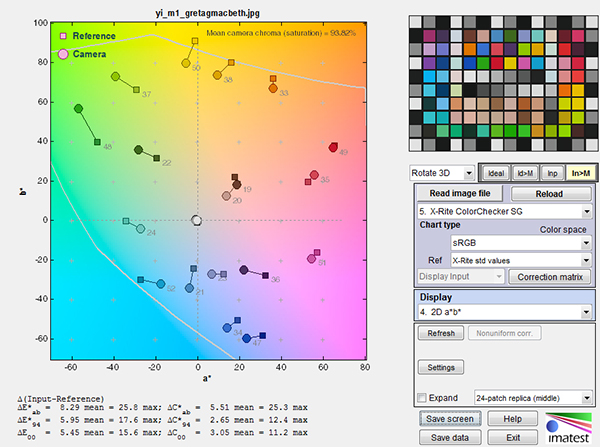 Dynamic range is on an average level for MFT cameras. The Yi M1 achieved a maximum of 10.3 f-stops at ISO 200 mode, but dynamic range drops to 8-9 f-stops in higher ISO speeds and shows a significant loss in its maximum ISO speed setting.
Video Format and Handling
The Yi M1 is able to record 4K video in UHD resolution of 3840 x 2160 pixels. In addition, it offers a more "exotic" 2K mode with 2048 x 1536 pixels and Full HD recording with 1920 x 1080 pixels. 4K recordings are done at 30 frames per second while Full HD mode offers 60 frames per second. The camera uses the MP4 files format with H.264 compression to save video clips onto its SD card.
To start video recording the photographer has to use the additional record button on the top (marked with a red dot), located in the center of the mode dial. By pressing this button the camera automatically switches into AUTO mode - irrespective of the chosen photo mode. Changing ISO speed mode isn't allowed.
The photographer is able to correct auto exposure settings by using the EV compensation (by 5 EV stops).
Comments on Video Quality
The camera performed well in our video tests, but also showed some issues. The ISO 12233 chart was reproduced with 1747 of 2160 lines per picture height, which is an excellent result. But just like in photo mode this result is based on an intense sharpness filtering and an artificial boosting of contrast reproduction by the camera. In Full HD mode the look is more natural: The camera reproduced this test chart with 888 of 1080 lines.
We do note that when using the zoom function of the camera the AF system gets a little confused as it attempts to correct the settings, which all camera do to an extent, but we feel that this performed worse than simple camcorders. The color reproduction is similar to color reproduction in photo mode. The white balance setting is nearly perfect: there are only minor shifts of colors compared to its given values.
The Yi M1 camera doesn't offer manual exposure settings in video mode so we can only provide a single result for noise results and dynamic range tests. Our videos were shot at ISO 200 and show an average noise result.
The Yi M1 mirrorless camera sells for $299, body only. The Yi 42.5mm F1.8 lens with Macro Mode sells for $199. More info on Yi's website.
Pro:
+ Very compact camera
+ Compatible with MFT lenses
+ Very affordable
+ Comfortable handling for photographers who are used to smartphone control
Con:
- Missing viewfinder
- Missing integrated flash system
- Image quality in JPEG mode shows some issues
UPDATE: Yi Technology has announced it will release new 3.0 firmware for the M1 camera this fall, which addresses the JPEG issues, improves autofocus time and response as well as adding manual exposure settings in video mode. Users can try out a Beta version here: http://bit.ly/2gMu9VA.
(Lab Review is where we publish web-exclusive lab reports on cameras. To read more Lab Reviews, click on the Reviews tab on the top navigation bar of this page. New photo gear reports are published frequently, so check Reviews for more equipment evaluations from Shutterbug writers.)


FEATURED VIDEO