XOTOPRO's QMM1; When A Ringlight Just Won't Cut It
Everybody knows the best way to light macro-sized subjects is with a ringlight, right? But el problemo is that ringlights produce flat-looking lighting. To add drama to your macro shots you're going to need a twin flash system that allows you to direct light specifically to where you want. The problem with these kinds of systems is that they are expensive, not always as flexible as you might like, and often available for only a few specific brands or camera models. Not anymore. XOTOPRO's (www.xotopro.com) QMM1 aims to change all that with a three-light system that's compatible with Canon, Nikon, Olympus, Pentax, and Sony TTL D-SLRs. Unlike a ringlight that's fixed to the camera lens and produces flat lighting, the QMM1's ability to move the flash units around lets you use directional light to add depth and definition to macro subjects.
XOTOPRO Photographic Equipment Ltd.'s lighting system consists of the QMM1 mounting system and a set of TUMAX macro flash units. The QMM1 can be either handheld or mounted on a tripod, but my experience showed that you'd have more control over the photograph's composition when it's tripod mounted. The QMM1 features a rugged base plate that's machined from aircraft-grade aluminum and has a floating 1⁄4-20 screw that lets you mount almost any D-SLR. The base plate has two threaded mounting points and both worked well for either direct tripod mounting or when attached using a quick-release plate, which I used with a Manfrotto tripod. Tip: Do not mount the QMM1 on the tripod using the bottom of the camera mount screw (it's threaded, too) because it can cause damage but more importantly it just won't work.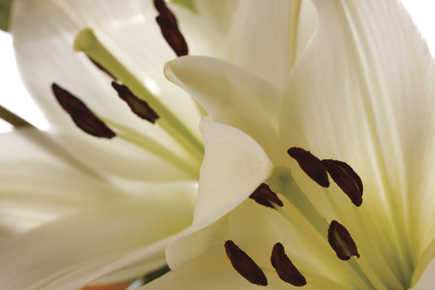 If you're wondering why you need additional lighting for macro photography, this pair of photographs should explain it all. This first unretouched image was made using natural light coming in from a window with an exposure of 1⁄5 sec at f/8 and ISO 320 with a +1-stop exposure compensation.
© 2009, Joe Farace, All Rights Reserved
Two fully articulated arms made from ultra-lightweight flex conduit are permanently attached to the QMM1's base plate. These arms hold the small TUMAX flash units and can be positioned at almost any angle around the subject for a wide variety of lighting effects. The articulated ball joints supporting the lightweight TUMAX flash units permit flexibility—and they are flexible—of each flash's position and angle. In addition, there is one 1⁄4-20 threaded mount point on either side of the QMM1 that lets you attach other accessories. Old-timers who remember the 1980s Bogen Light Modulator will see some resemblance here, but, unlike that bulky blast from the past, the QMM1 is more portable.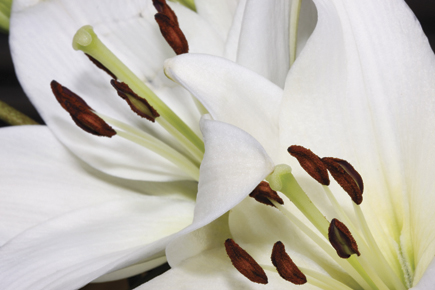 This second unretouched shot was made with everything (camera and lens) in the same position with the three TUMAX lights turned on. Here the exposure was 1⁄80 sec at f/20 and ISO 200 so I was able to increase depth of field and minimize noise while producing a more natural-looking photograph.
© 2009, Joe Farace, All Rights Reserved
Lighting power is provided by a medium power TUMAX DMF880 TTL flash unit with a built-in macro controller that serves as the control unit for the small DMT twin flash heads. The DMF880 has a guide number of 104 (in feet) and its flash head can tilt up 90? for bounce flash applications. Its head has a manual zoom that can be adjusted to match the angle of coverage of the lens and can be used to extend flash range when used with standard and moderate telephoto macro lenses. There's a switch that turns the macro control function on and off. In the off position, this switch cuts power to the twin flash units. The tiny DMT twin flash units each have a guide number of 19.7 (in feet). Permanently attached power cords power the flash units and are connected to the DMF880 flash for power and control. These flash units are quite light because they do not require batteries. The DMT flash heads can tilt up 90? for even more creative lighting options. The DMF880 TTL flash/macro controller and DMT twin flash heads are available for Canon E-TTL, Nikon i-TTL, Olympus TTL, Panasonic TTL, Pentax P-TTL, and Sony ADI systems. In overall build quality these flashes will never be confused with units produced by Canon or Nikon, but, as a wise photographer once told me, "light is light."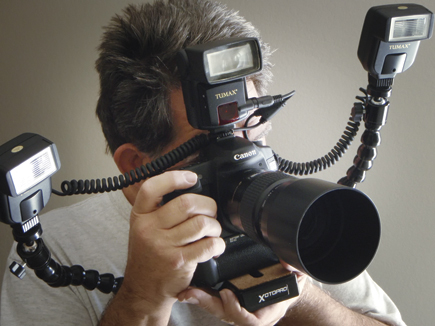 You can hand hold XOTOPRO's QMM1 as I am doing here with a Canon EOS 50D and an EF 100mm f/2.8 macro lens. While not excessively heavy, this is not a lightweight package when you add camera and lens.
© 2009, Mary Farace, All Rights Reserved

FEATURED VIDEO