Xenofex 2 Special Effects Plug-Ins
Xenofex 2 Special Effects Plug-Ins
Electrify And Enliven Your Photos

Text and Photography by Howard Millard
Alien Skin has been a leader in special effects plug-ins for years. With Xenofex 2, they've added five new filters and enhanced nine existing ones for a new package of 14 hot effects. You can simulate natural phenomena such as realistic clouds, spectacular lightning, or electrical discharges. Burn the edges of your photos and crumple them for an antiqued look. Add cracks, stains, punch holes, and/or shatter your image. Transform your subject into a constellation of stars, a jigsaw puzzle, or intricate mosaic colored tiles. Want an edgy contemporary portrait? Use the Television filter to add scan lines, distortion, and ghosting. These digital photographic filters work inside Adobe Photoshop 6 and 7, Elements 2.0, Macromedia Fireworks MX or later, and Paint Shop Pro 7.
On The Filters Menu
Xenofex 2 installed quickly and easily from CD, or you can download it from the Alien Skin website. Without restarting, the effects were available as filters inside Photoshop or Elements. The presets I tried generally worked very well, but it's good to have the myriad controls and variable sliders found in each filter's dialog box to modify the effects according to your taste and image file size.
A large preview window makes it easy to see how the final result will look at 100 percent. Some of the filters are a bit slow, but they perform complex calculations. For me, the slight wait is worth it. Crumple and Burn work relatively fast, while Classic Mosaic is slow, taking more than a minute on a 7MB file with my dual 450MHz processor Mac G4. Still, doing a mosaic by hand would take hours. Overall, I was very pleased by the effects available and the interface.

With most of the filters, you can make a selection within your photo and apply the effect to it. If you don't make a selection the filter is applied to the entire image. For some filters, though, it is necessary to make a selection and put it on a separate layer.
To start with, I opened a photo of an old building. Choosing Filter>Alien Skin Xenofex 2>Crumple brought up the dialog box. After a few trials, I kept the default settings, except Crumple Force, which I bumped up to 70 from 50. With a 6MB file, the preview took a few seconds to redraw. When I clicked OK, it took almost a full minute to render the crumple effect on the original file. Note that in the dialog box all the options you have to vary the size and degree of the crumple, lighting direction and inclination, highlight brightness, size and color, and more. Typical of the Xenofex 2 filters, these controls are a great boon to fine-tuning the look you want and customizing it to each image, no matter what size.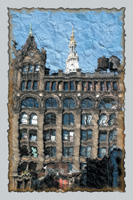 Photos © 2003, Howard Millard, All Rights Reserved
Now that the paper was crumpled, I thought it might be fun to scorch the edges, as well. Selecting Filter>Alien Skin Xenofex 2>Burnt Edges brings up the Burnt Edges dialog box. Here you find controls to vary the burn width, the roughness, to choose hollow edges or not, to burn inside or not, to select a new color for the burn, choose a color to fill inside the burn, if desired, vary the opacity, and finally Random seed, which generates variations of the effect. After experimenting with the first two sliders, I clicked OK and the burned edges were rendered on the original in less than a minute.
To add an electric effect to my shot of an electric guitar player, I first drew a selection with the Lasso tool where I wanted the electric charges to originate, around the musician's hands and the guitar fret board. Next I feathered the selection 5 pixels (Select>Feather). I then put this selection on its own
layer (Command-J on the Mac; Control-J in Windows). With this layer active, I selected Filter>Alien Skin Xenofex 2>Electrify. The filter's default settings created the marvelous high-charged effect.
System Requirements
Xenofex 2 works with both Mac and Windows. On the Mac, you need OS 9 or later, or OS X 10.1 or later, and a Power PC processor. For Windows, a Pentium II or better processor is required running Windows 98, 2000, Me, or XP. NT is not supported. 64MB of physical RAM are recommended for both platforms.

List price: $129, upgrade $69. Check the website for details and examples.
Contact
Alien Skin Software
1-888-921-7546
www.alienskin.com


LATEST VIDEO