Which Camera Is Better: Canon EOS RP vs Sony A7 III? Watch This Mirrorless Shootout Video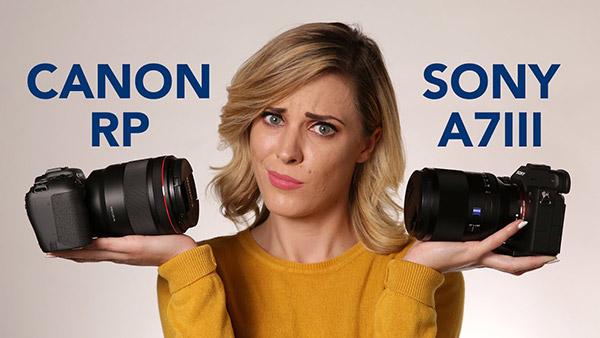 Here's another great mirrorless camera head-to-head review video: Canon EOS RP vs Sony A7 III. In the below clip from The Slanted Lens, Jay P. Morgan and Kenneth Merrill pit these two much buzzed about cameras against each other to see which one is best.
On the one hand, the Canon RP is the least expensive full frame mirrorless camera on the market with loads of features including a 26.2MP sensor, a weather resistant construction and impressive overall performance. On the other hand, the 24.2MP Sony A7 III is one of the best reviewed full frame mirrorless models of all time, and was our favorite camera from last year.
In the video below, Morgan and Merrill are joined by model Jaden LeBel who poses for the two photographers during several tests: Picture Quality, Dynamic Range, ISO, Autofocus, Video Autofocus, and 4K video. Which camera came out on top: the Canon RP or Sony A7 III.
As usual we won't play spoiler, so watch the video at the bottom and see the results. After you're done, go visit The Slanted Lens' YouTube channel for more great videos. Here are three other camera shootout test videos from The Slanted Lens you should check out:
Which Mirrorless Camera Is Better: Nikon Z6 vs Sony A7 III? Watch Them Go Head-to-Head (VIDEO)
Watch the Canon EOS R vs Nikon Z7 vs Sony A7R III in this Full Frame Mirrorless Camera Shootout (VIDEO)
Watch the Nikon D5 vs Sony A9 vs Canon 1D X Mark II in a Pro Camera Shootout (VIDEO)

FEATURED VIDEO