For What It's Worth
Palm Beach--The Commercial Side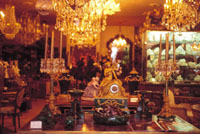 This interior of the collectible shop was taken by pressing my lens against the glass, focusing on the clock in the center, and letting the program take care of exposure. I tried to fill the frame with interesting information. The light from the chandeliers combined with a daylight-balanced film creates a nice warm feel suitable for the photo. (Nikon, 28mm lens, Kodak Ektachrome 100SW.)
Photos © 1999, Steve Bedell, All Rights Reserved
Ah, Palm Beach. Just the mention of the name brings images of wealth and power to mind. Exotic cars, palatial estates, beautiful people, exclusive stores, and there's so much more--crystal skies, blue-green waters, the Intercoastal Waterway, yachts, jewelry, The Breakers hotel, etc. How do you capture the essence of Palm Beach? I'm sure there are many ways, but in my attempt to capture the spirit of Palm Beach I've chosen to focus on one of the world's most exclusive streets for retail shopping, Worth Avenue.
For those of you not familiar with Palm Beach, it's not a very big place. It's a long sliver of an island, a toothpick hugging the Florida coast, separated by the Intercoastal Waterway, known as "The Lake" to residents. The Palm Beach part of this island runs about 14 miles north to south, and it's only about a mile wide at the fattest point. Many parts are much narrower, and there are a couple of places where George Washington could probably manage to get a rock across.

There aren't all that many people either. Tim Frank at the Town Hall told me there are about 10,000 year-round residents and about 20,000 people vying for parking spaces "in season," which is roughly from December to mid-April. If you want to see what Palm Beach is like, it'll cost you more money but you must go during the season. I've been to Palm Beach in the middle of July and I swear I saw tumbleweed blowing across South County Road. If you see less than three Rolls-Royces in a five minute span, you know you're out of season.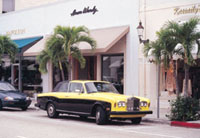 The palm trees, boutique stores, and the Rolls-Royce all combine to give you an emotional response of affluence that is the essence of Worth Avenue. (Nikon, zoom lens at about 150mm, probably about 125 at f/8; Kodak Ektachrome 100SW.)
One other point worth mentioning is that while this article will focus on some of the materialistic aspects of the island, it by no means should imply that everybody there is concerned solely with the size of their boat or having the latest Porsche. On the contrary, my reason for visiting Palm Beach on a regular basis is because I have a small client base there and I find them to be wonderful, family-oriented people. If they happen to have his and hers Jaguars or Range Rovers, should I hold that against them?

With that said, let's get to the nuts and bolts of photography.

Even though I was carrying extensive medium format equipment with me for my portrait shooting, I chose to shoot my travel photos with 35mm. Why? Because my intended usage was for magazine reproduction and stock. While I certainly could have used medium format, I went with the 35mm gear for the usual reasons--lightweight, great film selection, faster and longer lenses, zooms, more exposures per roll, and close-up capabilities. I carried a Nikon N90 with a 70-300 zoom with macro focusing, a 50mm f/1.8 lens, and a 28mm f/2.8. My film of choice was Kodak Ektachrome 100SW, which I have come to love because of its natural yet intense color. I also had an incident meter, some graduated filters, and a lens shade. I figured that should be able to take care of 95 percent of my shooting needs, and it did. I did not bring a flash and didn't miss it, but did find a couple of times when a small reflector would have come in handy.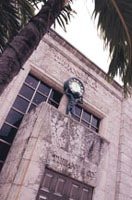 We don't have a Tiffany and Co. in the small New Hampshire town where I live, but they have created quite a presence with their elegant and classical looking building. I used the 28mm lens again. This time I tilted the camera to make the verticals go diagonally for a stronger composition that suits the granite and the powerful statue. Palm trees were again used for framing. (Exposure was about 125 at f/8.)
As far as the subject of just what I was going to shoot, my first inclination was to try to "do it all." Get some big boats. Shoot the Aston Martin. Pop some mansion shots. Show the beach. Got to get The Breakers and Biltmore. Grab the Royal Palm trees. But then I figured, it's all been done in some fashion or another. I've always been fascinated by Worth Avenue and the premium selection of stores there, so I figured I'd spend my energy trying to capture the style and elegance of this bastion of designer names.

I haven't been to Worth Avenue in a couple of years. One of the observations that was immediate was that many of the smaller, local stores were gone, to be replaced by others. The larger designer stores were still there. Some had moved to a different spot on the street, most had remodeled, but they were there. On my last visit, there was a big chain store, I think The Gap, that looked jarringly out of place among the fine jewelers and collectibles dealers. It's gone now. I don't know how much a square foot of space is going to cost you in this pricey neighborhood, but it doesn't take a genius to figure out you'd better be doing some major numbers to pay for it.

There used to be a photographer on Worth Avenue called Dietre Kohn. I got to know him slightly. He was from Germany, but spent the season in Palm Beach. Most of his work was in the studio, but it was quite unlike any other studio operation I've seen. He used a massive 20x24 view camera that looked big enough to crawl into, and several thousand ws of flash power. He'd load up about six film holders with 20x24 Ektachrome paper, shoot them, process them, and then go over the 20x24 prints with the client while they were there to determine if they needed to shoot any more. Very unique, very Palm Beach. His work was excellent, print quality was of course exceptional, and I think about eight years ago it was about $2500 for a camera fee and 20x24 portrait. The work was worth it. Kohn retired several years ago and now stays in Germany.

Worth Avenue is about a half a mile long. I decided to drive the length of it first to get a good feel for what I wanted to capture. The first thing that sprang to mind was Green Acres ("the stores"), then I did a Rolls-Royce count (six), and took yet another swing through to get a basic framework of what I wanted to shoot. Then I parked my rental car between a Mercedes and a Jag and got out. I'm a firm believer that you can drive around looking for photo opportunities but you must get out of the car and walk around to really examine what's in front of you. I threw my camera bag over my shoulder and started exploring.

Try to be aware of more than just your visual sense when trying to capture the essence of an area. I noticed the sweet smell of flowers in the air before I even saw them. I heard the babbling of the water fountains, many hidden in the archways to little shopping patios off to the side, just as the staccato of a 12-cylinder Ferrari engine grabbed my attention. I observed how the jewelers used brilliant spotlights to make every diamond spring to life. It helps me to take a little time for observation before committing images to film. It makes me more focused on what I intend to shoot.

One other observation I made applies equally well to both photography composition and studio design. There seem to be two school of design thoughts prevalent. One that was common with the jewelers and clothing stores was the very sparse but elegant look. In a land of stratospheric rents, many square feet were used just for empty space for a design element. The stores had a very high tech look. I found it very impressive looking.

Most of the collectible stores took the opposite approach and filled every nook and cranny with some new discovery. I liked that too, and I think it works for that type of store because it invites you to come in and spend some time looking around for some interesting find. But don't mistake a full store with clutter, there was none. These stores looked elegant because of the wide variety of treasures and the warm glow of chandeliers and incandescent light. They were warm, inviting places to enter.

Think of how this applies to your photography. Is your style clean and elegant, with negative space used as a design element? Or, do you fill the frame with information, making sure that every element is interesting and adds to the image, or is it just junk you should have cropped out?

I know it made an impact on me. I don't cram every square inch of my walls with display prints, I like the viewer to be able to examine each print on its own merit and not get lost in a sea of images on the wall. Most of my compositions are simple and clean, so it seems to fit. Since returning from this educational lesson in design and composition from some of the leading store designers anywhere, I've decided to change my studio design even more. Most photographers will tell you that the bigger the prints on your wall, the more of them you'll sell, but my make over will include smaller prints that will all be matted, glassed, and framed. Each one will have plenty of space, a la gallery, and be lit with its own spotlight. I call it the "jewel" approach. Some clients, especially the more educated and affluent ones, prefer smaller, "jewel like" prints to hang in their contemporary homes. I also like the look, especially in black and white. Of course, make sure you price it accordingly. You should expect to net the same amount of money as a large wall print, this is one place where size doesn't matter.

If you're in South Florida, take the time to visit Worth Avenue in Palm Beach. It's a very educational experience for a photographer. Look at the galleries, statues, flowers, architecture, and the stores. If you have a studio, think about picking up ideas to improve its appearance and your image. And while you're there, look at the beautiful pewter Bentley Turbo. I wasn't carrying enough dinero to drive it home, but, hey, maybe it'll still be there when you pay Palm Beach a visit.

FEATURED VIDEO