Photographing Vancouver Island: A Little Bit Of Everything
If you're a sucker for forested mountains, fjords, alpine lakes, crystalline streams, seaside villages, and very cosmopolitan cities, well, one anyway, I'd like to introduce you to a special place. In addition, if you're in North America anyway, it's easy to get to. This enchanted land is…drum roll…Vancouver Island.
You can get there from Port Angeles on the Olympic Peninsula, Anacortes, above Seattle, or from the Canadian mainland.
Want to set the mood for your island explorations? Read I Heard the Owl Call My Name by Margaret Craven. It is a touching story that will give you insights about the land and the First Nations peoples who were here before the Europeans "discovered" the island.
The largest city is Victoria, but we'll finish our trek there so for now let's head directly to Port Hardy at the northern tip of the island. Take Highway 1, also known as the Malahat Highway, north. For those with a major case of wanderlust, Port Hardy is a departure point for ferries going north to the Queen Charlotte Islands, Bella Coola, Prince Rupert, and beyond.
When in Port Hardy just wander around a bit. I photographed my first bald eagle right downtown. They're all over the place. There's a walking/biking path that follows the shoreline and has plenty of photo ops. Downtown itself lacks in architectural charm but there are some great shops and a bakery/coffee shop that serves world-class cinnamon rolls. Campers should check out the Quatse River Campground. You can provision at the Overwaitea market. I'll let you read how it got that strange name when you get there. If you'd like to explore logging roads, buy a current logging road map. It shows which roads are safe to drive and which should be avoided. Good to know.
When you start south, don't miss Telegraph Cove. While it has grown a bit since our first visit, it's still worth the detour. It has great photo possibilities and you can book whale-watching, kayaking, and even grizzly bear excursions.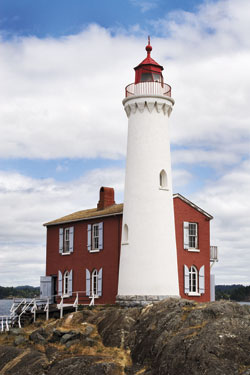 Another great spot to visit is Campbell River. It has a nice downtown for a walking tour, the best fish and chips this side of the UK at Dick's Fish & Chips, and is a good place to reprovision. About 45 minutes west of Campbell River you'll find Strathcona Provincial Park. It is the oldest provincial park in British Columbia and the largest on Vancouver Island. We like to camp on Buttle Lake with its steep bluffs and snow-capped peaks. Buttle Lake is one of our favorite kayaking spots…anywhere! If you're camping at Strathcona you'll need to get provisions in Campbell River, or at Gold River, a little farther to the west.
On our first visit to Gold River we took the Uchuck, a coastal steamer, to Nootka Island, where James Cook was the first Englishman to make contact with the natives. On the way back to Gold River we paused at Bligh Island to "wet" launch some kayak campers. Bligh Island was named by James Cook for his navigator, William Bligh. Yeah, that one!
A very popular, too popular perhaps, spot on the west coast of the island is the Tofino/Ucluelet area. From Highway 1 you'll head west on Highway 4, and travel through the logging town of Port Alberni. The Tofino/Ucluelet area is lovely, and has Vancouver Island's only national park, Pacific Rim National Park, which can be crowded at peak season. It's great if you like shooting things with a marine motif though.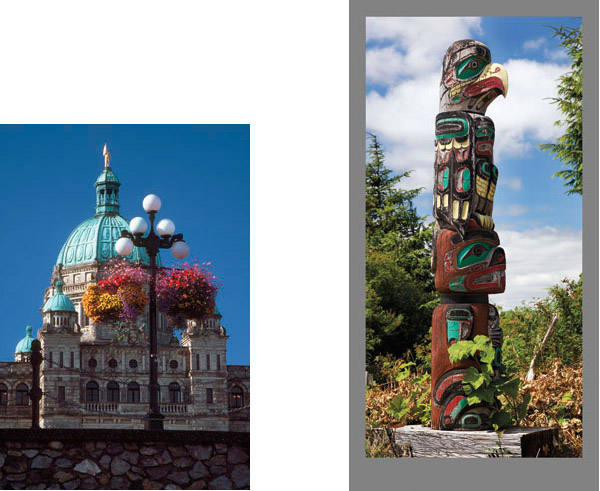 Nanaimo is a big city with big city services, and traffic, and we usually skip it and continue south to Victoria.
Reserve lots of time for Victoria. Campers will want to try Goldstream Provincial Park. Getting a reservation is probably a good idea as it's quite close to downtown. Victoria is known as the most British City in North America, and it's impossible to convey what a thoroughly delightful place it is.
Butchart Gardens is a must-see and a wonderful photo op. Plan on all day and take the pooch if your dog travels with you. It's very pet friendly. Another great photo op is the Victoria Butterfly Gardens, just 5 minutes from Butchart Gardens. Take a macro lens and a flash. The free-flying butterflies are very tame and approachable. It's great fun.
Victoria's Inner Harbour is a real hoot. Lots of great architecture, the Fairmont Empress Hotel (go for High Tea), the Natural History Gallery at the Royal British Columbia Museum, and the Parliament Building are my favorites.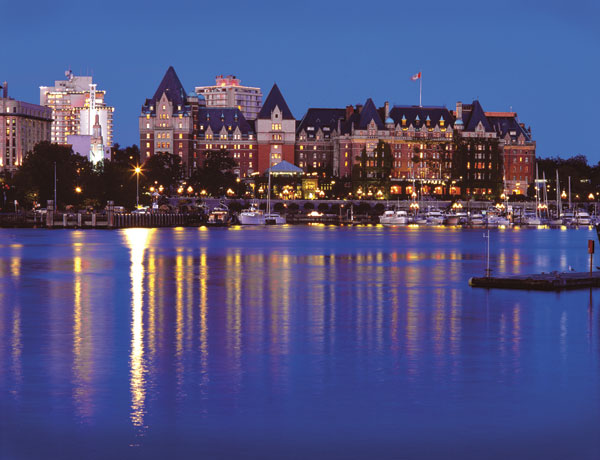 The promenade around the harbor is great for photographing yachts, architecture, and buskers (street entertainers). Ready for dinner or a dark frothy beverage? A few blocks from the harbor, on Government Street, is the Irish Times Pub. They often have traditional Irish music and the steak and Guinness pie is to die for. Finish off your dinner with a Young's Double Chocolate Stout and you won't need dessert.
Do you bicycle? If so, you've got to try the Galloping Goose Regional Trail. It starts in Victoria and travels some 33 miles west into the mountains above Sooke. An abandoned railroad, the surface is paved in town and well-groomed gravel the rest of the way. It's best ridden on a mountain bike but I've seen a lot of skinny tire folks on it as well. We usually spend a few days in Sooke, west of Victoria, which has easy access to the trail and great kayaking. You can rent kayaks at Cooper's Cove and have a great meal right at the launch site when you return. Also, try the Otter Point Bakery & Tea Room. The sausage rolls and meat pies are really a treat.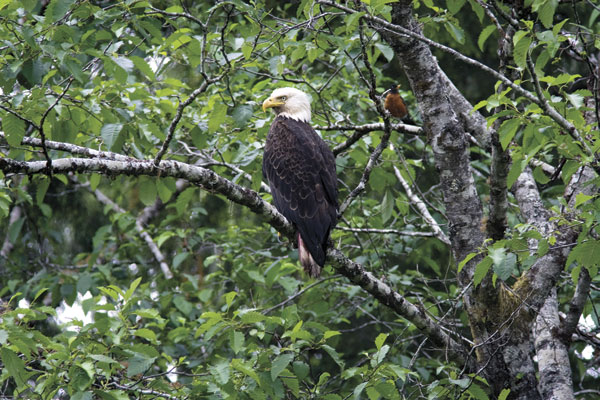 I've only touched on the sites I'd like to share but a detailed guide to the island would fill a book, several in fact. I hope that I've whetted your appetite though. When you get there look around for a couple in a big silver van with a Great Pyrenees named Mindy Sue. Stop by and say hi. Maybe we can share a pint and I'll let you in on more of our favorite places on this island with a little bit of everything.