Welcome To Summer; The Warmth Of The Pixels… Page 2
Aperture Portraits
If you were paying attention in class ("Monochrome Plug-Ins," February 2009 issue of Shutterbug) you know that Photoshop-compatible plug-ins are not always compatible with Lightroom or Aperture, but there's a growing trend to, as Jean-Luc Picard says, "make it so." Imagenomic (
www.imagenomic.com
) just released Portraiture 2 for Aperture, a slightly modified version of its Photoshop-compatible plug-in and my current favorite way to retouch portraits.
© 2009, Joe Farace, All Rights Reserved
Portraiture 2 for Aperture fits seamlessly into the Apple program's image management, editing, and output infrastructure. It features automatic skin tone mask generation and one-click retouching through the Preset Manager, which includes real-time image thumbnail previews, bracketing controls, custom preset creation along with file sharing, notations, and history states. There's also advanced skin masking controls for selecting, feathering, and refining the retouching area, edges, and tonal ranges of the selected mask. You also find enhancement sliders for sharpness, softness, warmth, tint, brightness, and contrast control, along with the ability to apply these to the mask area only or the entire image. Portraiture 2 for Aperture can be purchased directly from Apple (www.apple.com) or Imagenomic for $199.95.

An Aligned Lens Is A Happy Lens
For a time, news of back focus problems with new D-SLRs spread across the Internet like wildfire. Maybe that's why, beginning with Canon's Mark III series, many new D-SLRs are equipped with an autofocus microadjustment function that allows the camera body or individual lenses to be calibrated to eliminate focus problems. The LensAlign Focus Calibration System (www.rawworkflow.com) offers a precision tool for testing cameras for front or back focus problems when using lenses with apertures of f/4 or larger. LensAlign is available in two different configurations: LensAlign PRO ($139.95) and the portable and less expensive LensAlign LITE ($79.95). Both models include a focus target and a companion depth of field ruler, together with a custom-designed sighting system that ensures accurate parallelism between the focus target and camera sensor/film plane.
Having set up the camera and LensAlign using the sighting mechanism, which is clearly explained in video tutorials, you capture an image of the target and ruler. If the focus is spot-on, the ruler's zero mark will be in perfect focus, with proper depth of field in front and behind the mark. If the camera's auto or manual focus system is off, the ruler markings will show this instantly, either in front of or in back of the target plane. The process is easy to perform, accurate, and repeatable. This is a must-have tool for the optical perfectionist.

Enhancements Made Easier
DataMind's (http://jade.datamind.biz) Jade is a software application that's also available as a plug-in for Apple's Aperture or Adobe's Photoshop. Tip: You can even configure iPhoto to use Jade to edit your photos, just open iPhoto>Preferences and set Jade in the Edit photo pop-up menu as an external editor. Jade uses state-of-the-art algorithms to enhance an image file's colors and contrast while preserving the photograph's overall quality. You can then adjust the algorithm's automatic output by fine-tuning the photograph by adjusting parameters such as intensity, contrast, and color correction.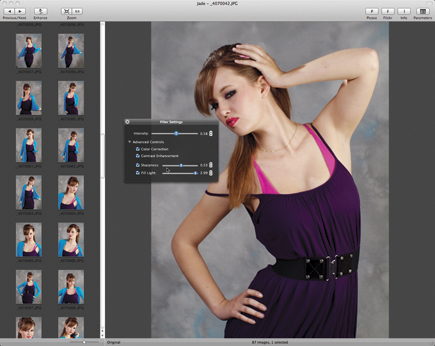 © 2009, Mary Farace, All Rights Reserved
The Mac OS X version of Jade can read any file format supported by OS X 10.5 (Leopard). The Windows version will read PNG, JPEG, GIF, TIFF, and BMP files. It's easy to use Jade with either single files or in bunches by pressing the Batch Processing button, allowing you to enhance hundreds of images in one operation. Just load them into Jade, click the Enhance button and save the results. This may be the software's biggest use for wedding shooters and anyone who shoots lots of photographs at a single event. The application costs 29.99 Euros and either Jade plug-in costs 49.99 Euros, about $40 or $66 respectively as of this writing. Jade is not going to move users away from Adobe's Photoshop Elements, but the price point and built-in support for uploading images to Picasa and Flickr photo-sharing sites also makes it a great choice for web-ready images.