Welcome To Summer; The Warmth Of The Pixels…
"The warmth of the air, on a summer day."—The Beach Boys
Clearly one of the most significant advantages of digital capture is that you get to see the results now! There's no waiting; it's instant gratification. Nowhere is this more important than when selecting a background for studio photography, even if your studio, like mine, is a temporary basement setup. Yet when shopping for backgrounds some shooters look at them based on what they see online or in a catalog and are disappointed after seeing them photographed behind a subject. Surprisingly, some backdrops that look terrible to your eyes photograph like a dream. When it comes to backgrounds, what you see isn't always what you get. This happened to me recently when using one of Adorama's (www.adorama.com) Belle Drape muslin backdrops. I never used that particular background because I didn't like the way it looked, but because I needed to try something new, used it for a shoot and immediately fell in love after looking at the results on the camera's LCD screen. If you're on a budget and looking for a new backdrop, I suggest you take a look at Belle Drape. And don't believe your eyes, just the photographs.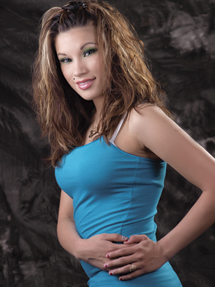 © 2009, Mary Farace, All Rights Reserved
High Dynamic Range
It seems to me that HDR (High Dynamic Range) photography has become the new digital infrared, and why not? You don't need expensive filters or camera conversions, just a camera that captures raw files—and you don't always need a tripod. All my recent automobile HDR shots were made using Image Stabilized lenses and fast shutter speeds along with continuous (and bracketed) exposures to get three images to be combined. Making that conversion process faster and better, Unified Color's (www.unifiedcolor.com) HDR PhotoStudio features accurate, full color gamut along with editing features that let you adjust brightness with no color shift. You can work with 32-bit images and save the output using Unified Color's BEF format that produces a visually lossless compressed file. BEF is a non-acronym that stands for B (brightness) and EF (chromatic coordinates).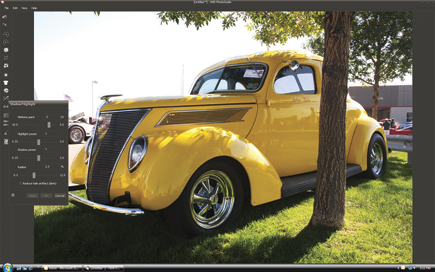 © 2008, Joe Farace, All Rights Reserved
All of the tweaks made on my iMac running Microsoft's Vista Home were greeted with a "processing image" message, although the wait was short. A Mac OS version should be available soon. I always liked Photoshop's Merge to HDR function because it handled handheld HDR capture better, but with the launch of CS4 Adobe has shuffled that function into the "goodies" folder which is, I believe, a code word for unsupported. HDR PhotoStudio provides much more control over enhancing the merged HDR image files, so it's clearly a more comprehensive approach. Try HDR PhotoStudio with your own tripod-mounted photos by downloading a 30-day trial version and if you like it you can purchase the software for $149.99.

Looking Out A Window
Digital Light & Color's (www.dl-c.com) Picture Window Pro is clearly one of the most interesting Windows-based image-editing programs out there, but, like Rodney Dangerfield, doesn't always get the respect it deserves. Picture Window Pro 5.0 has a new Raw Converter that includes highlight recovery, noise reduction, pixel repair, and an innovative and new three-zone transformation which divides an image file into three tonality zones and lets you independently adjust each one. A new Color Remap feature lets you select colors with adjustable selectivity and remap them onto other colors, and there's also new and improved HDR, sharpen, and automation functions.
© 2009, Joe Farace, All Rights Reserved
One of the coolest Undo features I've seen is Picture Window Pro's Transformation Redo which lets you redo an operation anywhere in the chain of commands and then propagates the new version through the whole workflow. New Sidecar files save all transformation parameters, making that process possible. And for all this image magic the price tag remains less than $100, making it one of the best Windows-only image-enhancement software bargains out there.

LATEST VIDEO