We Checked Out Nikon's Colossal New Nikkor 180-400mm f/4 Lens at CES (Shutterbug Video)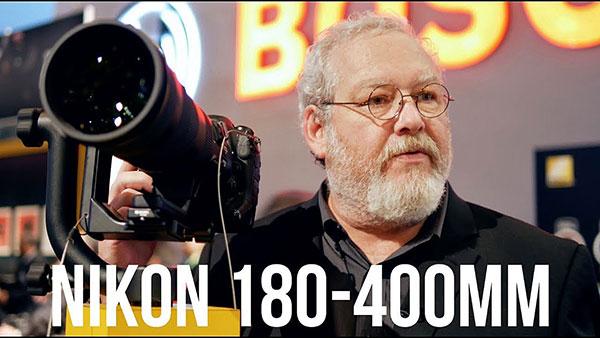 Nikon's new AF-S Nikkor 180-400mm f/4E TC1.4 FL ED VR zoom lens is a big piece of glass, that is for sure. We saw just how big at last week's Consumer Electronics Show (CES) in Las Vegas where we got up close and personal with the new Nikkor telephoto zoom lens.
In the below video we shot at CES, Nikon USA's Senior Technical Manager Steve Heiner shows off the new Nikkor 180-400mm F/4 and explains all the key features, including the built-in 1.4x teleconvertor, which extends the reach to 252-560mm with Nikon FX-format (full-frame) DSLRs, and to a whopping 378-840mm on Nikon DX-format (APS-C) DSLR cameras. Designed for wildlife and sports photography, the powerful new super telephoto boasts a constant f/4 maximum aperture for isolating a subject from the background.
The downside? This lens doesn't officially go on sale until March 2018 and it will be very expensive: $12,400.
Check out the video below for more hands-on detail. You can also read more about the new AF-S Nikkor 180-400mm f/4E TC1.4 FL ED VR in our news story about the lens. Don't forget to subscribe to Shutterbug's YouTube channel where you can watch all our photography videos including how-tos, reviews, and gear news.

LATEST VIDEO