Nikon Intros Powerful AF-S Nikkor 180-400mm F/4 Telephoto Zoom Lens with a Built-In Teleconverter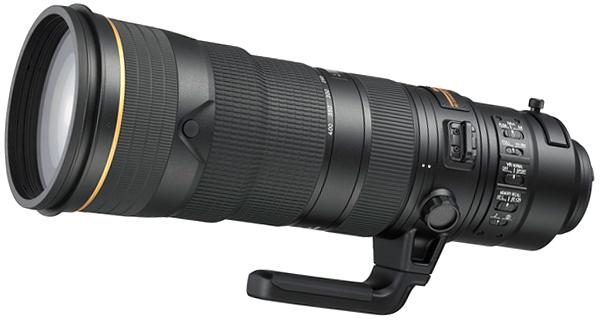 Nikon created a buzz at the Consumer Electronics Show (CES) today with the introduction of a powerful AF-S Nikkor 180-400mm f/4E TC1.4 FL ED VR zoom lens. What makes this super telephoto zoom so unique, is that it's the first lens from Nikon featuring a built-in teleconverter for an extended range.
The switch-activated 1.4X teleconverter extends the reach of the new Nikkor 180-400mm zoom to 252-560mm with Nikon FX-format (full-frame) DSLRs, and to a whopping 378-840mm on Nikon DX-format (APS-C) DSLR cameras. Ideal for wildlife and sports photography, the powerful new super telephoto boasts a constant f/4 maximum aperture for isolating a subject from the background.
You can see a hands-on video we shot at CES with the new Nikkor 180-400mm here.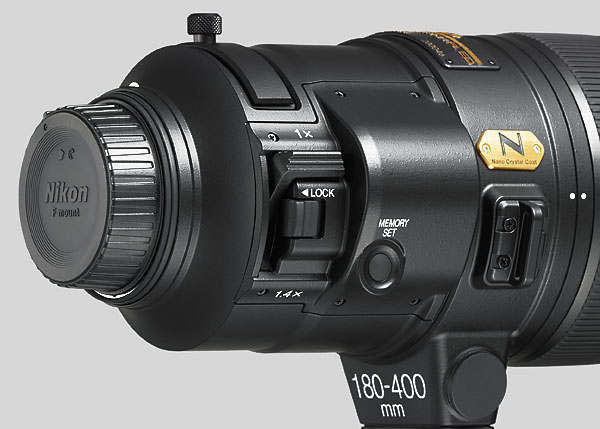 Nikon says the new AF-S Nikkor 180-400mm f/4 zoom uses their latest optical technology, and features an electromagnetic diaphragm that's optimized for high-speed burst shooting with consistent exposures. The lens also has an enhanced AF tracking algorithm to increase autofocus performance when following fast-moving subjects.
The Vibration Reduction (VR) system in the new 180-400mm zoom features both Normal and Sports modes, delivering up to four stops of compensation for sharp, hand-held results under less than ideal lighting conditions. The durable lens is constructed of lightweight magnesium alloy, and is sealed against moisture and dust.
The advanced optical formula of the new AF-S Nikkor 180-400mm f/4 incorporates eight Extra Low Dispersion (ED) elements for optimum image quality with a minimum of distortion, and uses as Nikon's proprietary Nano Crystal Coat to eliminate flare and ghosting. The lens also has a fluorite element for weight reduction, and a fluorine coating on the front element to repeal water droplets, airborne contaminants, and fingerprints.
The new AF-S Nikkor 180-400mm f/4E TC1.4 FL ED VR zoom lens will be available in March at a price of $12,400. There will be more details on the Nikon website soon. And if telephoto zoom lenses are your thing, be sure to read our November review of the recently introduced Sigma 100-400mm f/5-6.3 DG OS HSM.

LATEST VIDEO