WaterField Camera Cases for Compact and Ultra-compact Cameras
WaterField Designs, a leading maker of custom-fitted cases for digital gear, has announced a new line of protective cases for compact and ultra-compact cameras. The Pic Pocket camera cases incorporate the company's signature trademarks of stylish simplicity and premium craftsmanship, and are small enough to fit into a pocket, purse or portfolio.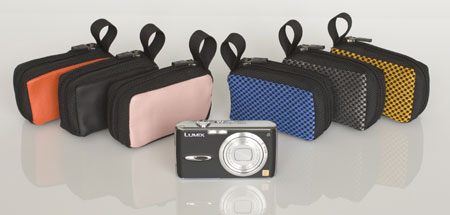 The Pic Pocket is constructed of WaterField's custom-made ballistic nylon and accented with color in Indium material or leather. An interior layer of plush neoprene and a no-scratch liner offer solid protection without bulk. A loop sewn on to the upper corner lets you carry the case with one finger. Self-locking YKK zippers keep the camera secure and allow you to use their camera's wrist strap as well. Every Pic Pocket comes with a removable carabiner for hooking onto a belt loop, backpack, or strap for quick access. The cases are water and shock-resistant.

The WaterField designs camera case can be used with any other WaterField bags like the Cargo, Cozmo and VertiGo. For stowing other travel accessories WaterField offers wallets, iPod cases, and laptop sleeves.

Availability & Pricing
The Pic Pocket Camera Cases come in eight sizes and range in price from $29.00 (Indium) to $33.00 (leather). The cases are constructed of black ballistic nylon with side panels available in three Indium colors (Taxi, Blue, Lead) and three leather colors (Black, Orange, Pink). They fit compact and ultra-compact cameras from all major manufacturers. Sizing charts and dimensions are available on the WaterField Designs website to help customers find the best fit for their camera model.

The Pic Pocket camera cases are available now from the WaterField Designs' online store at http://www.sfbags.com.


FEATURED VIDEO