Warped Reality: Photographer Daniel Picard Uses Marvel, DC & Star Wars Figures To Create Humorous Fantasy Images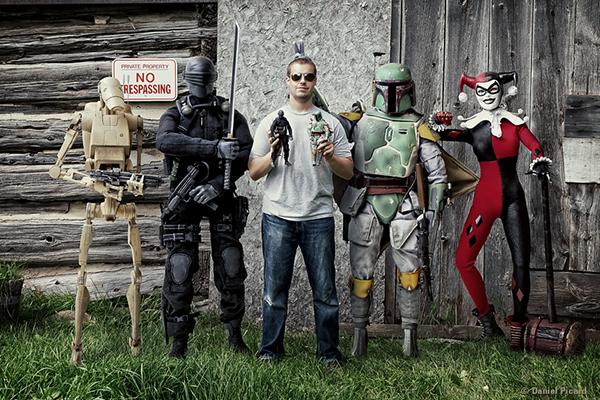 Ottawa, Canada is home to Daniel Picard, a talented graphic designer and a noted photographer who has a true passion for pop culture. An avid collector of high quality action figures and statues, Picard expertly integrates these pop icons into his photography by posing them in various action scenes and comical situations.
The unique (and highly realistic) quality of his work soon made Picard an Internet sensation, capturing the attention of legions of fans. Picard's images can now be seen on many websites, in magazines and Paris galleries. We recently caught up with Picard and interviewed him about how he creates his fantastic photographic scenes.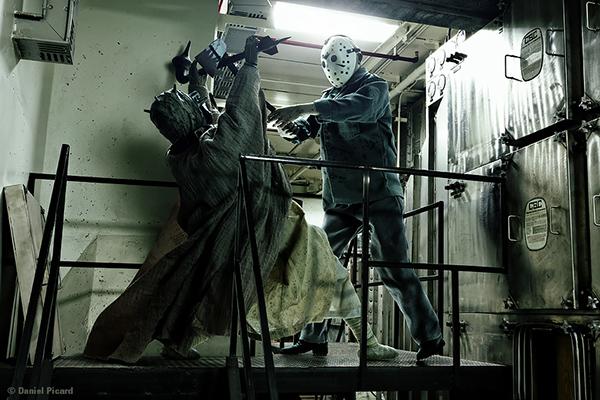 Shutterbug: Could you give us some background on you as a photographer?
Picard: I only started photography eight years ago because I wanted to be able to take the cutest and most creative baby pictures of my daughter. In order to get ready, I bought my first DSLR camera months before her birth to practice shooting. I also started a daily photoblog to challenge myself. Photography quickly became my favorite hobby as I discovered this whole new way of expressing myself. The online community was reacting well to my photos, it was very motivating.
Shutterbug: What first inspired you to use action figures in your work and where do you buy them?
Picard: Before attempting to shoot figures, I was taking photos of humans and always on the lookout for nice locations. One day, I spotted a perfect field for a nice fashion shoot. The shoot had to be done the next day due to upcoming construction in the area. With no models available, I turned to my first collectible that I had just received. I went back to shoot my "fashion photo" with it (as a joke) and I really liked the result. This was now something I had to explore. After a few more photos, I found the Sideshow Collectibles website and knew I had to try my photography using their Star Wars and GI Joe characters since those were my two favorite toys growing up. Aside from a few older figures I purchased on eBay, Sideshow Collectibles is still where the majority of my collection comes from.
Shutterbug: How big are the actions figures and how do you get them to look life size in the environment?
Picard: I mostly collect 1/6 scale figures. That means the characters are all about 12 inches tall. I also have a few statues that Sideshow does from their cool dinosaur series that vary in size. I'm very excited to start collecting their "Court of the Dead" statues, which are in the 20 inch high range. The "how" I get them to look life-size is something I'd prefer to keep to myself but it's pretty much what Hollywood does with digital characters—I just shoot my figures instead of building 3D models to use in my scenes.
Shutterbug: How do you capture the images? What gear do you use and how do you utilize Photoshop to achieve the desired results?
Picard: I approach each scene for my figures the exact same way I would for a human model. In fact, each photo starts with myself (or my friends/family) posing so that I can frame the photo and get references for the lighting and the character's height. I use a Canon 5D Mark II with either the 17-40mm or the 24-70mm lens with a wireless 600EX-RT external flash that I can move around on a tripod. If all the hours of planning and preparing worked, then the Photoshop portion is quite fast on the normal scenes. When I challenge myself in scenes with special effects—like adding digital snow on a figure or reflections on shiny surfaces—then that's when the Photoshop layers and the hours build up. I end each photo with brightness/contrast and color adjustments to try and bring the photos to the right mood.
Shutterbug: Each figure fits perfectly into the background you¹ve chosen. How do you find the ideal location for each shoot?
Picard: Thank you! Locations are the hardest to find but also the most interesting because that's when I'm out of the house doing my photography. I do location scouting as much as I can. I then come back home and sketch my ideas on my iPad. I look at the scouting photos and my collection to come up with the perfect concepts. I've never just driven around town with a box of figures and randomly shot scenes. Everything is planned weeks and sometimes months in advance.
Shutterbug: What advice would you give others who want to bring these characters to life the way you do?
Picard: I started my series by bringing the figures on location with me, which was very useful. It's what I would suggest others try and do first. It's extremely time-consuming and you're always worried about losing small pieces, however, it gave me the chance to learn about angles, lighting and how the real world (and my lenses) affect an object that's six times smaller than us.
Another bit of advice would be to have reference photos of humans while you are posing the figures. From simple things like sitting in a chair to complicated ones like running, it really helps to have something visual to follow. And if your figure came with different hands (or even feet) those same photos could help you decide which to use to get the best realistic results you are looking for.
Shutterbug: What other projects are you working on these days?
Picard: I am very happy to share that Sideshow Collectibles, Insight Editions and myself have teamed up to publish a book of my figure series called Figure Fantasy—The Pop Culture Photography of Daniel Picard. Coming out in June, the book will have over 60 photos including about 40 new ones that I've kept secret for a year! I'm excited to finally be able to show a few of them here for the first time. I will also be attending my first ComicCon in San Diego this summer, and will be a guest at the amazing Sideshow booth! As far as my photo series, it's still very on-going since I have a ton of ideas left to shoot, lots of new characters are coming out and more importantly, I'm still having a great time creating and (of course) collecting.
See more of Daniel Picard's images here.
If you like Picard's work, you should also check out our interview with photographer Edy Hardjo who uses superhero action figures to create hilarious photo scenes.

FEATURED VIDEO