Edy Hardjo Uses Superhero Action Figures To Create Hilariously Arranged Photo Scenes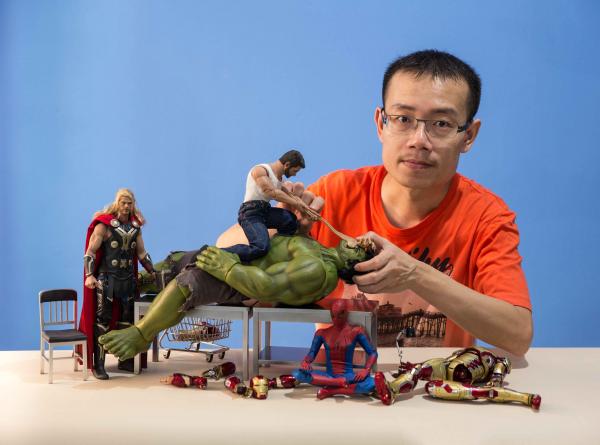 Photographer Edy Hardjo likes to put superheroes in some of the strangest of positions. Hardjo's popular Facebook page is filled with hilarious images of action figures, including many iconic Marvel and DC chacters, in humorous and often human-like scenarios.
Hardjo was was born in Medan, Indonesia in 1973 and graduated college with a Chemical Engineering degree. He was married in 2004 and has two sons and a daughter. He currently lives with his family in Jakarta, Indonesia. All of which is a long way from the world of superheroes but that hasn't stopped Hardjo from capturing his out-of-this-world images.
We recently had a chance to interview him about the process of creating these carefully arranged, Marvel and DC-inspired scenes. See more of his work on his Facebook page.
Shutterbug: Could you give us some background on you as a photographer?
EH: Photography is a hobby for me. It all started when I wanted to take better pictures for items that I sell in my online store. I bought an entry-level camera and started to shoot with confidence, but the results were no better than the images shot with my mobile phone's camera. This made me curious and feeling challenged so later I bought a better camera and took a course in the Canon School of Photography. After that I also took several photo tours—for practice—and learned from the expert in the group. Today, I have a small personal photo studio at home and I sometimes take commission photo shoots as a side job.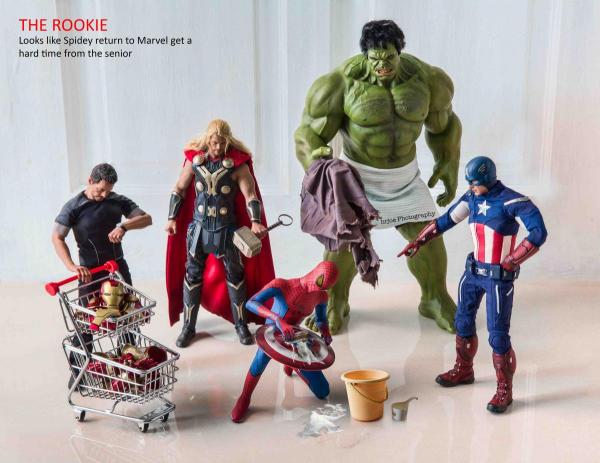 Shutterbug: What first inspired you to photograph action figures this way and how do you make them look so realistic?
EH: Before this, I never liked action figures, because the build quality was cartoonish and comic in style. But the new generation of action figures changed my perspective completely. The new 1/6-scale figures (such as Hot Toys, Enterbay, 3A etc.) have a very detailed and fine design, and almost look exactly like the real characters from the movies. I fell in love with these amazing figures. So I started to collect and use them as models. Of course, many people do the same thing so I wanted to do something different. I wanted to pose and put them in a scene that makes them look even more alive. I wanted to create a scene (picture) that tells a story—not just a simple boring pose.
Shutterbug: You have a great sense of humor; how do you bring that out in your work?
EH: I use my daily experience as source of ideas. I found out that sometimes even a serious thing or moment (if combined with certain act) can be funny. The recipe is "wrong combination." All I do is replace the "usual" thing with the "unusual."
Shutterbug: What kind of gear and software do you use for these shots?
EH: I use a Canon DSLR camera and my lenses are: 16-35mm, 24-70mm, 50mm and a 100mm. For studio lighting, I use a Canon Speedlite for the small scenes and Profoto strobes for the larger scenes. As for software, of course everyone loves Photoshop; I use that with some plug-ins from Nik, OnOne, etc.
Shutterbug: As a fellow comic book fan, I fully understand the characters and their appeal. Can you tell me how characters from Marvel and DC Comics influence your work?
EH: I have loved both the Marvel and DC characters since I was a kid. These characters 1/6-action figures are all based on the current super hero movies. And as we know, Marvel is more dominant on the silver screen, so most of the action figures available are also from Marvel. That's why I use more Marvel figure than DC in my work. The characters I love the most for my work are the Avengers—especially the Hulk. It's the nature of these characters that makes them more suitable for a funny scene.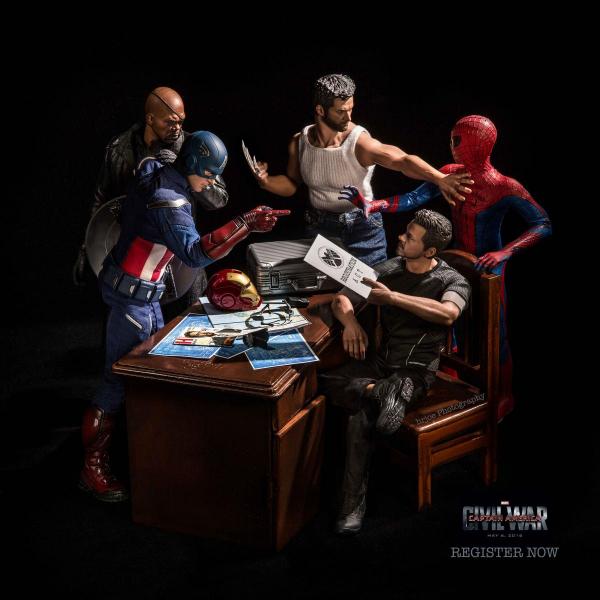 Shutterbug: What advice would you give others who want to do this kind of photography and where do you get those wonderful toys?
EH: Every morning you must eat a raw turkey egg before breakfast, this will improve the hypothalamus (which controls the sense of humor in humans) to become more sensitive. Do this everyday for at least one month, and then you'll start to see things 'differently'—I mean really differently. Nah, just kiddin'!
Learn about and understand each character that you use in your photos, this will help you to find ideas that suit them specifically. Watch more comedy movies and read practical joke books.
I bought most of my figures from the local Collectible Toy Store, not a regular toy store. These are really collectible items so you can call them toys for adults. I think almost every country has this kind of store now. But if you can't find one, the last resort is always eBay.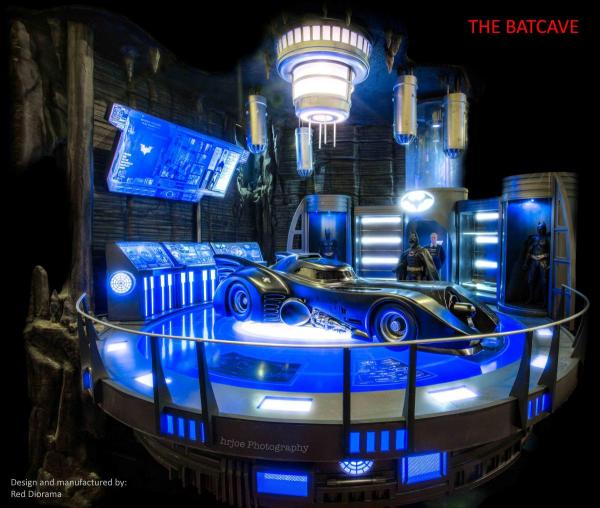 Shutterbug: What other projects you working on these days?
EH: I am currently doing product shots of several new dioramas from Red Diorama. They created the massive harbor final battle scene from the Iron Man 3 movie for the Jakarta Toys and Comics Fair this March, all in 1/6 scale. I'm really excited about this one, it will be my biggest project so far. I will share the photos on my Facebook page when they are finished, just wait for them. They will be awesome!

FEATURED VIDEO