Want VIBRANT Sunset Photos on DULL Days? Try This Easy Photoshop Edit (VIDEO)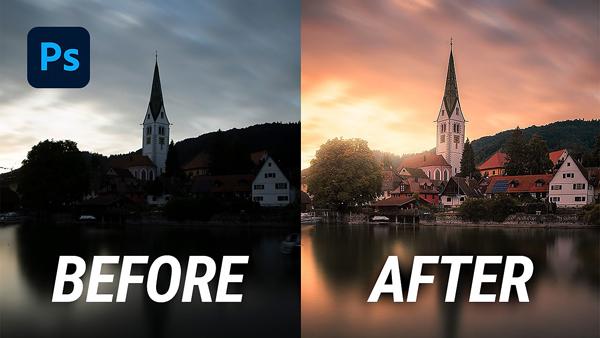 Sunset scenes are a favorite of most photographers, and they are wildly popular among "civilians" who appreciate beautiful imagery. Photos captured at this time typically have warm vibrant tones, provide a feeling of serenity, and may even affect a viewer's mood.
Unfortunately, even if you do everything right—like scouting a location in advance and arriving early to set up before the sun drops below the horizon—Mother Nature sometimes fails to cooperate. One example is when thick clouds roll in during late afternoon, and the sunset that follows is an unappealing dull gray devoid of color
You an always go home under drab conditions and come back on a better day, but there's another option we recommend; do the best you can under these lackluster conditions, and "make your images sing" with a little help from Photoshop.
In the tutorial below from our friends at Phlog Photography, you'll learn a straightforward color-grading method for transforming an uninspiring sunset shot into something really special. It's a versatile workflow that you can also use to rehabilitate boring sunrise images.
Christian Mohrle is a German landscape photographer and image-editing expert with an enthusiastic international following on his YouTube channel. The technique demonstrated in this episode is responsible for what Mohrle says, "Is one of my coolest sunsets shots of the year."


Mohrle's goal for the demonstration image (which you can download in the description beneath the video) is to introduce far stronger sunset colors and retrieve lost shadow detail without overexposing the sky. He begins with basic "global" adjustments to the overall scene, and then turns to selective "local" enhancements to specific portions of the image.
We think you'll agree that his final result is absolutely stunning, while retaining a realistic appearance.
If you're looking for another simple Photoshop method that delivers big results with landscape photos, check out the lesson we posted last week—explaining how to straighten crooked images without cropping off edges.