Want Better Photos? Use These Tips, Slow Down & "Control" the Light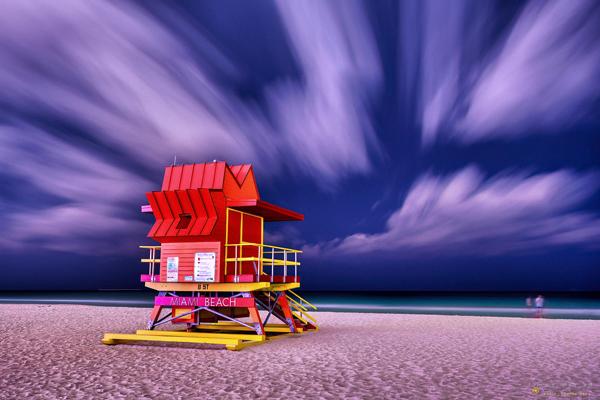 (Editor's Note: You can read "On the Road" columnist Deborah Sandidge's other columns here).
It's often a case of hurry up and wait. I'll hurry to a location—often it's a beach, while it's still dark, and with a flashlight to guide me I'll check out where the rocks and tide are. Then I decide on the location for the camera and select the lens that will best tell the story.
Once the camera is set up on the tripod, I'll make a series of test shots to determine the best approach. If the clouds seem to be forming up to one side, or the wind is pushing the receding wave a certain way, I'll change my angle.
I've always been guided by the idea of capturing the most interesting, compelling light, no matter what time it happens, and I feel that light most often occurs well before sunrise and after sunset. Because the light conditions then are ever changing, I'm often rewarded with unique, beautiful skies when shooting during those hours. Often I may have an idea based on existing conditions or past experience, yet I'm not surprised when totally different options push me in different directions.
Under Control
Once you master how to manage or control light, the opportunities are endless. You can, to a reasonable degree, count on the repetition of light patterns and behaviors. When I'm shooting in the Rocky Mountains, for example, I can consistently photograph stars as pinpoints of light, and I know that in the pre-dawn hours the sky will begin to reveal unique colors as it gets brighter, and just maybe some gorgeous clouds will come in to further enhance the image.
It may surprise you that I used the term "control the light." While I know precisely when the sun will rise and in what direction it will come to illuminate my subject, I also consider how changing light conditions and cloud formations will affect the scene. And I can use the technology of photography to control, even dictate, the look and impact of light on the image.
I'll adjust ISO, aperture, and shutter speed to create and optimize the image. I'll always consider how shutter speed, intervals of exposure, and time-lapse techniques affect single images as well as composites built on a series of photographs taken over time.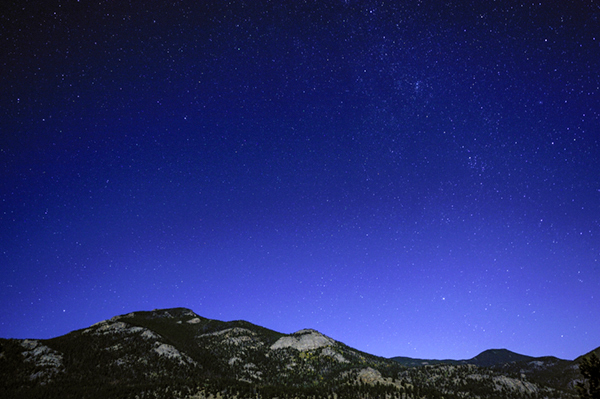 Taking Time
Essentially, there are three things to know that will control the nature of light and illustrate what happens over time.
First, your camera will see more than you do because the dynamic range of the sensor is greater than that of your eye. Shoot into shadows and you'll often see more detail in the image than you saw in the scene, especially if the exposure was a long one.
Second, it pays to stick around. In other words, spend time at the scene. An image or two of a sunrise isn't nearly enough, at least not for me. I want to see what happens next, and then in the next that follows. I'll give the scene time to develop, maybe even time to surprise me.
Third, you have a lot of photographic options and technology to choose from: lenses and exposure times, depth-of-field, ISO, picture controls, and composition. For many of the photos here the key was as basic as choosing the aperture I needed and then setting as low an ISO as possible so I could slow down the shutter speed.
I'm tempted to say it's not rocket science, and it looks like I gave in to temptation. If the picture is about time, it's also about timing and patience. Slow down, think it through, and try it out. When it works well, you'll remember what you did!
Social Media Note
You can follow Deborah Sandidge and her photography on social media at instagram.com/debsandidge, twitter.com/debsandidge, and facebook.com/debsandidge. Her website, deborahsandidge.com, offers a variety of images as well as photo tips and techniques. In all visits, please take your time.