Here's Why Every Photographer Needs to Try a Fisheye Lens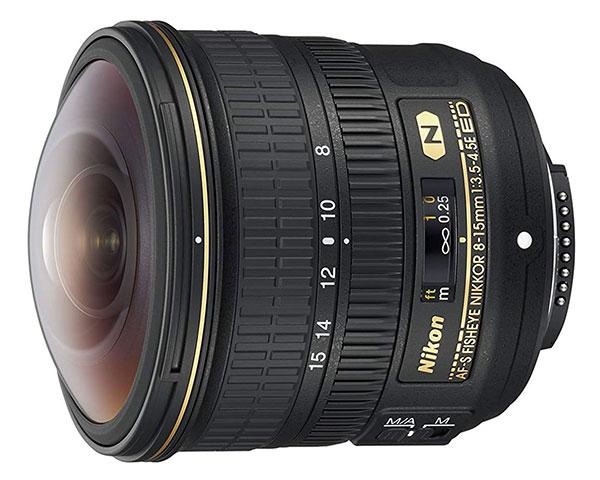 It's not what most photographers would consider essential glass, but in mid-2017, when I heard it was available, I knew the 8-15mm f/3.5-4.5 Fisheye Nikkor was a lens I'd like a lot. What I didn't realize was how much "a lot" was going to be. It turned out that I liked to have it with me whenever I was photographing.
Which might strike you as strange as it's a lens that a friend, who is a professional photographer like me, calls "a one-trick pony," probably because he, like many others, associate it with a particular distortion-of-reality look, and once you're done with that, it's time to move on.
Not me, though. I'm a long way from done with the lens. Sure, it's not your everyday multi-purpose zoom, but because I think there's always a different way to tell a story visually, for me it's a lens of surprising versatility.
The "Wow" Factor
The key to the versatility of the 8-15mm fisheye zoom is realizing that it's versatile, then seeking pictures and videos (see below) to prove that out. It wasn't hard to explore the possibilities—in fact, my first thought when I heard about the 8-15mm fisheye was, Oh, now I can have two lenses in one.
At 8mm I've got a round-world view of whatever I'd like to photograph, from landscapes to cityscapes. At 15mm the lens would be a fabulous ultra-wide-angle that I could use to produce strong, dramatic images that didn't announce they were taken with a fisheye. One lens, two totally different effects; not just a slight difference, but a world of difference. Put me down for that—I'm always looking to come up with something different; that's the way I do my photography.
When I got the lens, I used it in the way I use all my gear—as an option for creativity. First, I observe, then figure out how to best express what I feel about what I'm seeing. What I quickly found out about the 8-15mm was that on almost every occasion, there's at least one photo, a definite "Wow!" shot, that I couldn't have made happen if I didn't have that lens.
And the Fun Factor
I also found it's a lens that rewards—and after a while, encourages—experimentation. At 15mm, if I tilt it down a bit from a high vantage point, I've got that top-of-the-word look that says, "Special place, special feeling." Also, at 15mm, I can emphasize unreality or play it as straight as possible to emphasize details, colors, and shapes. And if I do that, very often people who see the photos see—or sense—something different and dramatic, even though they may not know what gives the photo those qualities and that appeal.
At 8mm, there's the "let's see what happens when I point it at the sky" approach—I still haven't scratched that surface, as the lens invites me to look for ways I can see and capture unusual and often striking views of the familiar world. An early discovery was that the more "surrounded" I was by a colorful, detailed environment, the more effective the photo and the more the image places the viewer in the moment. You're in the aspen grove; you're in the city. I think of it as a "surround-sense of place."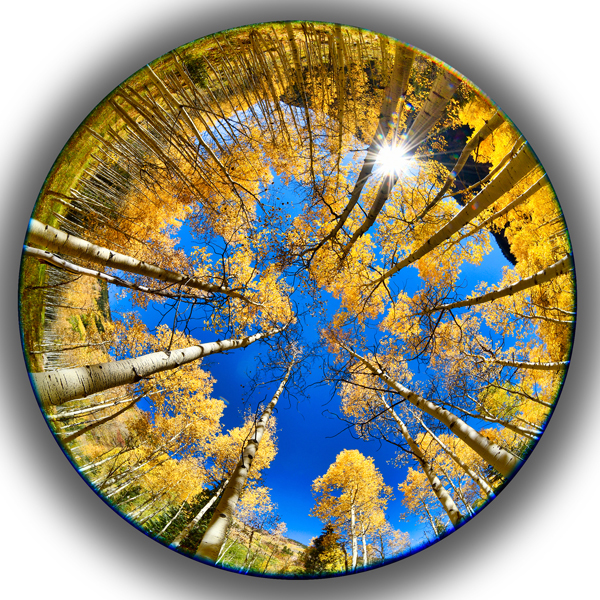 I've also found that the elements that attract me to a subject and a story—the ones I always want to capture and convey, like color, a sense of motion, and the play of light—are often enhanced by the lens no matter if the photo is an 8mm circle capture or an intriguing 15mm view. The nature of the lens, the way it renders a scene, doesn't in any way take attention away from the elements I want to include in the story I want to tell.
If you're intrigued by the possibilities of the 8-15mm fisheye, try it out. All it might take is one "point at the sky" look.
Deborah Sandidge's website, deborahsandidge.com, offers a collection of her photographs as well as photo tips and a schedule of upcoming workshops, photo tours, and seminars.