The Vices Of Digital Imaging; You Can Play With Your Food, But Don't Photograph It
"You haven't even touched your food."--Inga in Young Frankenstein
According to Metrocurean (http://amandamc.blogspot.com), a blog aimed at epicureans in the Nation's Capitol, it is OK to play with your food but taking pictures of it in restaurants is verboten. The story (posted in the October 2006 archive) provides feedback from chefs and bloggers, including a list of rules for tableside shutterbugs. It suggests, "Read the room. A romantic boite will be more intimate than dim sum, so adjust picture taking to fit the mood. If your server asks you to stop, don't start an argument." When Jason of D.C. Foodies snapped pictures at Buck's Fishing and Camping the chef asked him to not use the photos, thereby sparking a debate about what a restaurant can restrict. I can only respond as did Dr. Frederick Frankenstein (that's Fronk-in-steen!) did after slapping a plate of food, "There, I've touched it. Happy?"

Last month's Digital Innovations looked at the virtuous side of digital imaging. This month I take a look at some of the vices and how to get rid of them.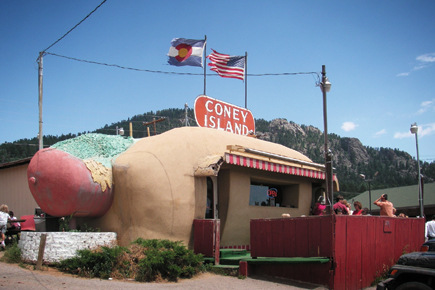 All Photos © 2006, Joe Farace, All Rights Reserved

Pride
Sometimes shooters are proud of their macro photography even when it isn't all that good. Using a macro lens lets you get close, but achieving a pleasing composition requires a good look through the viewfinder. Adorama's (www.adorama.com) Pro Optic Right Angle Finder is the perfect accessory to make you truly proud of your macro shots. At half the price ($89.95) but the same build quality as camera brand optics, Adorama's Right Angle Finder is the perfect solution for low-angle photographs, macro or not. It has nine elements in five groups and an angled prism for crisp viewing. There are 1x and 2x magnification settings and diopter corrections of +/- 4. The viewfinder rotates through 360Þ so you can put the camera in position to make the shot and still be able to see the image for precise composition! It even comes with a nice case.
Greed
Don't be greedy and install lots of fonts. In case you forgot, Adobe's Photoshop has a Type tool and if you don't take care of your fonts, you're asking for the kinds of system problems I recently encountered. When font problems occur, who ya gonna call? FontDoctor (www.morrisonsoftdesign.com) that's who! FontDoctor locates and eliminates hard-to-find font problems that can wreak havoc on Mac OS applications and system performance. It scans folders on local hard drives or over a network to locate and repair common font illnesses, including missing Postscript fonts, missing bitmaps, corrupt or damaged fonts, ID conflicts, extra font sizes, and mixed font types.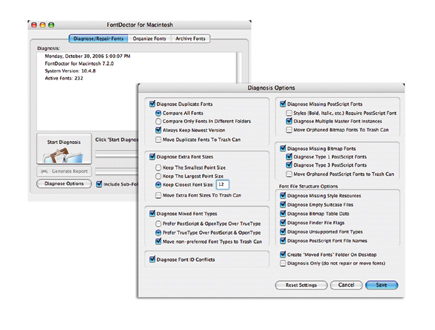 If you want to install lots of fonts and manage them effectively use FontAgent Pro (www.insidersoftware.com). It repairs, optimizes, and organizes your fonts. Then you can build font libraries and cascading sets you can activate, manage, preview, and print. It can eliminate font problems to improve system performance and stability while stopping resource waste, font menu clutter, jaggies, substitution, and unpredictable output. The next time you think fonts aren't important to digital imagers, think again.
Envy
You can be the envy of all your friends when all your snapshots look perfect. Tribeca Labs' (www.tribecalabs.com) Photobot is zero-click, automatic photo correction Windows software designed for snapshooters. Photobot is always on, searching your hard drive for photos, but that is its downside for me. When it finds image files, Photobot applies patented technologies to improve brightness, reduce redeye, and give pictures lifelike colors. On the upside, Photobot makes adjustments to images only if they are required and then only to the degree necessary to achieve optimal results.

Sitting here, watching the thumbnails appear then be corrected within seconds, I never saw an image that didn't benefit. After tweaking, Photobot can automatically upload them to your Swiss Picture Bank (www.swisspicturebank.com) account where they are protected from hard drive failure, accidental deletion, theft, format changes, or other disasters. Tribeca Labs operates Swiss Picture Bank in the same facilities Swiss banks use, and bundles a three-month trial with Photobot. As tested, both Photobot and Swiss Picture Bank were only available in beta form, but should be commercially available by the time you read this.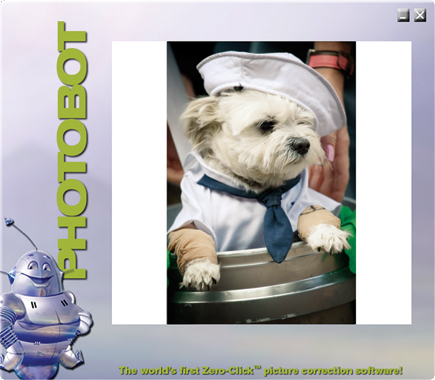 LATEST VIDEO