The Vices Of Digital Imaging; You Can Play With Your Food, But Don't Photograph It Page 2
Anger
Don't get angry when the image files from film sent for processing and scanning to Crazy Charlie's Photo Lab and Storm Door Company come back dirty and scratched. Do-it-yourself using a film scanner such as Plustek's (www.plustek.com) OpticFilm 7200i. This is a 7200dpi film scanner capable of scanning 35mm slides and negatives and features a USB 2.0 connection and fast scan speeds. Scanning at 7200dpi, you have the potential to turn a 35mm slide into an A1-sized (23.4x33.1") print. OpticFilm 7200i provides the equivalent of 75-megapixel image quality. The Windows-only package bundles SilverFast Ai 6 iSRD that includes an iSRD (Infrared Smart Removal of Defect) defect removing feature that automatically eliminates dust and scratches. In Automatic mode, SilverFast iSRD applies corrections to the entire film frame. In Manual mode, you can select certain areas to work on and leave the rest untouched. Priced at $399, the OpticFilm 7200i is a bargain for either the novice or aspiring pro.
Lust
Like Jimmy Carter I must confess to occasionally having "lusted in my heart," but usually for expensive, red, Italian sports cars. I can also, as regular readers can attest, be compulsive about Photoshop compatible plug-ins. For example, onOne Software (www.onOnesoftware.com) has added four sets of professionally-designed digital frames for PhotoFrame Pro 3 and PhotoFrame 3 for Photoshop Elements. Available right now are the Jim DiVitale and Vincent Versace Digital Frame Collections. The Helene Glassman and Jack Davis Digital Frame Collections will be available later but should be available by the time you read this. These new Signature Collections for PhotoFrame Pro 3 and PhotoFrame 3 for Photoshop Elements join the Rick Sammon Digital Frame Collection and the Instant Film Frame Collection. Each collection includes customized signature frames and edge effects designed by these photographers and costs $39.95. Digital Frame Collection works with PhotoFrame Pro 3 and PhotoFrame 3 for Photoshop Elements and is compatible with Mac OS X 10.3.9 and higher or Windows XP.
Gluttony
I'll admit it. I can make a pig outta myself over Photoshop Actions. One of my newest favorites is from ActionCentral (www.atncentral.com) and is called Mike's Polaroid Collage Action. This Photoshop Action takes a 300dpi 9x9" image and creates an 11x14" hi-res image with 36 digital Polaroid frames. There is also an option to save a lo-res file with a frame for web use. For full functionality, make certain your source image is 8 bit. The Action is available for Photoshop 7 and CS2 versions. The author, Mike Warren, has provided a large ZIP file with templates for four different Polaroid collage effects. Thanks, Mike.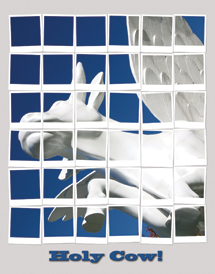 Sloth
Don't be lazy. Upgrade your digital imaging software when never versions are available. How do you know when that is? Make sure to register at the company's website so they will e-mail you about updates that might just fix some problems that are driving you crazy. Bibble Labs (www.bibblelabs.com) just issued update 4.9d to Bibble Pro that adds support for the Leica D-LUX 3 and fixes problems and memory leaks. Other cameras supported include the Leica R8 with DIGITAL MODUL R, Pentax K100D and K110D, along with Lens Correction support for the Tamron 70-300mm f/4-5.6 LD. Mac OS users will be glad to know that 4.9d also fixes problems with Sony A100 and Leica DNG files.
A History Of Violence
In May 2006, I mentioned the alleged connection of photographer Man Ray (1890-1976) with the notorious 1947 Black Dahlia murder case. The book is called Black Dahlia Avenger (ISBN: 1559706643) and it's worth a read if you're interested in an oblique intersection of true crime and photography. Now comes a new book, Exquisite Corpse (ISBN: 0821258192), that shows through visual comparisons and historical research what appears to be connections between surrealist art, photography, and that infamous murder. It's not for the squeamish or easily offended but contains some rarely seen Man Ray photographs.

LATEST VIDEO

SPONSORED VIDEO
Testing Tamron's SP 150-60mm G2 lens while capturing birds and alligators in Apalachicola, Florida.