A Traditional Photographer Merges Film And Digital Techniques; The Art And Craft Of Richard Lohmann Page 2

Lohmann's Technique
The elements used by Richard Lohmann include special processing and then special inksets to achieve optimum print quality. Since he believes that scanners are designed to produce better results from positives, his black and white negative film is sent to dr5 lab (
www.dr5.com
--see February, 2005, Shutterbug or
click here
for the full dr5lab story) to produce transparencies from black and white negative film. The quality of the scans he gets from these have now allowed him to shoot 6x7 film and achieve quality comparable to traditional prints made from 4x5 and larger negatives.
Part two of the quality equation lies in the output. Lohmann's teaching partner Tom Mallonee has developed a process he calls "Hextone Printing." Hextone prints use pure carbon inks from MIS Associates (www.inksupply.com) to achieve smoother tonal transitions. According to Mallonee, these ink densities are spaced closer together than traditional quadtone inksets. This is achieved by using six dilutions of ink in a continuous feed system that are one stop apart, resulting in a much smoother looking print. The final piece of the puzzle is RIP software by ErgoSoft (www.ergosoftus.com) called StudioPrint.

Lohmann notes, "While carbon ink printing is considered a new digital process, the materials I use are not. Today I use a computer and inkjet printer to deliver the ink to the paper, but the use of carbon inks on paper can be traced to the 1760s with the invention of the aquatint process. For me, carbon ink prints are an exciting new way to print my images. While different from my platinum prints, they are most certainly equivalent. I have transitioned from being a large format (8x10 and 12x20) platinum printer to a medium format shooter. I now enjoy all the advantages of medium format and use digital imaging to compensate for some of the disadvantages of medium format cameras and film.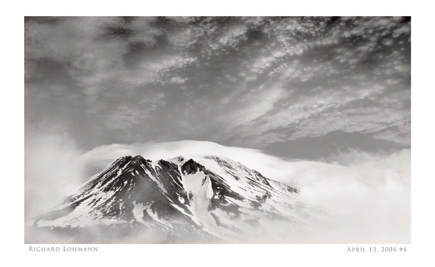 "I have been able to overcome the relative lack of resolution of 120 film by using digital imaging to stitch and join two 6x7 negatives to form one high resolution image. I accomplish this in a simple and straightforward manner by leveling my tripod before exposing my film and joining the files in Photoshop. I now let the subject matter and working conditions determine the equipment I use to make images."

Lohmann and Mallonee will be teaching a workshop on their unique printing methods at The Ansel Adams Gallery from June 22-25, 2006. For further information, contact www.anseladams.com.