Top Products of the Year: We Team Up with TIPA to Pick the Best Photo Gear of 2016
The Technical Image Press Association (TIPA) member magazines recently convened for their General Assembly to vote for the best photo and imaging products launched by the industry in the last 12 months. The voting took place during the General Assembly that was held in spring 2016 in San Francisco, California.
TIPA membership is comprised of editors and representatives from leading photo and imaging magazines from 15 countries on five continents, and also has a cooperative partnership with the CJPC (Camera Journal Press Club), representing 11 top photography magazines in Japan.
The TIPA Awards are renowned as the most influential photo and imaging product awards from around the world. All products and their advertising media bearing the TIPA Awards logo indicate that these have passed evaluations by TIPA's Technical Committee and magazine editors. A TIPA Award endorsement is the highest accolade for any photo and imaging product.
Shutterbug was represented at the General Assembly by Editor-at-Large George Schaub, a member of the Technical Committee within the group.
For more information about the TIPA organization, visit tipa.com.
DSLR Entry Level
Sony Alpha A68
The Sony A68 has a 24-megapixel APS-C Exmor CMOS sensor with an ISO 100 to 25,600 range. Its "4D Focus" system uses a 79-point dedicated phase-detection AF sensor with 15 cross points. It can deliver accurate focus in light as low as -2 EV, plus constant AF tracking at 8 frames per second. For video fans, the Sony A68 can record Full HD in XAVC-S format with a bit rate up to 50Mbps and continuous autofocus with accurate focus tracking. Other attractive features include SteadyShot Inside image stabilization, an OLED Tru-Finder with 100 percent frame coverage, and an articulating 2.7-inch LCD monitor.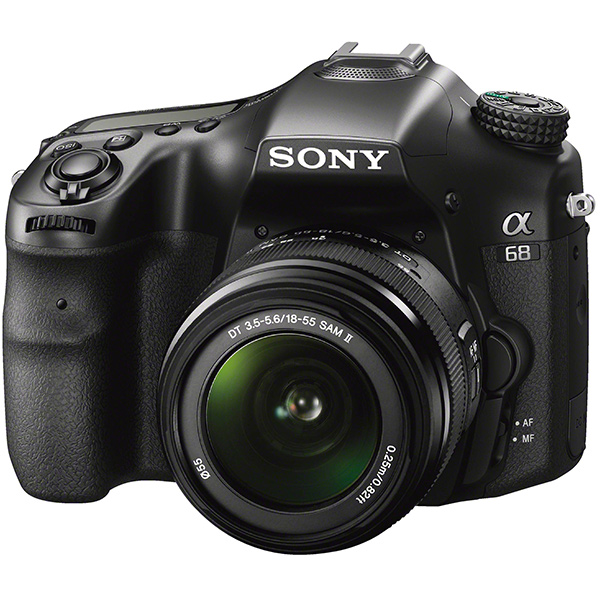 APS-C DSLR Expert
Nikon D500
This Nikon DX-format camera features a 20.9-megapixel CMOS sensor teamed with the company's Expeed 5 processor. The ISO range is 100 to 51,200, expandable to 50 to 1,640,000. The D500 can deliver up to 10 frames per second shooting with AF and AE, with an enhanced buffer for up to 79 shots of uncompressed Raw (NEF) images. Along with stills, the D500 can deliver 4K UHD video at up to 30p and Full HD at various user-selectable frame rates. For viewing and shooting ease there is a tilting 3.2-inch, 2,359K-dot touchscreen LCD. The camera can record on both XQD and SD card slots and is compatible with Nikon's SnapBridge image transfer and sharing feature.
Full-Frame DSLR Expert
Pentax K-1
Pentax has entered the full-frame sensor field with the weatherproof and dust-sealed K-1. The 36.4-megapixel CMOS sensor has a "simulated" anti-aliasing filter achieved through minute sensor vibrations; this motion sensor also supports Ricoh's Pixel Shift Resolution system. The K-1 features five-axis sensor shift image stabilization, a near 100 percent optical viewfinder, and a 33-point AF system with 25 cross points. The rear LCD, a 3.2-inch, 1.04-million-dot LCD, is highly flexible and allows for vertical, horizontal, and diagonal movement. Current Pentax lens owners (APS-C) can utilize all their lenses via the K-1's Crop mode; Auto mode will detect the lens mounted and set the crop accordingly.
DSLR Professional/Action
Nikon D5
Nikon's Expeed 5 processor in the D5 delivers low noise and high-speed processing required for 4K UHD video and high still framing rates: the camera can shoot up to 12 frames per second with full AE and AF with an extended buffer that can capture up to 200 frames of 14-bit lossless Raw (NEF) files. Utilizing Nikon's first dedicated AF processor, the Multi-CAM 20K AF sensor module has 153 AF points, including 99 cross-type sensors. The D5 can also record 4K time-lapse videos in camera and allow the user to grab 8-megapixel photos from videos. The camera has a "native" ISO range of 100 to 102,400 and its AF system can work in near darkness (EV-4).
DSLR Professional/High Res
Canon EOS 5DS/EOS 5DS R
Rivaling the resolution of "medium format" digital cameras, the impressive 50.6-megapixel full-frame CMOS sensor of the Canon EOS 5DS and EOS 5DS R (with low-pass cancellation filter) can deliver 5 frames per second full-resolution still images, and Full HD 1080p videos at 30 fps. They feature Dual "DIGIC 6" image processors and a newly developed Mirror Vibration Control System that utilizes a miniature motor and cams rather than conventional springs, with a time-release lag setting to further suppress camera shake. The cameras have a 3.2-inch, 1.04-million-dot, approximately 100 percent coverage ClearView II LCD and a 150,000 pixel RGB-IR metering sensor. AF performance is enhanced with a 61-point high-density reticular AF sensor and Canon's iTR that utilizes information provided by the metering sensor.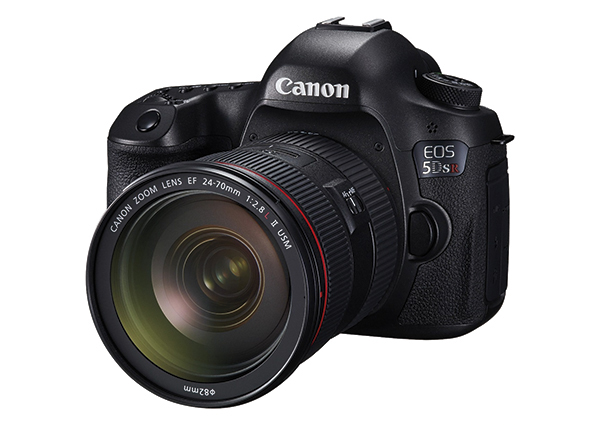 Photo/Video Professional Camera
Canon EOS-1D X Mark II
With a newly developed 20.2-megapixel 35mm full-frame Canon CMOS sensor, the EOS-1D X Mark II offers continuous shooting speeds of up to 14 frames per second and up to 16 fps in Live View mode. The Dual "DIGIC 6+" processors offer high-speed transfer for up to 170 Raw images and unlimited JPEGs per burst. The camera is also capable of shooting 4K 60p and Full HD 120p video with Dual Pixel CMOS AF. Using the optional wireless transmitter, the camera supports the new high-speed IEEE 802.11ac standard. Focusing speed and accuracy has been enhanced with an improved 61-point viewfinder AF and an improved AI Servo II+ predictive AF algorithm for better accuracy.
Entry Level DSLR Lens
Tamron 18-200mm f/3.5-6.3 Di II VC
When entry-level photographers start to look beyond their kit lens, or purchase a lens with their camera body, they will be excited to own a lens that offers a wide range of focal length options, and the Tamron 18-200mm fits the bill. Constructed with 16 elements in 14 groups, this lens for APS-C-format cameras yields a 35mm equivalent of 28-310mm. It is compact: it has an average of 3.8 inches in its various mounts and is said to be the world's lightest (14.1 ounces) in its class. Vibration reduction helps users get steady pictures, particularly at the longer focal length ranges.
DSLR Telephoto Zoom Lens
Sigma 50-100mm f/1.8 DC HSM | Art
This constant aperture APS-C zoom lens offers an effective focal length of 75-150mm. It is constructed with three FLD ("F" Low Dispersion) and one SLD (Special Low Dispersion) elements (21 elements in 15 groups in total) and contains an updated (slimmer) Hyper Sonic Motor for accurate and fast AF performance. The lens has a nine-blade, rounded diaphragm and has a close-focusing distance of approximately 3.3 feet. As with all Sigma SGV lenses, each lens unit is individually tested prior to shipping and works with the Sigma USB Dock to allow firmware updates and focus calibration in the future.
DSLR Wide Angle Zoom Lens
Sigma 24-35mm f/2 DG HSM | Art
Having the distinction of being the world's first full-frame f/2 (constant aperture) zoom lens, the Sigma 24-35mm f/2 DG HSM | Art is constructed with 18 elements in 13 groups, has a nine-blade, rounded diaphragm, premium FLD ("F" Low Dispersion) glass elements and seven SLD (Special Low Dispersion) glass elements, of which two are aspherical lenses. The minimum aperture is f/16 and the close-focusing distance is 11 inches. An updated AF algorithm delivers smooth, accurate, and fast AF plus the Super Multi-Layer Coating controls flare and ghosting. Filter diameter is 82mm, yet the lens is surprisingly compact at 3.4x4.8 inches.
DSLR Prime Lens
Tamron SP 35mm f/1.8 Di VC USD
At approximately 3.14 inches long and between 1 and 1.05 pounds in weight (depending on camera system), the full-frame Tamron SP 35mm f/1.8 is constructed with 10 elements in nine groups. It utilizes two molded glass aspherical elements with one LD (Low Dispersion) and one XLD (eXtra Low Dispersion) element, which greatly reduces chromatic aberration. The lens has excellent resolution from corner to corner, no vignetting even at full aperture, a minimum focusing distance of about eight inches, and Tamron's VC (Vibration Compensation) system (except on the Sony mount version). Full-time manual focus override is always available, a great aid when doing close-ups.
Professional DSLR Lens
Sigma 20mm f/1.4 DG HSM | Art
The full-frame Sigma 20mm f/1.4 lens was designed to bring out the full potential of high megapixel DSLRs. It incorporates two FLD ("F" Low Dispersion) glass elements and five SLD (Special Low Dispersion) glass elements (15 elements in 11 groups). The design minimizes transverse and axial chromatic aberration and, with Super Multi-Layer Coating, diminishes the effect of strong backlighting. It has an optimized AF algorithm for accurate and smooth AF functioning, and incorporates Thermally Stable Composite compound material that adds to its extreme temperature performance. The lens has a nine-blade, rounded diaphragm, and a brass bayonet mount for long-term performance.
Medium Format Camera
Phase One XF 100MP
The Phase One XF 100MP is a "full-frame" medium format CMOS sensor camera. (Note: Full frame in medium format is 2.5x larger than "full frame" in a DSLR.) It features 16-bit color depth and an unparalleled 15 stops of dynamic range, plus delivers an ISO range of 50 to 12,800 with no significant loss of image quality at the extremes. The system allows for up to 60-second exposures in full 100-megapixel resolution and Electronic First Curtain Shutter technology, which greatly reduces any adverse vibration effects on high-resolution images; it is automatically activated when shooting in Vibration Delay or Mirror Up modes.
Mirrorless CSC Entry Level
Fujifilm X-T10
With many of the features of higher-end X-series cameras, the X-T10 is a viable option for hobbyists and creative photographers who want to become involved in quality imaging and extensive lens offerings at an affordable price. The X-T10 has a 16-megapixel X-Trans CMOS II APS-C-sized sensor and Fujifilm's EXR Processor II inside its magnesium alloy body. Native ISO is 200 to 6400, expandable to 100/51,200. Viewing options include a 2.36-million-dot OLED EVF and a tilting three-inch, 920K-dot LCD. The camera can record Full HD videos and has a built-in stereo microphone, plus Wi-Fi connectivity and the option for remote control operation from a smartphone or tablet.
Mirrorless CSC Advanced
Olympus OM-D E-M10 Mark II
This Olympus Micro Four Thirds camera features a 16-megapixel Live MOS sensor and a TruePic VII processor with ISO sensitivity up to 25,600. The camera can deliver full-res framing rates of 8.5 per second that take advantage of its 81-point "FAST" AF system. Viewing is via a 2.36-million-dot OLED EVF with 100 percent field of view and a 120 frames per second refresh rate. Other attractive features include Full HD video capability at 60 fps, an AF targeting pad that can be traced on the rear touchscreen, a simulated optical finder that delivers a high dynamic range image, in-body five-axis image stabilization, and a three-inch tilting and touchscreen LCD.
Mirrorless CSC Expert
Fujifilm X-Pro2
This rangefinder-style camera features an Advanced Hybrid Multi Viewfinder that allows users to instantly switch between optical and electronic finders. The camera has a new 24.3-megapixel X-Trans CMOS III sensor that teams with a new X-Processor Pro to deliver an ISO range up to 12,800, extendable to ISO 100 and 25,600/51,200. The X-Pro2 has a splash- and dust-resistant body with more than 61 points of weather sealing. The camera delivers Full HD video 1080p at 60 frames per second with a bit rate of 36Mbps plus various other framing rates for special effects and worldwide compatibility. For stills, phase-detection AF and predictive AF aid in delivering continuous shooting up to 8 fps.
Mirrorless CSC Professional
Sony Alpha A7R II
The Sony A7R II has a 42-megapixel full-frame Exmor R CMOS sensor housed inside a full magnesium alloy body. It features a hybrid AF system with 399 on-sensor phase-detection points and 25 contrast-detection points that allow still shooting at up to 5 frames per second at full AF. The A7R II can deliver 4K video with in-camera processing and recording and Full HD (1080p) video in either NTSC or PAL at 60p/30p/24p or 50p/25p using the high bit rate XAVC S format. It offers fully customizable color and gamma controls, including the same S-Log2 and S-Log3 Gamma curves found in high-end Sony cinema cameras. The ISO range is 100 to 25,600, with extendable ranges to ISO 50 to 102,400.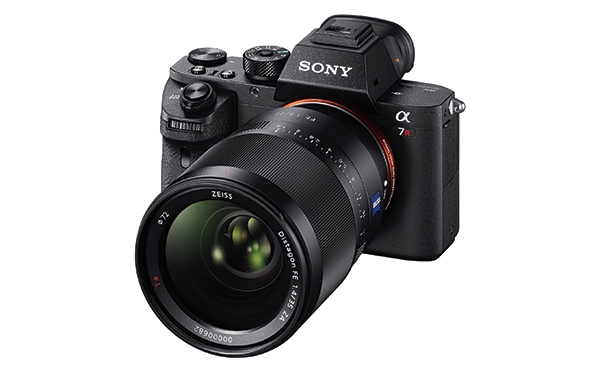 CSC Entry Level Lens
Panasonic Lumix G 25mm f/1.7 ASPH
The Panasonic Lumix G 25mm f/1.7 is a fast Micro Four Thirds lens (50mm equivalent) that supports high-speed digital signal exchange at 240 frames per second and works smoothly with the Lumix G's contrast-detection AF system and DFD (Depth From Defocus) technology. It offers a close-focusing distance of 9.8 inches and has seven aperture blades plus uses two aspherical lenses and an Ultra-High Refractive Index lens. The lens joins the family of impressive f/1.7 primes from the company that includes 20mm, 15mm, and 42.5mm focal lengths.
CSC Telephoto Zoom Lens
Fujinon XF100-400mm f/4.5-5.6 R LM OIS WR
Yielding an equivalent 152-609mm focal length range, this lens is constructed with 21 elements in 14 groups and includes five ED lenses and one Super ED lens. It is water and dust resistant; a fluorine coating has been added for further protection in outdoor shooting conditions. The Fujinon XF100-400mm is designed for handheld shooting with a five-stop image stabilization system and twin linear motors for fast AF. It features a rounded nine-blade aperture and is compatible with the XF1.4X TC WR teleconverter.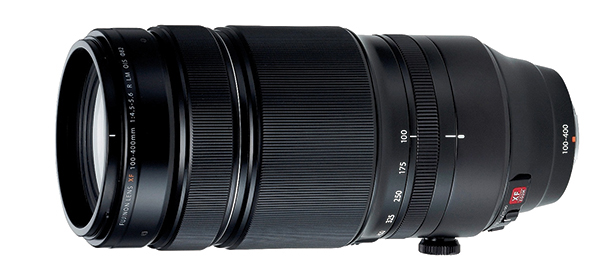 CSC Wide Angle Zoom Lens
Olympus M.Zuiko Digital ED 7-14mm f/2.8 PRO
The Olympus ED 7-14mm PRO (35mm equivalent: 14-28mm) is a lightweight lens (under 19 ounces) constructed with three Super ED lenses, one ED lens, and two EDA (aspherical) lenses to minimize peripheral chromatic aberration. This constant aperture zoom is weather sealed in 11 areas, which allows its use in rain, in snow, and at the beach. The lens has an L-Fn button with 27 assignable functions and a Manual Focus Clutch with a built-in Hyper Focal Scale. Those who enjoy close-up photography will enjoy the slightly less than eight-inch close-focusing capability and the creative freedom an f/2.8 aperture affords.
CSC Prime Lens
Sony FE 85mm f/1.4 GM
The full-frame Sony FE 85mm f/1.4 GM lens has a new XA (extreme aspherical) element plus three ED elements that can provide a fascinating combination of extremely high resolution of focused areas with a pleasing, soft bokeh in the background. The lens has a circular aperture with 11 blades plus Sony's Nano AR coating, to reduce ghosting and flare. It contains a ring drive SSM (Super Sonic Wave Motor) to drive focusing and two position sensors for enhanced focus control. Constructed with 11 elements in eight groups, the lens is dust and moisture resistant.
Easy Compact Camera
Canon PowerShot ELPH 360 HS
Canon continues to offer pocketable yet full-featured compacts that offer many more options and higher photo quality than camera phones. The PowerShot ELPH 360 HS sports a three-inch LCD and a 12x optical zoom lens with a built-in optical Image Stabilizer. Keeping connected is easy with a dedicated Wi-Fi button and NFC. The 20.2-megapixel CMOS sensor and DIGIC 4+ image processor deliver excellent quality even in low light. It captures 1080p Full HD video with the ability to create a "highlight reel" in camera.
Expert Compact Camera
Canon PowerShot G5 X
The G5 X is a 20.2-megapixel camera with a one-inch High Sensitivity CMOS sensor and DIGIC 6 processor that can deliver nearly 6 frames per second still images and Full HD video. The integral 24-100mm lens (equivalent) has a maximum aperture of f/1.8 that drops to only f/2.8 at the telephoto setting, a nine-blade aperture, and close focusing of two inches. The camera's EVF has 2.36 million dots and 100 percent coverage, with a refresh rate of up to 120 fps. A built-in eye sensor switches from the EVF to the touchscreen on the three-inch Vari-angle LCD. The camera's hot shoe is compatible with all Speedlite flashes in the EOS system.
Full-Frame Compact Camera
Sony Cyber-shot RX1R II
Sharing the same 42.2-megapixel sensor and Bionz X image processor with Sony's A7R II, the RX1R II has an integral Zeiss Sonnar T* 35mm f/2 lens. The sensor has an impressive 399 phase-detection AF points that work in conjunction with 25 contrast AF points to achieve fast and efficient focus. The camera has the world's first optical variable low-pass filter that can be set to off, standard, or high, with low-pass filter bracketing also available. Viewing is via a four-glass element EVF or a tiltable three-inch, 1.2-million-dot LCD. The camera can deliver Full HD video with a choice of various framing rates.
Superzoom Camera
Panasonic Lumix DMC-FZ300
With an integral 25-600mm Leica DC Vario-Elmarit lens and splashproof and dustproof construction, the Panasonic FZ300 becomes the ideal traveling companion for enthusiast photographers. The FZ300 offers a 12.1-megapixel 1:2.3-inch High Sensitivity MOS sensor and a powerful image stabilization system for both stills and HD video recording. There are numerous still and video shooting and creative modes, including 4K video recording and Raw still modes. The FZ300 sports a large 1,440K-dot OLED Live Viewfinder as well as a tiltable rear screen and features Panasonic's Depth From Defocus (DFD) and AF technology that yields AF speeds up to 0.09 seconds and burst shooting with AFC up to 6 frames per second.
Rugged Camera
Olympus Stylus Tough TG-870
Appealing to photographers who want to make images and videos under the most challenging conditions, the Olympus Stylus Tough TG-870 can be submerged up to 50 feet, withstand drops up to nearly 7 feet, and function in temperatures as low as 14 degrees F. A 180-degree tilting monitor means images can be made with virtually any point of view. The 16-megapixel BSI CMOS sensor and TruePic VII processor handles stills as well as Full HD 1080/60p video, plus there is built-in Wi-Fi and an upgraded GPS feature that can position in under 10 seconds. The TG-870 has numerous exciting shooting modes, including Nighttime Live Composite, Sportcam, TimeLapse Movie, and Sport Burst modes.
Premium Camera
Leica SL
This L-mount Leica has the classic form and ergonomics associated with the brand and a weather-resistant body made from two blocks of solid aluminum. It offers a 24-megapixel full-frame CMOS sensor (with no low-pass filter) coupled with Leica's engine from the Maestro II series and delivers an impressive ISO 50 to 50,000 range. The camera can shoot full-resolution images at a rate of 11 frames per second and has a 2GB buffer that allows for up to 33 DNG or unlimited JPEG bursts. Viewing is enhanced via a 4.4-megapixel EVF and a 2.95-inch LED touchscreen finder. It can also capture UHD 4K video at 30 and 25 fps and DCI 4K recording at 24 fps in Super35 mode.
Camcorder
Panasonic HC-WXF991
Panasonic's 4K Ultra HD Camcorder has an integral Leica Dicomar 20x optical zoom lens (4K 16:9—30.8-626mm equivalent; still image 3:2—34.5-690.3mm) with five-axis Hybrid Optical Stabilization. It features 4K Cinema in-camera editing and effects, including Dolly Zoom, Slow/Quick Motion, and 4K Post Cropping, plus can deliver 4K Photo stills from video frames. It also offers in-camera downsampling for 1080p Full HD displays and built-in Wi-Fi links up to three mobile devices to capture multiple scenes simultaneously with the Wireless Multi Camera function. The camcorder's exclusive HDR mode helps handle high-contrast conditions. Viewing is through a 1.5-million-dot EVF or a three-inch LCD monitor.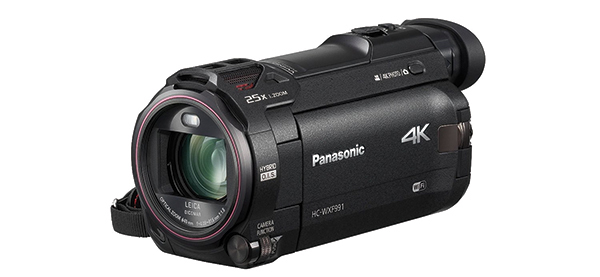 Photo Printer
Canon imagePROGRAF PRO-1000
Combining the ease of desktop use and a 17-inch wide cut sheet printer with many features from Canon's higher-end pro printer models, the imagePROGRAF PRO-1000 uses 11-color (plus Chroma Optimizer) Lucia Pro inks. Inks are delivered via a Fine print head with a tubular ink delivery system that results in faster print speeds and enables stable high-quality printing. There is a newly formulated Photo Black ink and both Photo and Matte Black have their own channels so no ink swap is needed when changing papers. The vacuum paper feeding system keeps paper flat during printing, thus more accurate ink placement regardless of paper weight and type.
Inkjet Photo Paper
Ilford Galerie Prestige Gold Fibre Gloss 310gsm
Made expressly to match the look and feel of traditional fiber-based darkroom paper, Ilford Galerie Gold Fibre Gloss offers an ideal surface and look for black-and-white images as well as reproducing a wide gamut for color images. The paper range is available in both roll and cut sheet and is made with 100 percent cotton rag and no optical brighteners, yet has a crisp white and deep black response. The 310gsm weight means a durable surface that is perfect for framing and presentation portfolio prints. The "Baryta-like" surface is akin to a subtle gloss look, and while the paper can be used in dye and pigment ink printers, the latter will certainly deliver both the best quality and longevity the paper can offer.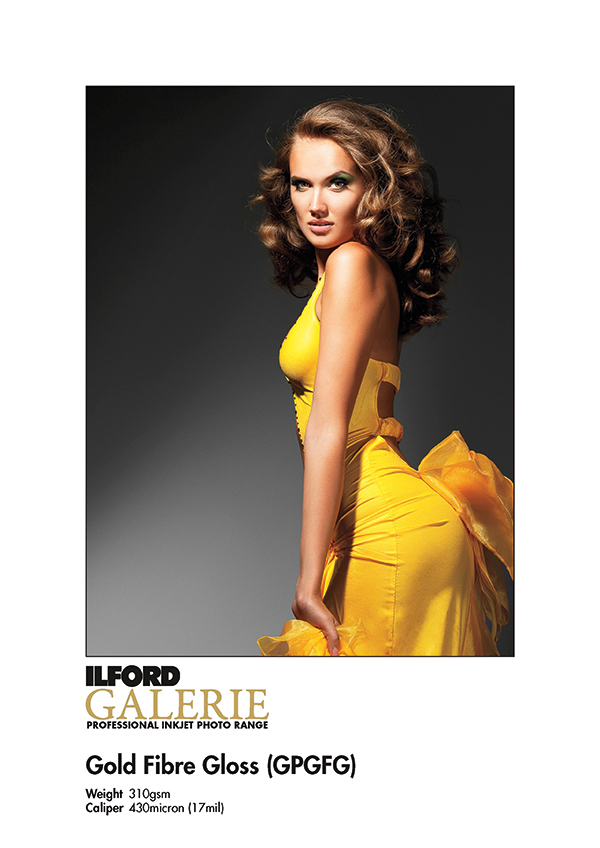 Imaging Software
Serif Affinity Photo
Affinity Photo is an affordable, non-subscription-based software that offers just about every option enthusiast photographers could need for image processing and creative effects. The software includes comprehensive Raw file format editing, numerous color space options, compatibility with the most common file formats, and live previews as effects are applied. Other options include photo stitching, new alpha selections, black point selection, advanced lens corrections, and more, including a large range of high-end filters such as lighting, blurs, shadows, and tilt. Indeed, Affinity offers many of the most used tools found in more expensive and even pro-level image-editing software.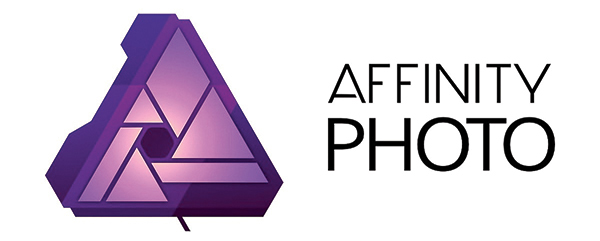 Tripod
Manfrotto 190 Go! Carbon Fiber
There is no question that tripods both enhance still and video images as well as open up many more shooting possibilities, yet their weight and size often discourage photographers from carrying them. Manfrotto has responded with an emphatic Go! with their new 190 Go! Carbon, a full-featured tripod that is light and collapses down to a very portable size. When fully extended the tripod can achieve a maximum height of 57 inches yet it can be collapsed down to a bit over 18.7 inches. The new model weighs just 2.9 pounds and features twist-lock legs, a 90-degree center column that can be used for horizontal and macro work, and a low shooting height of 2.76 inches. The tripod can support up to 15.43 pounds.
Professional Flash System
Phottix Indra360 TTL Flash System
Designed for both studio and location work, the Phottix Indra360 TTL (360 Ws) has a built-in Phottix Odin Flash Trigger/Receiver for up to 330-foot radio coverage and 39-foot indoor optical coverage with Canon and Nikon systems. The unit's smaller lithium-ion battery makes for an ideal setup for wedding and event photographers who generally have to move about with some ease during the job. It also comes in handy when doing daylight off-camera fill and lighting of other ambient lighting situations due to its high-speed sync capability. The unit offers eight stops of power adjustment, from full power to 1/128th with TTL exposure levels adjustable in +/-3 EVs.
Storage Media
Toshiba TransferJet SDHC Card
The ability to transfer images wirelessly from camera to other devices has numerous manifestations, some of which require fairly complicated procedures. The new Toshiba Class 10 SDHC card features a TransferJet system that allows any camera to become a wireless transmitting device. TransferJet is a close proximity, wireless transfer technology that offers a safe and simple connection with a high data throughput. Touching two TransferJet devices together automatically initiates transfer. TransferJet adapters are available for USB, micro USB, and Lightning ports to allow compatibility with numerous devices.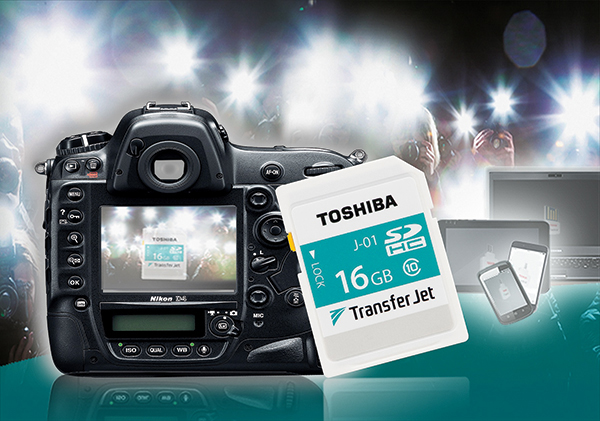 Portable Flash
Nissin i60A
The Nissin i60A is a shoe-mount flash that can be used with Canon, Nikon, Sony, and Fujifilm cameras. The flash has an integral 2.4GHz radio receiver that is compatible with the Nissin Air System and Air 1 radio Commander unit. The i60A has a Guide Number of 196 (ISO 100, 200mm lens) and can be zoomed to optimize coverage in a 24-200mm range. The back of the unit has a colorful LCD display and two control dials; the flash can be battery powered with a high voltage power pack port connection. The i60A also has a TTL Optic Wireless Slave Mode as well as settings for eight channels in A/B/C groups.
Photo Monitor
BenQ SW2700PT
BenQ's SW2700PT 27-inch monitor is aimed specifically at photographers who want IPS technology and 99 percent Adobe RGB color space coverage, as well as a brightness level that exceeds 380 lux and high contrast for rendering deep blacks with uniformity across the panel. The monitor's other remarkable assets include inputs and outputs such as Display Port, DVI, and HDMI, with USB 3.0 ports, an SD card reader, and a unique OSD controller. The BenQ SW2700PT can be hardware color calibrated, which is essential for serious photo retouchers and graphic designers alike. Last but not least, a detachable hood underlines the professional attributes of this affordable but, in essence, high-end monitor.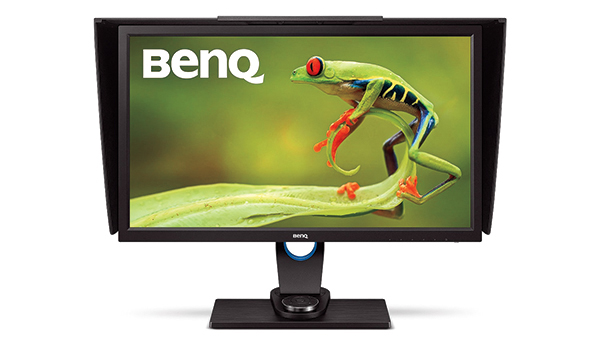 Mobile Imaging Device
DxO One
Using an iPhone as a viewfinder and connecting the small, lightweight (3.8 ounces; 2.65x1.9x1 inches) DxO One camera via the Lightning port results in a portable imaging solution that delivers superior image quality while retaining all the connectivity features of the smartphone itself. Quality image results begin with the unit's one-inch type BSI-CMOS sensor, which offers high dynamic range and superior low-light capability. The 32mm (equivalent) f/1.8 aspherical lens has six elements and a six-blade aperture. The option also exists to capture images without the iPhone and to save them on the DxO One's internal microSD card.
Camera Drone
Yuneec Typhoon Q500 4K
The Typhoon Q500 4K comes with a "Personal Ground Station" remote control featuring 2.4GHz RC (10 Channels) and 5.8GHz Wi-Fi transmission. Combined with a built-in 5.5-inch touchscreen display, it offers a wide feature set to control the drone. The setup includes an integrated three-axis precision CGO3 4K gimbal camera that delivers 4K/30 frames per second as well as 1080p/120 fps slow-motion capability. The unit can also deliver 12MB stills. A clever "Watch Me" mode can be set up to follow the photographer in action when he or she is on the go. The ProAction SteadyGrip included in the setup plus the unit's app for mobile devices allows for handheld use of the camera on the ground.
Actioncam
Sony HDR-AS50
The Sony HDR-AS50 is a durable and highly portable POV video camera that weighs a mere two ounces and measures only 0.96x1.87x3.37 inches. It is supplied with an underwater housing that can be used down to almost 197 feet and can be linked with a new Live View Remote with full camera command functionality that can be mounted virtually anywhere, including as wristwear. The camera features SteadyShot image stabilization, a must for action shooting, 4K Time-Lapse Capture, enhanced Full HD video capture, a built-in stereo microphone, and a Zeiss Tessar lens. To add to the excitement the angle of view can be varied between "Wide" and "Narrow" in two levels, plus zoom mode allows the user to zoom while shooting.
Imaging Innovation
Nikon SnapBridge
Easy and fast camera connectivity has been a goal for many years that has all too often eluded manufacturers. SnapBridge offers a seamless, one-time setup and an energy-efficient Bluetooth Low Energy powered connection. Once installed, SnapBridge enables the continuous and immediate transfer of images from the camera to up to five paired mobile devices as they are captured; this does not preclude mobile connectivity during transfer. Images are transferred to smart devices as 2-megapixel (Full HD) images in JPEG format with the ability to include two types of embedded information, including copyright. In addition, the app's remote shooting function can be used as a viewfinder and, in certain cameras, a control panel for settings.
Design
Ricoh Theta S
The slim and wearable design of the Ricoh Theta S matches its unique image capture system. The Theta S has a 14-megapixel 1:2.3-inch sensor/processor that delivers stills or videos with a 360-degree spherical look. It can record Full HD videos for up to 25 minutes and offers manual control of shutter speeds for settings up to 60 seconds. Its built-in memory can store up to 8GB of images. The camera allows easy sharing with incorporated Wi-Fi and can also be used for live streaming.