Tiffen Steadicam Smoothee For Flip MinoHD and iPod Touch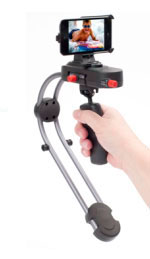 The Tiffen Company announced the availability of the Steadicam Smoothee for the Flip MinoHD and iPod Touch.
The Smoothee, developed by Steadicam, now allows Flip MinoHD and iPod Touch owners to capture incredible video without the shakes normally associated with hand-held video shot on the go.
"We're extremely proud to be introducing this incredible new Steadicam stabilizer, that lets anyone take great videos the very first time. Whether they're novices or aspiring videographers, the Steadicam Smoothee allows owners to have a richer experience and more fun with their Flip MinoHD, iPod Touch or similar video devices," said Steve Tiffen, president and CEO of the company.
The lightweight, agile, and easy to use Steadicam Smoothee features an innovative, patented design built around a durable mono-frame metal structure that requires no complicated instruction to use.
With its "go anywhere" compact dimensions, The Steadicam Smoothee is approximately 8"W x 14.5" H x 2.5" D (20.3 x 36.8 x 6.4cm) in operating configuration. The patented quick release removable mount also serves as a tabletop stand or can be mounted to any tripod with a standard _ x20" camera mount and the comfortable ergonomic hand-grip folds up securely when not in use. The Steadicam Smoothee sells for $199.99 and includes the Smoothee, mount, quick start guide and carry bag.

LATEST VIDEO

SPONSORED VIDEO
Testing Tamron's SP 150-60mm G2 lens while capturing birds and alligators in Apalachicola, Florida.