Tamron SP AF10-24mm f/3.5-4.5 DiII LD Aspherical (IF) Super Wide, Lightweight Zoom
Test Report
Tamron SP AF10-24mm f/3.5-4.5 DiII LD Aspherical (IF) Super Wide, Lightweight Zoom
by George Schaub
There was time when those seeking super-wide lenses for APS-C size sensor cameras didn't have much choice, but new light gathering systems that distribute light evenly from lens to sensor, as well as new optical formulas from camera makers and independent lens manufacturers, have changed that point of view. The latest in this welcome new class of glass is from Tamron, with their 10-24mm f/3.5-4.5 offering. Priced at around $500 (street) and weighing in at about 14 oz., the Tamron 10-24mm is useable for cameras that require "motor in the lens" operation, such as the Nikon D40X, on which this lens was tested. The DiII designation tells you that this lens is for digital SLRs with APS-C sensors.
Given the 1.5x multiplication factor, the angle of view on the Nikon mount is equivalent to 15-36mm, a bit narrower on the coming Canon mount with its 1.6X factor. This is an ideal street lens and will become a favorite for those seeking a less conventional point of view, especially the larger-than-peripheral-vision perspective of the super wides. And, with a minimum aperture of f/25, as it reads out on the D40X, depth of field becomes rather incredible when combined with the 9.4 inch minimum focusing distance. The max aperture is f/3.5 at the widest setting, and although one should refrain from shooting at this aperture due to some edge softness unless reasonable ISO settings have been exhausted, it is also possible to get some impressive out of focus backgrounds effects if your are close enough to the foreground subject. But concerns about bokeh and creating painterly backgrounds should not be an issue with this lens, as most will want to exploit the super-wide view combined with deep depth of field.
All Photos © 2008, George Schaub, All Rights Reserved
If you like the super wide look and incredible depth of field possible with super wides the Tamron lens might be right up your alley. At medium apertures like f/8 you can get very deep depth of field and interesting image effects. Here, the barrel seems to lean open into the frame and the leading line of the dock goes deep into the image space.
You have to watch out for curvature of horizontal and vertical lines with the lens at 10mm and it can be difficult to get both "straight." This shot in Florida's Tarpon Springs dock was made so the horizon line is straight, but note the bend at the edges where the boats seem to tilt down toward the edges of the frame. That kind of distortion comes with the territory.
If you have not photographed with a 15mm equivalent you should know that you do have to accept certain oddities, if you will, that come with the territory. First and foremost is the bending of lines and curvature you get unless you are shooting right at the juncture of the X/Y axis of buildings or any subject with straight lines. Even then edges will look at bit bent. There is simply no way around it unless you are prepared to work with perspective control in after-exposure software, andf even then you might be hard pressed to correct it. But exploiting that foible is exactly what this lens and its ilk are all about, so shooting bent forward or back is one way to go. This can give you that big sky feel or distort objects that benefit from such visual play.
You can see the edge effects when keeping horizons straight. Here the center palm tree is shot right on the X/Y axis, and looks "right", but check out the bend of the trees off to the left.
Another small concern is that your built-in flash will not usually provide the angle of coverage this lens provides at the widest focal length settings and you will have some falloff at the edges. This becomes even more aggravated when you have the supplied lens hood attached, a good thing to do to help prevent flare, where the cutoff becomes quite severe. So, if shooting flash bring the lens in from the widest angle a bit and remove the lens hood.
The lens is a bit larger than you might be used to working with due to the very wide focal length, but nothing unduly heavy (14.1 oz) or bulky (3.4 x 3.28 inches, with internal focusing so it does not shift when focusing.) The travel between the focal length settings is minimal, about 1/2 inch maximum, and the zoom ring is tight without fighting you, so you do not have zoom creep when walking around and settings are firm once you make them. There is no chatter as the lens finds focus, just a tiny click that lets you know it is working. It coordinated with the focusing targets in the finder in precise fashion, and focus was always fast enough to keep up with changing scenes and compositions. Do note that the filter thread is 77mm, quite large and unusual for most folks, so filters for this will be an investment that will usually be dedicated to this one lens alone.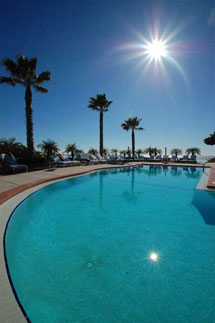 Don't do this at home. To check out the flare factor I included the sun in the frame, not a great idea, but I did get a very curious and unusual flare.
The fit and finish are fine and coordination with exposure and focusing systems in the camera on which I tested it were always right on target. It should be noted that with certain subjects and contrast situations there is a small amount of purple fringe around fine lines. I ascertained this by opening the Nikon NEF files in Adobe Raw and correcting the chromatic aberration using the Raw sliders. I only noticed this when enlarging the files greatly and for most images this should not be a bother. In addition, flare should be mostly preventable by using the flower-shaped lens hood outdoors. I did notice this by pointing the camera at a scene that included the sun in the frame—not a good idea with any lens—and the flare had a shape I had never quite seen before.
| | |
| --- | --- |
| | |
There is some very slight purple fringing noticeable under certain lighting conditions around fine lines, but only when the image is greatly enlarged. You can see that fringe around the tree limbs when I magnified the image greatly. I ascertained this as chromatic aberration by processing the image in Adobe Camera Raw and correcting it by working with the fringing control slider.
In all I would consider this a very useful lens for street, travel and special effects photography where you can accept a certain amount of distortion when going to the widest focal length setting, but that comes with the super-wide territory. At the price it is more affordable than manufacturer brands in this class and can be a good addition to the kit of a photographer who likes to play the super-wide game. It certainly helps you look at the world with a decidedly different point of view.
Specs
Construction: 9 elements/ 12 groups
Diaphragm blades: 7
Max aperture: f/3.5; f/4.5 at longer settings
Minimum focusing distance: 9.4 inches
Filter diameter: 77mm
Weight: 14.3 oz
Size: 3.1 x 3.9 inches
Lens Hood: Flower shape, included
Mount: As tested, Nikon. Canon, Sony, Pentax: coming soon.
Price: Street, about $500

FEATURED VIDEO