Superzoom Digital Cameras With Image Stabilizer; Are These A Viable Alternative To A Digital SLR System? Page 2
Canon's PowerShot S2 IS
A gorgeous camera with a rugged feel and prestigious look, this 5-megapixel model with 36-432mm f/2.7-3.5 zoom targets the photo enthusiast with a long list of capabilities. With an optional adapter, the S2 IS will also accept 58mm filters and telephoto or wide angle lens adapters. The camera is moderately compact and sports more external controls than most; they're reminiscent of controls on EOS digital SLRs. My only complaints? The 1.8" swivel/tilt LCD monitor is a bit small and the electronic viewfinder is only moderately sharp, although it is bright in most conditions.

When the stabilizer was active, I was able to make many sharp images at 1/60 sec at the 432mm (equivalent) focal length using the most effective option called "Shoot Only IS." Some of my 1/40 sec images are critically sharp as well. This makes the PowerShot S2 IS useful for some indoor shooting without a tripod. In such condition, autofocus is usually reliable but the autofocus system can be slow at long zoom settings.

The camera shines in outdoor photography, however. Autofocus was quick and reliable and shutter lag was quite short and virtually zero when I pre-focused on a subject. Indoors, the PowerShot S2 IS provided the fastest and most reliable focus of all models tested at moderate focal lengths but slowed at long zoom settings. Continuous autofocus was quite effective in daylight; it allowed me to make a sharp series of horses trotting toward the camera. The High-Speed Burst mode is not super fast at 2.4 fps, but it was useful for making seven Large/Fine JPEGs in a sequence. Image quality was very high overall, as described in the comparison chart, with rich colors, high sharpness, accurate white balance, and snappy contrast.

The Canon PowerShot S2 IS offers numerous functions, including many available only in the electronic menu; a few of those are not particularly intuitive. Thankfully, most of the common overrides are selected with the mode dial or the Function button for great convenience. But if you're a serious shooter who wants to take advantage of this highly versatile/ effective camera's full potential, be sure to read the Owners Manual for an appreciation of all of the available options.
Konica Minolta's DiMAGE Z5
A moderately large but lightweight camera with an oversized handgrip, the DiMAGE Z5 resembles an entry-level model but it's loaded with capabilities and a high-grade APO GT 35-420mm f/2.8-4.5 zoom. Many features must be selected via the electronic menu, with straightforward navigation. The 2" LCD monitor provides bright, crisp images and the electronic viewfinder is quite bright but its display is not very sharp. A mechanical Image Stabilizer (called Anti-Shake) shifts the entire sensor module to compensate for camera movement and it's certainly effective.

This camera is a bit slow to start up (3+ seconds) but shutter lag is short in outdoor shooting and focus is confirmed almost instantly. Indoor response is noticeably slower and autofocus becomes unreliable at very long telephoto settings in low light. The continuous autofocus system (with "predictive" tracking focus) was competent outdoors, able to track horses approaching the camera at consistent speeds. During soccer and equestrian events, the 2 fps Burst mode seemed slow and the burst depth was only three frames. That--plus a fairly long electronic viewfinder blackout between frames--made this camera less than ideal for action photography.

The DiMAGE Z5 produced images that were quite accurate in most respects, with fairly gentle contrast and moderate sharpness and saturation (except in reds). All three aspects are easy to adjust in camera or with software. Digital noise control at high ISOs was a bit below average for this category; I would not recommend using ISO 320 routinely. Of course, the effective Anti-Shake system precludes the need for that option in many outdoor situations.

Featuring a novice-friendly design, this versatile camera includes lots of advanced features and accepts any of several flash units designed for Maxxum cameras. It's useful for many subjects, but not for long series of sports or other action. The new
6-megapixel DiMAGE Z6 should produce images with similar characteristics, but with higher resolution.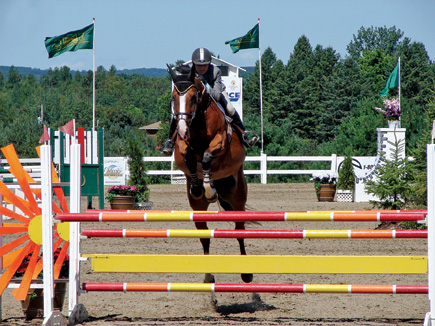 1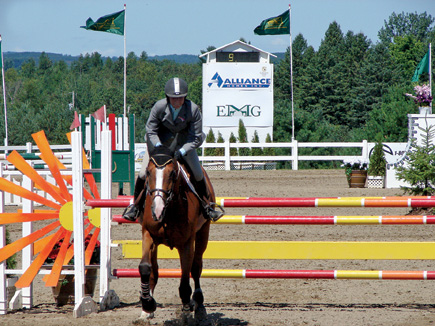 2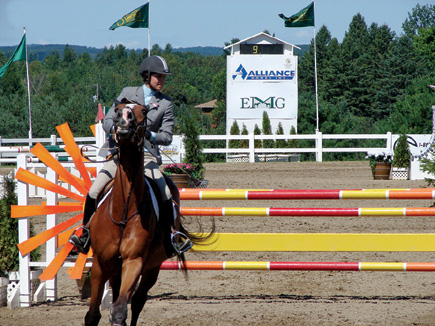 3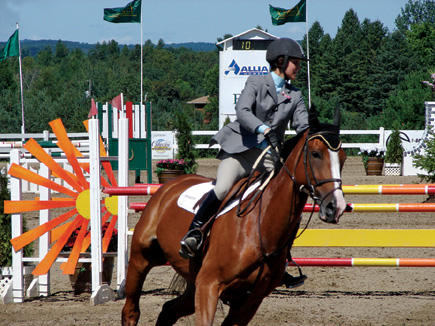 4
The superzoom cameras do not incorporate the more effective tracking focus systems available in digital SLRs, but I was often able to make sharp images of action subjects. In this situation, I simply pre-focused on the barrier and tripped the shutter when a horse reached that point. All of the cameras produced at least two sharp frames with this technique, while some achieved a higher success ratio. (Images #1 and #2 are critically sharp; Sony Cyber-shot DSC-H1; continuous autofocus and framing; ISO 100; 235mm equivalent focal length; f/5.6 at 1/1000 sec.)
Panasonic's Lumix DMC-FZ5
About average in size and weight for this category, this Lumix model with 36-432mm f/2.8-3.3 lens is quite compact, but the high-resolution 1.8" LCD monitor is a bit small. Loaded with automatic features plus advanced capabilities, it's not difficult to operate, thanks to many analog controls and a highly convenient menu navigation system. Note, too, that this camera accepts 55mm filters, when using the adapter that's included. While Panasonic does not offer wide angle or telephoto adapters, they are available from some after-market manufacturers.

After a 3-second delay for start up, the camera seems fast, with an average shutter lag of 1/2 sec outdoors and virtually instant response after pre-focusing. The autofocus system is particularly responsive in High-Speed mode but it slows dramatically when the nine-point autofocus sensor option is selected. The Lumix DMC-FZ5 was quite suitable for some action photography--including cars racing toward my location at consistent speeds--using the 3 fps Burst mode. The blackout time between frames was shorter than average, so I was sometimes able to follow a moving subject without losing it during a four-frame sequence.

Outdoors, the electronic viewfinder provided a sharp bright view; while the display darkened in low light, it allowed me to frame my subjects without difficulty. Autofocus also slowed in low light, but remained reliable with most subjects. The Image Stabilizer was a useful amenity, but it's not the most effective system currently available.

In the 5-megapixel superzoom category, the FZ5 was one of my favorite cameras for outdoor photography. Aside from ease of use, speed, and reliability, it generated pleasing images, with rich saturation, high sharpness, snappy contrast, accurate exposures, and slightly warm white balance. Even ISO 400 images are quite acceptable. Combining sophisticated Panasonic technology with Leica's optical expertise, the Lumix DMC-FZ5 should satisfy some photo enthusiasts who will take advantage of its many capabilities.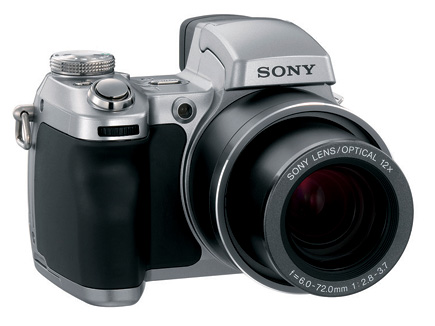 Panasonic's Lumix DMC-FZ30
As discussed in our sidebar, this was one of the first superzoom cameras with 8-megapixel resolution and it features a new Leica-designed 12x lens. Larger than any of the others in its league, it's quite heavy at 1.49 lbs, but resembles the FZ5 in other respects, with nearly identical controls and menus. As a bonus, it accepts an optional flash unit, but flash metering is relatively low tech. Just as convenient to operate as the DMC-FZ5, the FZ30 is definitely oversized, resembling a compact digital SLR at first glance.



LATEST VIDEO

SPONSORED VIDEO