Superzoom Digital Cameras With Image Stabilizer; Are These A Viable Alternative To A Digital SLR System? Page 3
Based on the specs, the major size increase is surprising, since the lens is actually shorter (35-420mm vs. 36-432mm) and features a slightly smaller maximum aperture at telephoto (f/3.7 vs. f/3.3). The 13.6 oz weight gain is understandable considering the large lens, more rugged construction, and three extra optical elements for optimal image quality. As you might expect, this 8-megapixel camera is also a great deal more expensive.
But there's good news, too. The FZ30 boasts a conventional mechanical zoom control (with a wide rubberized ring) instead of the typical electronic zoom. The lens also includes a ring for electronic manual focus and it accepts 55mm filters, a very common size. Wide angle and tele adapters are available. Other benefits (over the FZ5) include a slightly larger (2") LCD monitor with a new tilting/rotating feature and substantially higher resolution. Its electronic viewfinder is also slightly larger, with more than double the resolution. This is the best electronic viewfinder that I have tested to date, providing a view that's bright, sharp, richly detailed, fully saturated, and contrasty.
During testing, the FZ30 proved to be a strong contender with fast (1 second) start up and fast autofocus in High-Speed mode, when using the single- or three-point autofocus sensor option. While autofocus speed is about the same as it is with the FZ5, the electronic viewfinder blackout time between images is shorter. That made it easier to follow cars or soccer players moving across my line of vision, keeping them within the frame for most of five shots in the fast 3 fps Burst mode. This combination made the FZ30 the most suitable for action photography of the five cameras tested.
Finally, the images resemble those made with the FZ5 but intricate details are even more clearly defined thanks to the higher 8-megapixel resolution. That's a bonus, making the FZ30 a fine choice for photo enthusiasts who want a built-in 12x zoom lens and a more effective Image Stabilizer. Aside from the much higher price, the only drawback may be the greater size/weight, but anyone with large hands will probably appreciate those aspects.
Sony's Cyber-shot DSC-H1
The first Sony camera with Optical Image Stabilizer ("Super Steady Shot"), this handsome, rugged model is quite large but boasts a 2.5" LCD monitor with anti-reflective coating and a Sony (not Carl Zeiss) 36-432mm f/2.8-3.7 zoom. Since the DSC-H1 targets experienced shooters Sony included many analog controls plus numerous advanced capabilities in the electronic menu. A Function button (on the handgrip but difficult to find) reduces the need for hunting in the menu for frequently used overrides. Considering the huge LCD screen, I don't understand why the icons and data numerals are so small. Even with my reading glasses, I sometimes had difficulty deciphering the data. In other respects, the DSC-H1 is convenient and logical to operate.

It's fast, too, in some respects, with 2-second start up and virtually no shutter lag at wide angle zoom settings in outdoor shooting. At telephoto focal lengths, shutter lag is about average (1/2 sec). Some "focus hunting" does occur occasionally even in bright light, so pre-focusing can be a useful technique. (Set focus on a spot that an action subject will reach, and trip the shutter when it arrives.) The electronic viewfinder is clear and bright in all conditions but produces a "tunnel vision" effect. Thanks to the large/bright autofocus-assist lamp, autofocus was highly reliable indoors (with nearby subjects) but was very slow at the longest zoom settings.

During action photography, I was not happy with the slow (1.3 fps) continuous framing rate and the relatively long blackout time between frames. The latter problem made it difficult to keep a moving subject within the frame during a series of shots. When tracking horses approaching my position, the continuous autofocus system had some difficulty in producing sharp focus, particularly at long zoom settings. Of course, these factors are relevant only for those who plan to shoot fast moving subjects.

In other respects, this is a highly desirable camera with a very effective Image Stabilizer that corrects camera shake. Especially at ISO 64 and ISO 100, the Sony DSC-H1 can make superb images with very rich colors (including stunning reds), snappy contrast, warm skin tones, great smoothness, well-defined detail, and very high sharpness. Only ISO 400 is disappointing, with an over-aggressive auto noise reduction system making the images appears soft or plasticky, a problem in prints larger than 5x7". The DSC-H1 is also compatible with an optional tube for mounting 58mm filters and tele or wide angle adapters, accessories that are useful for increasing its already great versatility.
Conclusion
A superzoom camera is not the ideal all-purpose model. Particularly for those who often shoot indoors, or in other low-light situations, digicams with shorter zooms and optical viewfinders would be preferable. Note, too, that only one of the cameras tested features an 8-megapixel sensor while the others are 5-megapixel cameras. (The new DiMAGE Z6 will raise Konica Minolta's ante to 6 megapixels.) Meanwhile, an increasing number of digicams (of other types) are available with 7-, 8-, or 9-megapixel sensors. Admittedly, you don't need ultrahigh resolution if you rarely make (or order) 8.5x11" prints, the most popular "large" size.

For wildlife or action-photography enthusiasts, digital SLR systems are preferable because of their greater versatility, speed, and more reliable tracking focus systems. On the other hand, an SLR plus telephoto zoom lens is substantially larger, heavier, and more expensive. For some photographers and for family photographers, one of the superzoom cameras with Image Stabilizer would be a far more practical alternative. Any of the models tested should let you get frame-filling photos at the zoo and it will allow you to capture some nice pics of your children on the baseball diamond or football field.
Pushing The Envelope: Panasonic Combines 8 Megapixels And 12x Zoom
Until the summer of 2005, not a single superzoom camera was available with a sensor featuring more than 5-megapixel resolution. Most industry observers believed that 5 megapixels was optimal in this category. Much higher resolution was possible of course, but would require more sophisticated optical and sensor technology to produce high edge-to-edge sharpness, great highlight and shadow detail as well as fine ISO 400 quality. Then Samsung released the 8-megapixel Pro815 with a 28-420mm zoom. (Since that model does not include a stabilizer, I did not test it.) Two months later, Panasonic released the 8-megapixel Lumix DMC-FZ30 with built-in 35-420mm f/2.8-3.7 zoom and MEGA Optical Image Stabilizer.

Among the five cameras tested, the Lumix DMC-FZ30 was the most impressive, generating beautiful images at all apertures and focal lengths. Shadow and highlight detail are also very good, although the images are quite contrasty. The automatic noise reduction system does produce a slight loss of the most intricate detail at ISO 400. Still, the 8-megapixel Lumix FZ30 produced the best results of all cameras tested at ISO 400.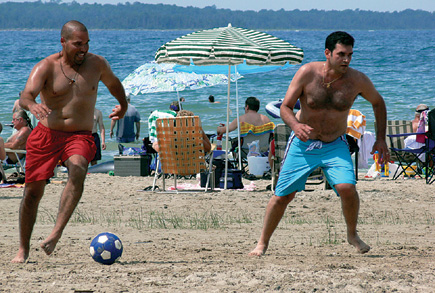 A combination of ultrahigh resolution, large sensor, sophisticated processing engine, and high-grade lens enables the Panasonic Lumix DMC-FZ30 to produced superb image quality at all ISO settings. The camera is also very fast in most respects, including autofocus, framing rate, data recording, and buffer clearing. (ISO 100; f/6.3 at 1/500 sec; 420mm equivalent.)
There are several reasons for this impressive result, starting with higher resolution, a slightly tweaked Venus Engine LSI II, and the new Leica-designed "VARIO-ELMARIT" lens. The latter incorporates three aspherical plus one ED (low dispersion) element. These are important but sensor size has also been increased, from 5.76x4.29mm to 7.18x5.32mm. Consequently, the engineers were not required to cram eight million miniscule photosites (pixels) on the sensor. The larger size allows for greater light sensitivity and dynamic range (highlight/shadow detail) and less digital noise (colored specks caused by electronic interference) in shadow areas.

Granted, many other 8-megapixel cameras (with shorter zoom lenses) employ a larger 8.8x6.6mm CCD made by Sony, with even larger photosites. Even so, the Lumix FZ30 produces surprisingly fine image quality at ISO 400, probably due to the other reasons mentioned earlier.
Exceptionally versatile; 1.5- Very versatile+; 4-second Very versatile+; 3-second Very versatile+; mechanical Very versatile+; 2-second
second start up; 2.4 fps Burst start up; 2 fps Burst mode for start up; 3 fps Burst mode
A long-time "Shutterbug" contributor, freelance stock photographer Peter K. Burian is the author of "Mastering Digital Photography and Imaging" (Sybex) and a digital photo course instructor with www.betterphoto.com.
Manufacturers/Distributors
Canon U.S.A., Inc.
One Canon Plz
Lake Success, NY 11042
(800) 423-2366
(516) 328-5000
www.canonusa.com
www.powershot.com
Eastman Kodak Company
343 State St.
Rochester, NY 14650
(800) 235-6325
(585) 724-1004
www.kodak.com
Konica Minolta Photo Imaging U.S.A., Inc.
725 Darlington Ave.
Mahwah, NJ 07430
(800) 285-6422
(201) 574-4000
www.konicaminolta.us
Panasonic Consumer Electronics Co.
One Panasonic Way
Secaucus, NJ 07094
(800) 405-0652
(201) 392-4561
www.panasonic.com
Sony Electronics Inc.
166530 Via Esprillo
San Diego, CA 92127
(800) 222-7669
(858) 942-2400
www.sony.com
www.sonystyle.com