Superzoom Digital Cameras With Image Stabilizer; Are These A Viable Alternative To A Digital SLR System?
The majority of digital cameras feature 3x optical zoom lenses, with a focal length range around 38-114mm (35mm equivalent). That's fine for portraits, group shots, nearby buildings or landscapes, and so on. But those lenses are not long enough for frame-filling shots of distant subjects: the goalie at a junior soccer game, an eagle on a high branch, or a tiger roaring at the zoo. That's why many manufacturers also make digicams with built-in "superzooms": 10x or longer lenses that extend from wide angle to at least 400mm, the start of a super telephoto range. (All focal length discussions relate to the 35mm equivalents.)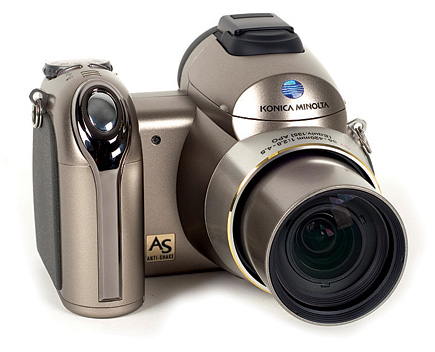 An increasing number of such cameras feature a built-in Image Stabilizer device for correcting camera shake. That's a very valuable amenity at long focal lengths, where the slightest camera shake is magnified. By shifting lens elements (or the entire sensor in some DiMAGE cameras), the system can often preclude the need for a tripod for sharp images. (For additional specifics on the technology and its pros/cons, review my August 2004 article, "Image Stabilizers And Anti-Shake Systems." It's readily available at www.shutterbug.com.)

Superzoom Characteristics
The superzoom cameras are larger than regular models of course. Because of their long lenses, they won't fit into a shirt pocket or a small purse. Still, they're a lot smaller and lighter than an SLR camera with a telephoto zoom lens and also cost much less. Some models accept optional telephoto adapters that can be attached to the front of the lens to extend the effective focal length. Before considering the specific superzoom cameras, let's review some other common aspects of the digicams equipped with very long zooms and stabilizers.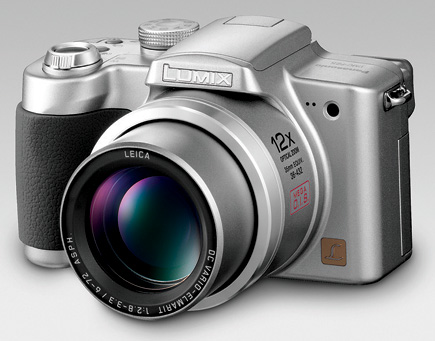 Electronic viewfinder: Unlike cameras with 5x or shorter lenses, the superzooms are equipped with an electronic viewfinder, a tiny LCD screen that you hold up to your eye. An electronic viewfinder provides through the lens viewing for a more accurate view of the subject than a separate viewfinder above the lens. But there are drawbacks, too. An electronic viewfinder does not provide a view that's as crisp and bright as the one you get with a regular optical viewfinder. And the electronic image can be "jumpy." In low light, electronic viewfinders provide a dimmer view of the subject, making it more difficult to accurately frame the subject.

Sports and other action photographers will find a more serious problem. An electronic viewfinder blacks out (or freezes) momentarily between frames when you're shooting a series of images. That makes it difficult to keep a moving subject within the frame, leading to some missed shots. Some cameras are better than others in this respect, as noted in the comparison chart.

Autofocus: Unlike the SLR cameras, the superzoom digicams do not include a high-speed tracking focus system designed to continuously follow-focus a rapidly (or erratically) moving subject. That can be a problem with an athlete, animal, or vehicle approaching your position. But in sports photography, spectators typically shoot from the sidelines so the subject is more likely to be passing across their line of vision. In such situations, most continuous autofocus systems have little difficulty because camera-to-subject distance is not changing rapidly.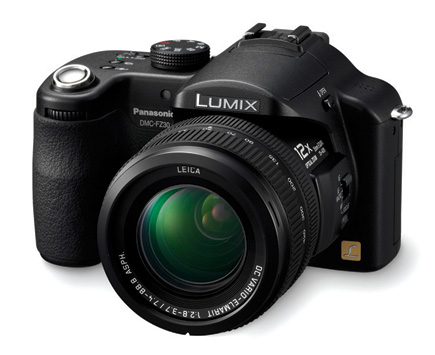 Shutter lag: Every digicam takes some time to set focus, exposure, white balance, etc., so it does not respond instantly when you press the shutter release button. Some cameras are faster--with shorter shutter lag--than others in this respect. The superzoom models can be slower than average at the very long focal lengths because of the longer time required to focus at such zoom settings. In practice however, the current models are quite fast. When shooting at 400mm in bright light, the average shutter lag is about 1/2 sec. But the delay can be much longer (up to 1 second) in low light, especially at long telephoto settings and the autofocus system can be unreliable with some subjects. Hence, a superzoom camera is not an ideal choice for indoor photography, especially at 300+mm where autofocus can be very sluggish.

Image stabilizer: With conventional cameras, it's tough to get sharp photos with a super telephoto lens in handheld shooting unless we use very fast shutter speeds: at least 1/500 sec to prevent blur from camera shake or subject movement. Unless you want to carry and use a tripod, that means shooting at high ISO settings on overcast days or most anytime with fast-moving action subjects. Boosting the ISO increases the camera's light sensitivity, allowing you to use an action-freezing fast shutter speed. However, image quality deteriorates as you increase the ISO setting. At ISO 200 and higher levels, digital noise becomes prominent, showing up as colored specks and graininess.

To deal with this dilemma, all of the cameras tested incorporate a camera shake compensating device. When sensors detect camera shake, a microcomputer shifts optical elements, or the entire digital sensor module, in an appropriate direction to counteract the effect. That increases the odds of sharp photos, without noticeable blurring from camera movement, even at surprisingly long shutter speeds.
An increasing number of digital cameras incorporate zoom lenses that extend to a 400mm or longer focal length (35mm format equivalent). Especially when coupled with an effective Image Stabilizer, such cameras can be highly useful for making sharp, frame-filling images of distant subjects. (Panasonic's Lumix DMC-FZ5; at 432mm; ISO 200; f/5.6 at 1/125 sec; stabilizer on.)
All Photos © 2005, Peter K. Burian, All Rights Reserved
The Superzoom Group
For this review, we decided to test the latest stabilizer-equipped superzoom cameras, all with 5-megapixel sensors: the Canon PowerShot S2 IS, Konica Minolta DiMAGE Z5, Panasonic Lumix DMC-FZ5, and the Sony Cyber-shot DSC-H1. At about the halfway point in my testing, Panasonic announced the 8-megapixel Lumix DMC-FZ30 and quickly provided a test sample; this one became an add-on. (It does not replace the FZ5 which will remain available.) Finally, after I had returned all the cameras, two new models were announced: the 5-megapixel Kodak EasyShare P850 and Konica Minolta's 6-megapixel DiMAGE Z6.

Because production-level samples would not be available for some time, I was unable to test the two latest entries, but can provide the following specifics.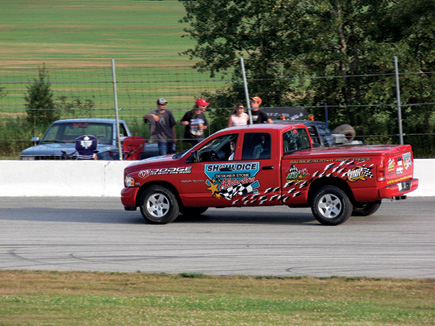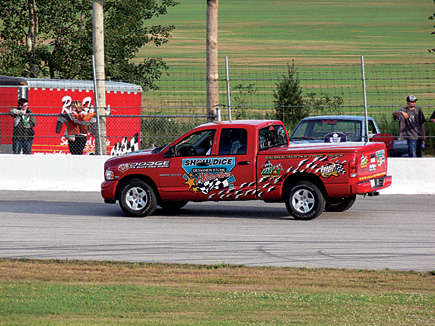 All electronic viewfinders blackout for a short time between frames when shooting a series of images, making it difficult to keep moving subjects properly framed. However, some cameras are better than others in this respect as discussed in the individual reviews of the three models tested. (Panasonic's Lumix DMC-FZ30; ISO 200; f/5.6; panning at 1/320 sec.)
Kodak's EasyShare P850: Featuring a Schneider-Kreuznach 36-432mm f/2.8-3.7 zoom, this moderately large camera also includes a 2.5" LCD monitor and high resolution electronic viewfinder. The Image Stabilizer is said to provide a two shutter speed step advantage over conventional systems. Intended for experienced shooters, this camera includes a very wide range of features for maximum versatility, including an ISO 800 option--the highest available in any comparable camera. The EasyShare P850 also accepts optional accessories: a flash unit, 55mm filters, and wide or telephoto adapter. Data on start up time and shutter lag was not available but the P850 can shoot five images at 2.3 fps in any JPEG mode. (List price: $499.)

Konica Minolta's DiMAGE Z6: Based on the specifications, this model is nearly identical to the full-featured Z5, with the same high-tech systems and features, but with two advantages: a 6-megapixel (vs. 5-megapixel) sensor and improved battery life. Focusing speed may also be a bit faster and the CxProcess III system may have been tweaked to produce different image characteristics. Because the Z6 generates larger image files, its top framing rate is a bit lower in full-resolution/Fine JPEG capture: 1.8 fps vs. 2 fps for five shots. Like the Z5, it's also compatible with accessory flash units. (List price: $399.)
Test Results
While testing the superzoom cameras, I was particularly interested in convenience of operation, autofocus speed and reliability (indoors and out), the quality of the electronic viewfinder, and the length of delay caused by shutter lag. Other important factors included digital noise levels, resolution, sharpness, color rendition, contrast plus exposure and white balance accuracy.

When considering my evaluations--in the text or the comparison chart--remember this: Unless stated otherwise, my comments relate to photos made at the cameras' default settings. All of the contenders offer overrides for modifying several--or many--image parameters, changing the entire "look" of an image. (Naturally, you can also make substantial changes later, in a computer.) The user-selectable features can be valuable, but for the sake of consistency, most of my comparison testing was done without the overrides. The results provided an excellent feel for each of the camera's basic tendencies.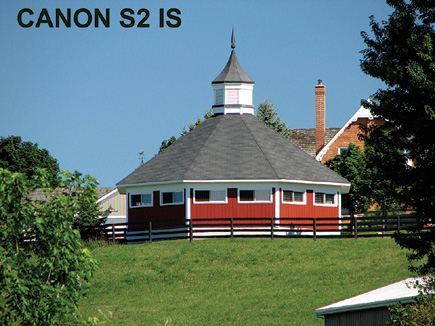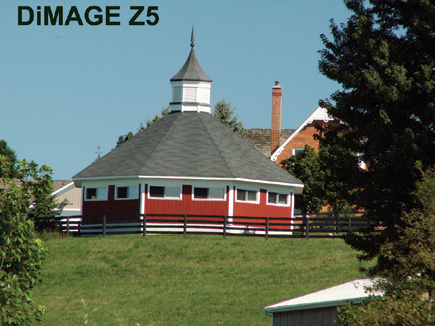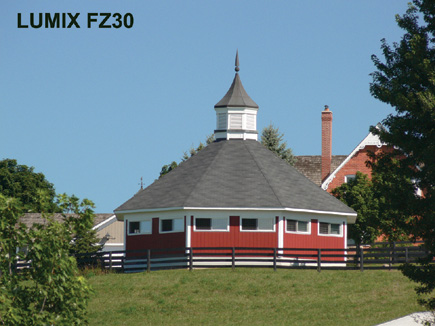 When used without overrides, each of the five cameras produced images with a different look in terms of exposure, white balance, contrast, sharpness, color saturation, and so on. Deciding on the "best" rendition is somewhat subjective, but these samples provide a hint as to the results you can expect on sunny days with the five superzoom cameras tested. (All images made at ISO 100 at widest available aperture.)

LATEST VIDEO